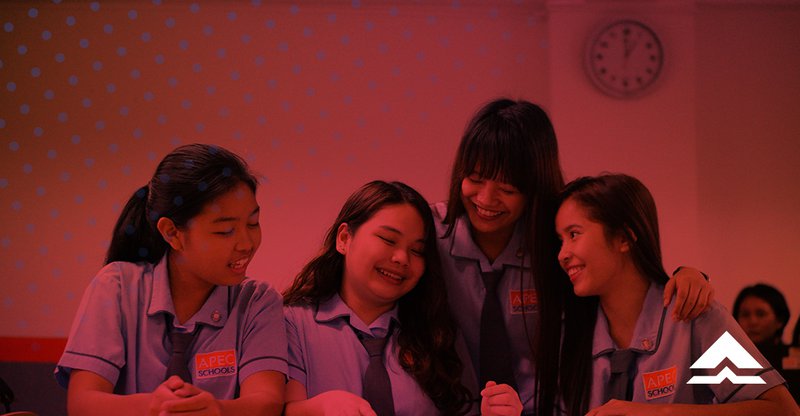 Bukas' mission of building a better tomorrow for the youth continues. This time, we have expanded our reach and are now providing parents and students the opportunity to start their secondary education at one of the institutions today that is breaking barriers: APEC Schools.
In 2013, the Ayala Corporation established APEC Schools as its education subsidiary. The goal of the school? To ensure that students gain knowledge and real-world skills through non-traditional modes of teaching.
To date, the school offers ABM (Accountancy, Business, and Management) STEM (Science, Technology, Engineering, and Mathematics), and HUMSS (Humanities and Social Sciences) Strands to 8,000 junior high school and senior high school students across 17 branches in the metro and Luzon. The school is also one of the first to adopt and implement blended learning that integrates technology with traditional instructor-led classroom activities.
Now, there's a more flexible and affordable way to study at APEC Schools with the help of Bukas!
Experience APEC Agile with Bukas
APEC Schools offered APEC Agile for students to freely choose the learning model that's best for them – whether it be online or blended face-to-face classes. And with a Bukas All-In Plan, parents can focus on providing quality education for their children. In turn, students can fully explore the academic strand of their choice.
Here's how.
Bukas made sure that every student has the opportunity to enroll at APEC Schools. There is a Bukas All-In Plan for students with or without outstanding balances.
Currently, Bukas offers 10-month and 12-month payment periods for enrollees without any outstanding balance, and the 18-month payment period for those with outstanding balance. The following tables represent a sample computation for all payment periods in connection with current year tuition costs.
10-month payment period

18-month payment period and 12-month payment period

With Bukas All-In Plans and APEC Schools, no matter the family's financial situation, your child can continue their education.
How to apply for a Bukas All-In Plan
Bukas made it simple for you to apply for a Bukas All-In Plan. Parents of APEC Schools students can go to the Bukas Facebook page or email [email protected] regarding their interest in the tuition installment plan. Make sure to have the valid documents prepared to avoid delays in your application.
Alternatively, they can also apply by talking with an APEC Schools representative. Kindly contact Sheila at 09478890114 for assistance.
For detailed step-by-step instructions on how to apply for a Bukas All-in Plan, you may also visit the APEC Help Center Page on the Bukas website.
Quality education at an accessible price
APEC Schools and Bukas are aligned on making education accessible. APEC Schools' affordable tuition rates, coupled with Bukas' flexible plans, families and their children are guaranteed the opportunity to start their secondary, and later on higher education, in quality schools.
Learn more about how we make education affordable for thousands of Filipino students like you. If you want to be updated with our latest content and updates, you can connect with us on Facebook or reach us anytime via email!