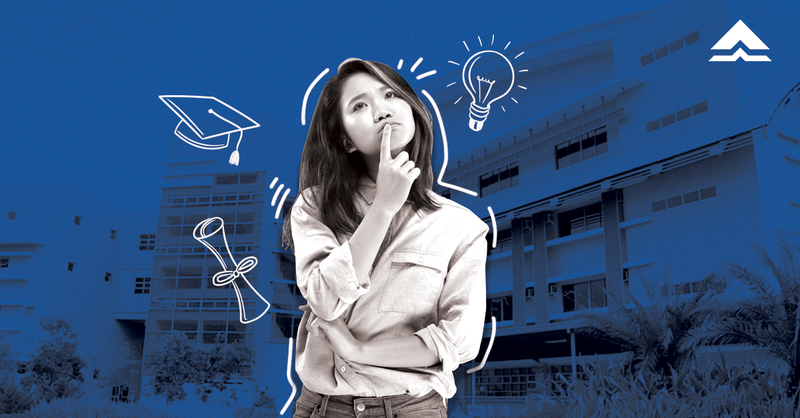 Some Filipinos swear off any form of debt, even when it benefits them. This mindset can be linked to the Filipino trait of being frugal or matipid. But just like the local expression goes, "Lahat ng sobra, masama." Too much frugality can sometimes limit people from good opportunities like education that is worth their hard-earned money. For example, student loans can help students from families making ends meet, but some misconceptions cause them to miss out on this opportunity.
Let's discuss some of the most common student loan myths and the truth about them.

Myth #1: "Student loans are debt traps."
Previously, student loan programs were less strict, encouraging many to just dive right in without being aware of flexible repayment options. Basta magkaroon ng pera, okay na! But that mindset is exactly where the problem comes in.
Many private lenders didn't provide payment adjustment options so when borrowers ran into trouble with their loan payments, they didn't have any other alternatives to pay the money they borrowed and suffered from heavy loan interest. Unfortunately, there were also fewer laws protecting borrowers, making it harder for them to settle their liability.
But that was before. With the programs available today, flexible options are in place. This makes student loans less of a burden, not to mention a good investment.
Regulations protecting the borrowers' rights have also been issued such as the Prohibition on Unfair Debt Collection Practices of Financing Companies and Lending Companies. In addition, lenders are mandated by law to transact with transparency and offer reasonable interest rates, affording more Filipinos the ability to get an education. Before getting a student loan, always do your research. It's supposed to help you, not trap you in a lifetime of financial burden.

Myth #2: "My choice of university/course is limited if I avail of a student loan."
Student loans are slowly gaining widespread acceptance in the Philippines, but they're still fairly new compared to more traditional financing methods. Because of this, current student loan offerings are usually limited to schools and courses. We commonly see this in programs that focus on STEM and hard science programs that have a track record of producing quality graduates.
That's why financing platforms like Bukas continue to collaborate with more colleges and universities to provide students with more choices for their education. Sa ngayon, Bukas proudly partners with the following schools:
Adamson University
Centro Escolar University 
Eskwelabs
Far Eastern University
Magsaysay Center for Hospitality and Culinary Arts
Malayan Colleges Laguna
Malayan Colleges Mindanao
Mapúa University
National Teachers College
Our Lady of Fatima University 
PHINMA Education Network
University Nueva Caceres
Educational institutions looking to support students to finish college, or start their masters or doctorate, can partner with Bukas for flexible financing plans that offer affordable interest rates. Para sa complete list of partner schools, you can check it out here.  

Myth #3: "I will only apply to student loans as my last option."
Student loans can be a smart way to stretch expenses instead of paying a lump sum for tuition. With Bukas, lahat ng installment plans ay pwede bayaran in 12 months. Breaking down a large expense into small, manageable chunks is a very useful budgeting hack. This way, hindi masasagad ang budget mo, meron ka pang maiiwan for your basic necessities and other daily expenses.
All this to say na hindi mo kailangan hintayin na maging tight ang budget for you to consider getting a student loan. Instead, you can get one to make sure you'll have enough money to pay for your education while still covering for your other expenses.  

Myth #4: "I can never afford to pay for my student loan." 
Student financing programs offer greater flexibility and more manageable terms than standard non-education loans. This gives students the chance to borrow much-needed college funds at reasonable terms. May mababang interest rates at subsidized options pa for qualified borrowers. 
For example, some lenders provide parent-assisted plans, which enable students to secure a loan at lower interest rates and with better repayment terms. Also, some arrangements include a deferment option that allows borrowers to postpone payment until after graduation. 
This is one distinct benefit of taking out a student loan. Since financing platforms tailor their services specifically for students, their packages are designed with utmost flexibility and generally the lowest rates possible.
For starters, a Bukas tuition installment plan comes with an interest rate starting at only 1.5% every month. Mas mababa ito kumpara sa ibang financing alternatives with higher interest rates, like credit cards and bank loans. 
If you have a private student loan, the terms of your agreement are set in your contract, but that doesn't mean you should not reach out right away if you are having trouble repaying. Your lender may work with you and help you stay on track during a period of financial hardship.

Myth #5: "I can't adjust my repayment amount."
This is a misconception. Most student loan programs provide viable options that can decrease the amount you owe each month, such as:
Interest rate reduction for borrowers who have made complete and timely payments over a predetermined period
Waiving of the origination fee (service fee)
No penalties for early repayment 
While student financing programs offer incentives and alternative arrangements that reduce your monthly fee, it's important to remember that when extending your payment plan, you want to stay ahead of the interest rate. Otherwise, you might end up owing more than the amount you did when you started.


Student financing programs have become more accessible and reliable today. With the flexible repayment options and low interest rates they offer, taking out a loan has become an alternative way to fund a college education, especially for those trying to make ends meet or just want to spread their budget over time. Whichever situation you find yourself in, we hope this article helps debunk common misconceptions about student loans.
With good research and careful evaluation of your financial status, you can be more confident about student loans and how they can benefit your education.
Learn more about Bukas and how we make education affordable for thousands of Filipino students like you. Apply for a tuition installment plan in your upcoming enrollment, and join our growing community for more tips and advice about all things student life. A brighter future awaits. Sa'yo ang Bukas!