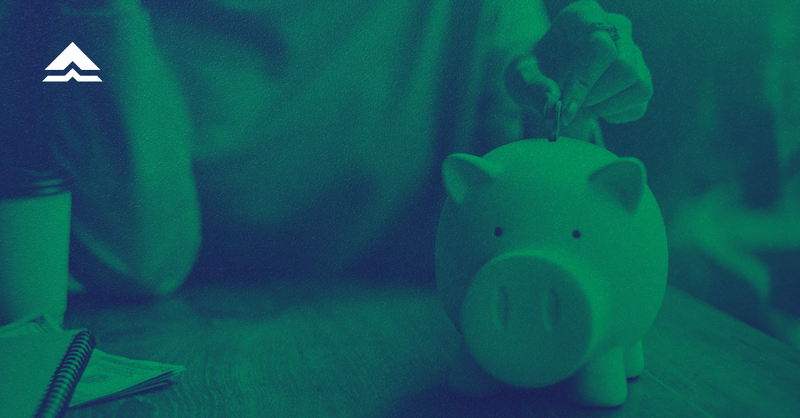 Financial literacy (FinLit) is important, and it's important whether you're a student receiving weekly allowances, a young adult budgeting your monthly salary, or a retired employee living off of your hard-earned pensions. So anong pinagkaiba?
Bilang estudyante, you have the advantage of time and energy to develop good financial habits that can help you in the future. Wala ka pa man masyadong financial resources, laying a good foundation will eventually pay off once you do. Dahil contrary to popular belief, hindi lang usapang matanda ang usapang pera. Financial literacy knows no age.
Change your life for the better by developing these smart habits today!
FinLit Habit #1: Start tracking your expenses
Here's a fact: It's hard to manage what you do not know. We've all been there! Yung tipong binigyan ka ng weekly allowance ng Monday tapos kalahati pa lang ng school week, ubos na agad ang baon mo? Ayaw natin 'yan!
Understanding your own finances is one of the key principles in financial literacy. Tracking your expenses helps you know where your money goes and how much you spend for your different needs and wants. Be honest! Ano ba yung mga palagi mong binibili? Ano ba yung mga palagi mong binibili… na hindi naman pala kailangan? Nasa expenses tracker mo ang sagot!
Kahit na school allowance pa lang ang source of money mo at wala ka pang masyadong pinagkakagastusan, developing this habit will eventually pay off. By the time na may sweldo ka na at other sources of income, mas madali na sayo mag handle ng pera.
3 easy ways you can track your expenses:
Write it down on a notebook
Create your own Excel sheet
Try an expenses tracker mobile app
FinLit Habit #2: Set a personal financial goal
If you think managing money you do not know is hard, imagine how harder it is to commit to habits without a goal in mind! Motivations are important for habits to stick around. The same way that you study hard to earn your college diploma and get your dream job, kailangan mo rin mag set ng financial goal para sa sarili mo to keep moving forward.
Don't worry! Hindi naman kailangan maging kasing yaman ka agad ni Henry Sy. You can set realistic goals based on your current financial status (nasa expenses tracker ang sagot!) and adjust your goals if necessary. When you're working towards a financial goal, less marupok ka na kapag biglang may flash sale… sana.
Some tips on setting financial goals:
Write them down. Kapag hindi nakasulat, madaling kalimutan. This way, you can also tick them off and celebrate small wins along the way!
Don't just have goals, have SMART goals. SMART stands for specific, measurable, attainable, realistic, and time-bound. Put extra emphasis on 'time-bound' aka dapat may deadline.
Be accountable to people. Telling other people might mean more pressure on achieving your goals, but it also means more people to help, encourage, and remind you sa mga panahong nahihirapan ka na.
PS. Financial goals may look different depending on your age and status in life. Bilang estudyante, one good financial goal to have is to at least keep a portion of your allowance for your savings.
FinLit Habit #3: Make ipon a lifestyle
Truth be told: mahirap mag-ipon. Ang pera nauubos pero ang gastos hindi, ika nga. The good news is, saving money may be difficult but it is not impossible! While some people definitely have more capacity to save, anyone is capable of saving– kahit gaano pa kaliit. So the question is not really how much money you have but how much money you are willing to save. Kahit piso pa yan kada araw, may around Php 300 ka sa isang taon!
Think of it this way: when you save today, you save yourself from unexpected financial problems in the future. Like any good habit worth having, saving up is a skill you get better with over time. Magsimula ka na habang estudyante ka pa! To give you an idea, here's what the savings formula looks like:
Earnings/Allowances - Savings = Expenses
(Hindi ito: Earnings/Allowances - Expenses= Savings)
Mahirap magtabi ng pera for savings lalo na kapag naka budget ang baon mo for food and other school expenses down to the last centavo. Don't lose hope! Balikan mo ang expenses tracker mo and see where you can adjust and make room for savings.
FinLit Habit #4: Do your homework!
Okay, kalma ka lang. Doing your homework means doing your best to learn and be as financially literate as possible. It's a crucial life skill if you want to succeed in the 21st century! So while it's not your college course nor is it taught extensively in your classes, hindi yun excuse not to learn about managing your finances well. Ikaw na 'yan, friend! Find credible and informative learning resources online and offline.
When you develop a habit of learning and you're able to grow your financial skills, pwede mo pang matulungan ang family and friends by sharing it with them. Oh diba!
What are practical ways you can sharpen your financial skills?
Take free online courses about finances
Ask tips and advice from people you look up to
Attend talks and webinars hosted by financial advisors
FinLit Habit #5: Ask questions… lots of them.
The only thing that will keep you from learning is not asking. Huwag kang mahiyang magtanong! Financial literacy covers a wide range of topics. Hindi enough ang isang online course or isang webinar to discuss everything for you to say you're all good and financially literate for life. Make it a habit to ask questions! Para sayo din 'yan.
Here are some important questions to ask about finances:
Are all loans really bad?
How do you grow your money?
Do I really need to have life insurance?
How do you compute your take-home salary?
What's the difference between active and passive income?
The path towards financial literacy is often challenging but rewarding. Do it one habit at a time, and involve other people in your journey. After all, developing good habits is not easy–lalo na kung pera ang pinag-uusapan. But this we know for a fact: it's always worth it. Start early and see how it will change your life!
Learn more about how we make education affordable for thousands of Filipino students like you. Download the Bukas app on Google Play today! Kung gusto mo maging updated with our latest content and updates, you can connect with us on Facebook or reach us anytime via email!