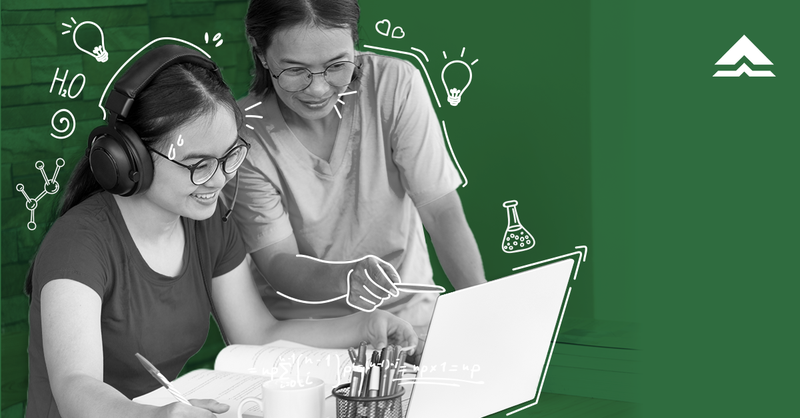 College life can be one of the most enjoyable experiences for students. Despite the stress sa pag-aaral at paggawa ng mga requirements, college is also the time when students develop their skills and interests, and find the career path they want to pursue in life.
Para sa mga Pinoy parents, natural lang ang pagiging very supportive sa education ng anak. At some point, naranasan mo rin sigurong samahan ng parents mo maghanap ng school kung saan pwede ka mag-enroll. Common scenario rin ang family conversations between parents and children talking about school, lalo na sa hapag kainan. All of those are parents' way of supporting their kids.
But with COVID-19 still in place, parents and students alike are treading through unfamiliar territories of remote education. And yes, that applies to college online learning, too. Because no matter what life stage children are in, parents will always be parents—always ready to lend a hand.
Is your daughter or son in university? Then this guide on college tips for parents is for you. And these are applicable mapa face-to-face or online classes pa ang setup ng anak mo!
Here are five ways you can do to support your child in college, especially now in an online class setup.

Set some time for one-on-one talks
College is a period of adjustment for students.
Kahit mas techy pa ang mga Gen Z compared sa ICT skills ng parents like yourself, you cannot assume they'll be 100% comfortable sa online classes. After all, technological know-how is only one aspect of remote learning. It's possible students might need help with things like prioritizing tasks, time management, conflict resolution, and other study tips.
Having those meal time conversations with your children is one of the ways you can check in and see how they are coping with college life. Terror prof? Endless readings or reports? Groupmates na uncooperative? Once you know which areas they're stuck in, you can discuss and suggest the best approach they could take. Just don't forget to follow through with them the next time!

Help them maintain a good balance between fun and studying
Of course, students need to take their studies seriously. But it doesn't mean your children cannot relax and chill every now and then. Remember, all work and no play makes Jack a dull boy.
Make every effort to create healthy rhythms of rest for your children. Reserve the weekends for family bonding—whether that's gathering everyone in front of the family entertainment system, playing a board game, biking around the village or barangay, making a TikTok fambam video, or having a food trip at home. It depends on what works for your family!

Encourage them in their interests
Aside from family activities, college students should have enough opportunities to explore a hobby or passion that they can look forward to doing during their free time. Pwedeng related sa course nila or pwede ring hindi!
For example, a Psychology student can start a podcast related to human behavior. Besides being fun, podcasting can give college students an avenue to express their voice. Plus, with enough followers, it can even be a good side hustle for some extra allowance!

Motivate them to network and join organizations
Just because students are in a remote learning environment doesn't mean wala na silang access sa networking opportunities. Many colleges and universities still maintain orgs where students can make friends with peers who have the same interests they do.
Kahit through online meetings and virtual events lang ang pwede sa ngayon, students still get to connect with the school community—and that's important for students to feel the much-needed spirit of camaraderie and sense of belonging.

Give them room to grow
Here's a fact: College students will eventually need to be more independent and have their own space.
As parents, one of the best ways you can support them in this new chapter of their lives is to give them the freedom to take charge of their school experiences. Magandang training ground ito for them to keep learning and discovering the path they want to take in life. So, by all means, let them spread their wings slowly and surely!
They might make mistakes along the way, but as long as you give them your trust and support, they'll be encouraged and inspired to keep going. They will even thank you for it!


Supporting Children Through College
Every parent's goal is to provide their children with the best quality of education. Sabi nga, walang hindi kayang gawin ang mga magulang para sa anak nila. And that's true in supporting them financially and otherwise.
Like you, Bukas also supports students through making education more affordable and accessible by offering affordable student loans to finance their studies. Now, parents who are looking to have more breathing room for tuition can avail Bukas' financial assistance to fund their children's education all throughout college. Ready to support your children in college? Bukas supports you all the way!
Learn more about how we make education affordable for thousands of Filipino students like you. Download the Bukas app on Google Play today! Kung gusto mo maging updated with our latest content and updates, you can connect with us on Facebook or reach us anytime via email!