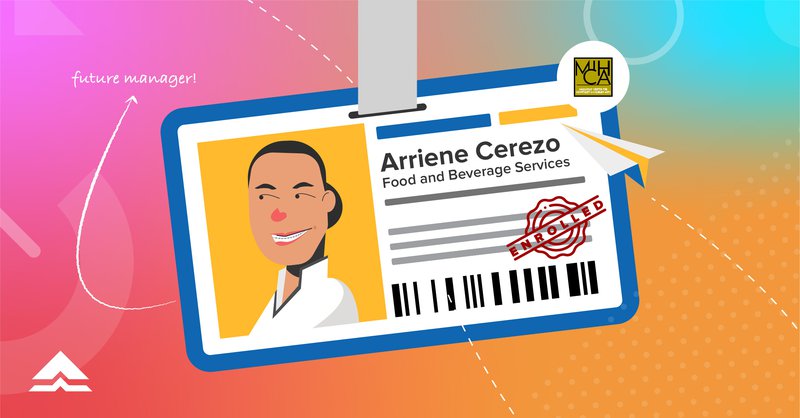 "What's your dream?"
"What do you want to be when you grow up?"
At some point in our lives, we've been asked these questions. Or at least, something along those lines. Chances are, you've tried answering them–or drawing them. A stickman version of yourself wearing a lab coat, a hard hat, or a magician's hat. A child can dream!
The truth is no two people are the same. Likewise, no two dreams are also alike. Finding and pursuing yours is a personal quest, and often a hard one. Unlike school projects, there is no formula to follow nor a map to show the way you should go. If there were a crash course for that, we would have told you already.
But once in a while, we see a light at the end of the tunnel.
We get clues and signposts leading us to take the next right step. People we trust. Hobbies we enjoy. Role models we admire. Experiences we encounter. Opportunities we take. All of which shape our decisions and, ultimately, our direction in life. As a student, you make small and big decisions every day. But the question is, where is it leading you?
We won't ask you to write a 300-word essay on your life's one true calling. No one has it all figured out, and we don't expect you to. We are all making it along the way, learning from each other at best. But what we can do is talk about them and figure it out together! After all, life is best shared. And there are real people with real stories to share.
We sat down with some students who experience and have experienced the same struggles you're facing. From the million-dollar question of what career path to take, down to the everyday challenges of being a student in a pandemic-stricken world.
Who knows, maybe their stories can lead you to take the next step for your future.

Meeting Arriene
In a world where promises are often broken and forgotten. Arriene Cerezo, a 29-year-old returning hospitality student, chose to remember and continues to hold on to hers: to finish her education no matter what–like she promised to her father on his deathbed.
"I quit school a long time ago because I wanted to take care of my father who had cancer. Naisip ko na bata pa naman ako at marami pa akong taon para makapag-aral. Bago siya malagutan ng hininga, I promised na tatapusin ko yung studies ko. But as years passed by, I started working tapos nakalimutan ko na yung promise ko sa kanya," Arriene recalls. It was one work day when it hit her, almost like an epiphany. She won't be in that job forever. She needs to continue her studies. For the dreams she has for her future and for the promise she made in the past. So she did.
After five years of working in the BPO industry, Arriene took a leap of faith and reopened a chapter in her life–the one where she is a student full of hope and dreams, with a bit of nervousness for the uncertainty that lies ahead. Nevertheless, just the thought of studying again excites her. Imagine the first day rush of going back to school after summer break but prolong it for more than a decade. That's probably how Arriene felt.
Now that she's on her last few pages as a student at Magsaysay Center for Hospitality and Culinary Arts (MIHCA), it's safe to say that her promise to her father is fulfilled. There's just one more thing left to do. To fulfill hers.
Learn more about Arriene's student life, dreams, and aspirations in our quick conversation!

Life as a Food and Beverage Services student
School and course in college
Food and Beverage Services, Magsaysay Center for Hospitality and Culinary Arts (MIHCA)
Why did you choose your school?
"When I was looking at the different hospitality schools, ang una ko talagang tinignan ay yung mission and vision! Compared to other schools na ang goal ay makapag build ng chef or culinary legend, MIHCA's goal for their students is different. They equip us with everything we need para kapag nakasampa na kami sa barko or nakapasok sa hotel, hindi kami mangangapa. We'll know exactly what to do.
Once you graduate, they'll make sure that you'll land the dream you really want. May assurance na hindi ka nila pababayaan. Kaya panatag ang loob ko na after my program, with hard work and perseverance, alam kong makakapasok talaga ako sa magandang trabaho. Hands down din ako sa MIHCA when it comes to their way of teaching, way of taking care of students. So it only took me around 3-4 months before I finally decided to enroll and now I'm so in love with my program and the school."
Why did you choose your course?
"Simple! I chose Food and Beverage Services because I love people. I like socializing with them, taking care of them. I'm all about customer service. Yun din kasi yung forte ko when I worked sa BPO industry. I also enjoy walking around and serving people. Marami rin akong natututunan kasi may mga customers din talaga na nagkukwento ng buhay nila. I really love that. Kung sa kitchen ako, I won't have that. Baka makasunog pa ako!"
What's the most challenging part about being a student? How do you overcome it?
"It might sound funny pero lahat naman ng experiences ko right now as a MIHCA student is challenging for me kasi matagal akong hindi nakapag-aral. Imagine, 10 years! Hindi na ako sanay mag-aral pero kinakaya ko naman. I'm really determined to finish my studies kahit mahirap. Wala namang bagay na hindi natututunan, diba?
When it comes to paying for my tuition, hindi siya challenging for me dahil may Bukas naman. Nagbayad lang ako ng downpayment sa MIHCA tapos nag apply na ako ng Bukas tuition installment plan for the rest!
Kaya rin pala hindi ako nagbayad ng one-time payment kasi akala ko hindi ko matutuloy yung program because of my work. Kaya sabi ko 'buti nalang may Bukas kasi kapag isang bagsakan, sayang ang bayad kapag hindi ko matatapos.' Pero ayun nga, I fell in love with the school so tinuloy-tuloy ko na–both my program and my plan sa Bukas. In four months, matatapos ko na yung tuition plan ko. Graduate na rin ako by then."
How do you cope with learning in the pandemic?
"Fully online classes na when I started in MIHCA kay puro modules! Wala naman masyadong adjustment on my part dahil sanay na ako sa Zoom because of my work. Medyo mahirap lang dati kasi graveyard shift ako sa trabaho so may mga classes na antok na antok ako. Kapag sobrang puyat, parang hindi na pumapasok yung mga pinag-aaralan ko. Para makabawi, kapag may tulog na ako, I make sure na babalikan ko yung lahat ng lessons para may maisagot ako sa exams. Ayokong masayang yung tuition na binabayad ko kaya I give my best even when it's challenging to work and study."
What are your favorite learnings so far?
"Ang favorite ko talaga ay yung pagbubuhat ng maraming plato! No kidding. Coming from a BPO work background, I never imagined myself doing that kaya sobrang bago siyang experience for me. I enjoy it kasi natutuwa ako sa sarili ko na 'uy, kaya ko pala magbuhat ng limang plato!' Nagugulat din ako na kaya ko pala gawin yung mga ganung bagay.
Aside from that, gusto ko rin na they train us sa MIHCA to have a strong mindset. Kapag narinig ng mga profs yung mga students na nagsasabing 'Sir, hindi ko kaya' they will tell you na 'Hindi, kaya mo yan! Ituloy mo lang.' Hindi ka nila papagalitan or ipapahiya kasi hindi mo kaya, but they will push you to keep trying hanggang matutunan mo. Kaya siguro sobrang motivated ng mga tao sa MIHCA! And it's something I'm thankful for and alam kong mababaon ko talaga when I work in a cruise ship or hotel someday."
What motivates you to study?
"What motivates me is yung family at yung promise ko kay papa. I'm also turning 30 years old next year! I'm not getting any younger. Hindi pa ba ako mamomotivate? But kidding aside, I look forward din to a brighter future! Ang dami kong gustong gawin sa buhay, and if I'm not motivated or determined right now, hindi ko makakamit yun.
Gusto ko magkaroon ng business and house of my own. Gusto ko ipadama sa mama ko na special siya. At least, makabawi ako sa pagpapalaki niya sa akin. I want my mom to have a better life. Yung relax nalang siya sa buhay! Kaya kailangan ko talaga mag-aral nang mabuti because I want to be successful in the future."
Why is education important for you?
"Some people say na hindi kailangan ang diploma para maging successful sa buhay. Basta wais ka, okay na. While that is true to some extent, feeling ko hindi ako magiging kumpletong tao kung hindi ko matapos yung pag-aaral ko. Para sa akin, education is not really something that will guarantee success but it's more of a treasure to me. There are things I can't learn in life na matututunan ko lang kapag nag-aral ako sa school. Parte yun sa paghubog ng pagkatao ko–all the values, the learnings, and the people. It all counts."

From one dreamer to another
What is your dream career?
"I want to be the head of Food and Beverage operations in a cruise line!"
What is your career goal? Why?
"As a professional in the hospitality industry, my goal is clear and simple: to provide excellent and quality service to my customers. Kasama na dun ang performance ng mga staff that I will manage someday. Hopefully, I'll also get to inspire students who want to pursue the same path as I do. Yung tipong kapag head na ako ng operations, hindi nila iisipin na I'm someone intimidating but rather an inspiration who will motivate them to follow their dreams, too. Whatever it takes."
How do you see yourself five or ten years from now?
"Five years from now, I'll probably be promoted! Hindi pa siguro head but maybe a manager already. For sure, sobrang dami ko na rin napuntahan. Kukuha ako ng world map tapos mamarkahan ko lahat ng mga ports na mapupuntahan ko. I'm not sure kung ano na yung mga nabili or napundar ko by then but I'm sure it's something big."
What is your message to aspiring food and beverage service professionals like you?
"If you really want something in life, just do it! Even if it's hard. Wala naman talagang madaling course but I promise you Food and Beverage services is one of the best programs you can take. You'll learn new and different things every single day. Also, don't ever think that education is not important because it is. You'll need it!
Huwag niyo rin sana sayangin yung kabataan niyo. Maraming mga tao na katulad ko na hindi na bata pero gustong-gusto makapag-aral. Education is one of the important things in life that can build you up as a person and set you up for life. Don't take it for granted!"
What is your message to your future self?
"You'll be fine and you'll get there!"


Are you inspired or motivated by Arriene's story? We surely hope so!
We know talking about an uncertain future can be quite overwhelming, even a bit scary. And that's normal! The good news is you don't have to do it alone. With stories like Vien's as well as other students who continue to take small steps toward their dreams, we hope you are reminded that a brighter and better future for you is also within reach–just waiting to unfold, one decision at a time.
Now all it takes is for you to take the next right step. And together with Bukas, you can! The question is, what path are you taking?
Learn more about how we make education affordable for thousands of Filipino students like you. Download the Bukas app today on Google Play! Kung gusto mo maging updated with our latest content and updates, you can connect with us on Facebook or reach us anytime via email!