Good news! You can now apply for a Bukas Plan for your college student.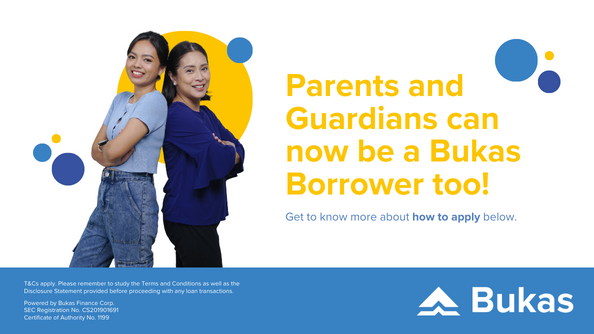 For first-time Bukas borrowers, Parents and Guardians can now assign themselves as the Borrower and the student as the Co-Borrower.


Take note!
Students with an Active Bukas Tuition Plan reapplying for another loan do not need to create another account for their parents. You just need to update your information on your account.
The Emergency Contact Person should not be the same as the Borrower and Co-borrower's information.
OFWs cannot be Co-borrowers. If the source of income is coming from an OFW, you may choose Remittance when asked. You will need to provide the employment information when choosing this option.


Steps to Apply

Applying for a Bukas tuition installment plan is online and convenient. For first-time applicants, sundin lang ang mga sumusunod na steps:
Create an account at app.bukas.ph and fill up your profile.

Parents can now create an account and manage the loans of their students. Select Parent or Guardian as your identity. Note that once you have selected an account owner, you will not be able to change this for future multiple loans.

Verify your identity by preparing a valid ID and completing the Liveness Test.
Apply for an installment plan by entering your, your co-borrower's information. For Parents and Guardians applying, please assign the student as the Co-Borrower.

You will need your additional contact person's information as well as the student's tuition fee information.

Enter the amount that you need for the student's tuition. It should be the amount on their school assessment form!
Choose a term (installment length), and upload the Tuition Document or Statement of Account.
Submit your application, and wait for feedback on your application. You will receive an update regarding your installment plan after 3-5 working days. Keep your lines open. Your co-borrower may be asked to go through verification through a link sent via text.
To fully review and process your application, our Assessment team may ask you to revise some details (sample reason for revisions: blurred picture, outdated document, etc.). Applications with unresolved revisions will remain on hold which is why we highly suggest completing the required revisions immediately.

Note that all loan offers are conditional. As long as a loan has not yet been disbursed to the school, Bukas Finance Corp. reserves the right to withdraw any loan agreement.

After you and your co-borrower confirm the agreement, you will receive an SMS informing you that we've disbursed the approved amount to the school.

To learn if you are eligible to become a Bukas borrower, you may learn more here.

For a guide on the documentary requirements, visit this page.

Additional documents may be required by our Assessment Team. Please keep your lines open as they may reach out to you via call or email. Follow all instructions carefully to get the final result of your application faster.

Ready to apply for a Bukas Tuition Plan? Apply at www.bukas.ph/s/apply-par.