Step 1. Select 'Bills' on the Maya dashboard.
Step 2. Go to the Loans category and select "Bukas Finance Corp." as a biller.
Step 3. Enter the following information. Failure to enter these details will result in delays in payment processing.
Under Account Number, enter your Bukas installment Reference Code. You can find this on the Bukas account where the application was done, under the My Installments tab.
Enter the amount.
Under Account Name, enter the borrower's name.
Step 4. Select 'Continue' and review the details placed are correct before clicking 'Pay'. You will receive an SMS from Maya with your bill payment details. You can see your successful transaction on your Maya dashboard. You will see this under Recent Activities.
Step 5. You will receive an SMS from Bukas once your payment reflects in our system. This would take about 1-3 working days (excludes weekends and holidays). You can also log in to your Bukas account to check out your payment dashboard!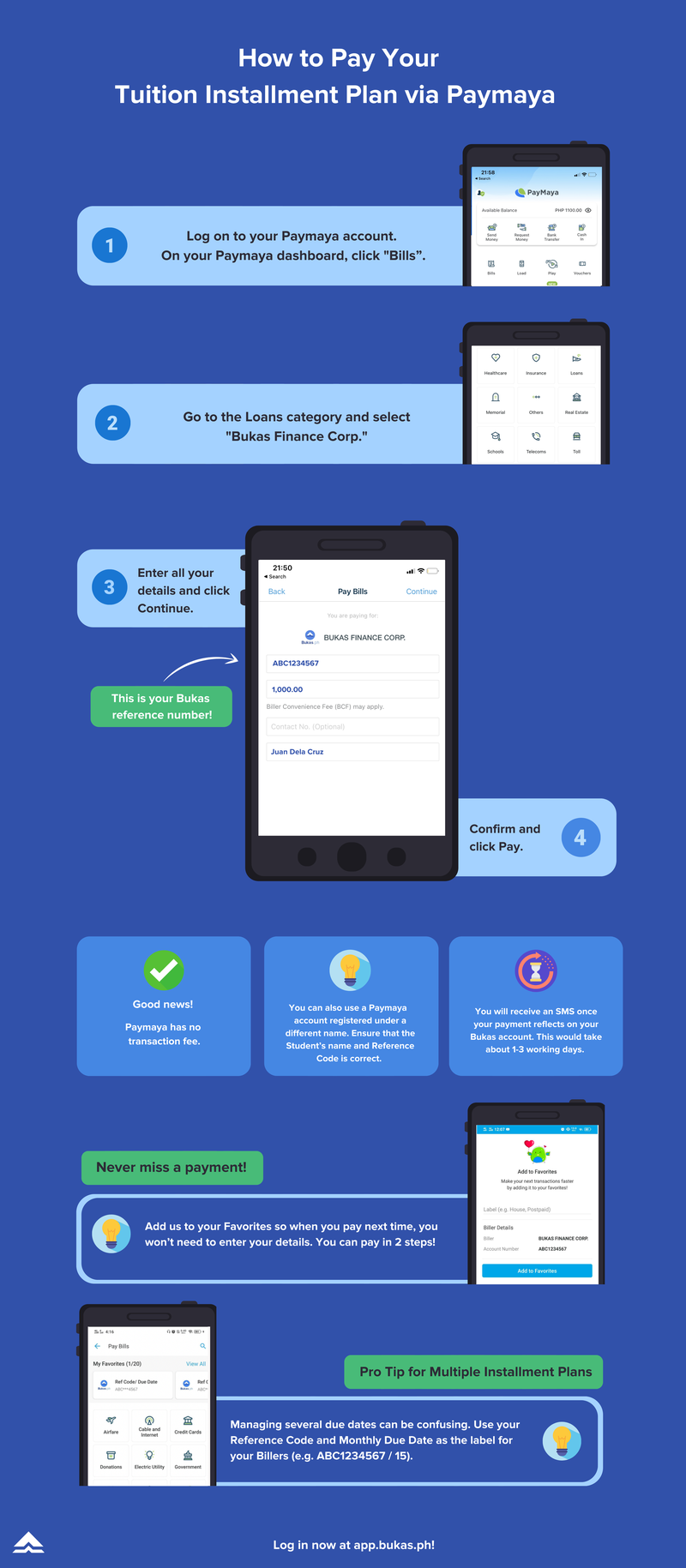 ---


Frequently Asked Questions (FAQs)

Where can we get the Account Number that we need for Maya?
Kindly use your Bukas Installment Plan Reference Code. You will be able to find this on your disclosure statement or on your My Installments Tab on your Bukas Portal. Failure to enter these details will result in delays in payment processing.


Where can we get the Account Name that we need for Maya?
Kindly use the name of the borrower. Failure to enter these details will result in delays in payment processing.


I inputted the wrong account number or account name. What do I do?
Please send your full name, installment number, and contact number along with your proof of payment with the subject "Payment Concerns" to

[email protected]

.


I paid successfully on Maya, but why don't I see it on my Bukas Account?
You will receive an SMS once your payment reflects in our system. This would take about 1-3 working days (excludes weekends and holidays). You can also log in to your Bukas account to check out your payment dashboard!


Can I make partial or advance payments to Bukas using Maya?
Yes! You can enter any amount you'd like on Maya to make partial, full, or advance payments to Bukas Finance Corp.


Does Maya charge a transaction fee when I use it to pay for my Bukas dues?
No, Maya does not charge any fee for payment transactions