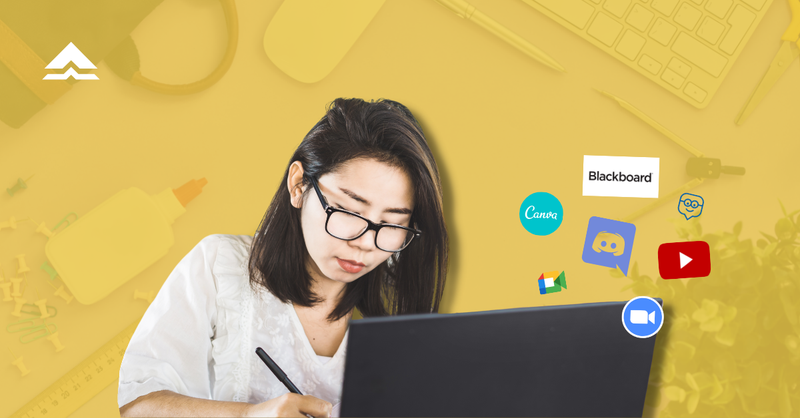 When the going gets tough, the tough gets going. And true enough, the same thing can be said for every student mustering their will (and internet connection) just to show up to online classes and webinars day in and day out despite the global pandemic.
While students will probably have to wait for a few more semesters before classes go back to "normal," it's safe to say that they aren't going back empty-handed. With their newly-acquired knowledge on online platforms and other learning tools, students are more equipped for learning in the digital age–in and out of quarantine.
Here's a quick rundown of online platforms that have helped students adjust and adapt so much that they make online learning more bearable!

Google Meets
Whether you're the type of person who regularly checks your email or not, you've probably met Google Meets more than a couple times already! Pun intended.
Launched in 2017, this video conferencing service, formerly known as Hangouts Meet, is Google's offering to its email users. The free version lasts forever (read: unlimited minutes) and can welcome up to 100 people in a call. It also has a seamless integration to Google Calendar which conveniently creates a meeting link every time you add it on your schedule! How cool is that? Now anyone anywhere is just a click away from a virtual meeting… or in a student's case, an online class.
Since people shifted to online spaces for communication, Google Meets has grown exponentially with more than 200 million daily users. Can you imagine how many students meet on Google Meets every day? Definitely a lot.
A+ feature for students:
Don't want to be the first student to join the class? Google Meet saves you from the small talks and awkward silence, and lets you know who's already in the call before you join.

Zoom
Another video conferencing application that rose to popularity during the pandemic is Zoom Video Communications–or simply Zoom. While the app has been around for a decade already, specifically launched in 2011, Zoom has experienced a significant global increase in users as offices and schools turn to virtual spaces to adapt and connect with each other even in quarantine.
In fact, the app gained so much popularity during the onset of the pandemic that it ranked alongside 'Coronavirus' as one of the top trending Google searches worldwide. Did you search for it, too?
All this to say that for the past and upcoming semesters, 'Zoom' will no longer be just a word to describe movement but a place students will "go to" for their online classes. Don't forget to change your virtual background to your favorite spot on campus for that extra school vibe!
A+ feature for students:
Want to say a quick 'Hi!' to your crush, este classmate? Zoom's built-in chat feature lets you send a direct message to anyone in the call. Think of it as the good 'ol note passing in class but make it virtual. Just make sure to double check that it's not sent to 'everyone.'

Blackboard
Ever wonder how teachers communicate with students beyond online class lectures on Zoom or Google Meets? Learning Management Systems (LMS) like Blackboard is key!
Since its initial release in 1997 (and the latest one being in 2014!), Blackboard has already mastered the ins and outs of a good virtual classroom. With its extensive list of features, teachers can conveniently give quizzes and assignments like they would in a physical classroom, while students can easily access them in real time as they scroll through a dedicated activity stream. Think of it like a social media feed but for school work!
There's a lot of learning curve when using virtual learning environments like Blackboard, but once you get the hang of it, you'll be thankful that everything is easily accessible in one place–including grades.
A+ feature for students:
Got a question about your module but too shy to leave a comment on a discussion thread? Blackboard's chat feature allows you to shoot a quick message to your online classmates, as long as you're in the same class section.

Edmodo
Another popular LMS you might have heard of or even used in class is Edmodo! Just like its fellow LMS providers, Edmodo's features emphasize a seamless online experience for easy communication and collaboration between teachers and students.
Since it was launched in 2008, the educational technology platform has evolved from a very teacher-centric design to a student-friendly interface. By 'student-friendly' we mean adding features like class folders to help students organize their subjects, a built-in planner to help track deadlines, and a chat messaging tool to easily connect with teachers and fellow students. Simply put, Edmodo provides more tools for you to thrive in class, aside from the usual homework submissions.
A+ feature for students:
Want to do something fun and productive during break time? Edmodo's Discover tab has mindfulness activities and games for you to choose from! Sounds fun, right?

Canva
Need to create a poster or an infographic but don't know how to use advanced softwares like Adobe Photoshop or Illustrator? Or maybe you just want to be a lil' extra with your presentation? Don't worry! That's where Canva saves the day–if it hasn't already.
Launched in 2012, this graphic design platform has taken the (art) world by storm with its free templates, massive library of image resources, and easy-to-use interface. True to its mission, the app "makes design simple" for everyone. Even for students with absolutely zero skills in the design department.
To say that Canva has unleashed creativity in millions of students (and professionals!) is an understatement. We bet teachers would agree.
A+ feature for students:
Need to work on a group project but don't have time to meet up? No problem with Canva! Easily share the link with your groupmates and work together in real-time, no matter where you all are.

Youtube
Learning isn't limited to the four corners of a classroom, and the same is true for online learning. It isn't confined within online classes and module submissions. Social media platforms like Youtube counts, too! (If you're a proud student of Khan Academy, say amen.)
Since it started in 2005, the online video sharing platform has been the go-to website for streaming a wide range of videos–from music videos, short films to the increasingly popular video logs a.k.a. "vlogs" nowadays. But in recent years, particularly for Gen Z students, Youtube has also established itself as a go-to website for learning.
This isn't surprising considering the fact that anyone can find a how-to video for literally anything on Youtube. So if you know a student who needs help in solving for X or explaining the pythagorean theorem (again), you know where to go for help.
A+ feature for students:
Want to pull quotes from the video? You can turn on the subtitles and copy it word for word, or do it the easier way with Youtube's transcript! Just open the video, click the three-dot ellipsis beside the 'Save' button and click 'Open transcript.'

Discord
Last but not least, we have Discord to wrap up our list! Launched in 2015, Discord is a free voice and text application designed for creating communities. Or to be more specific, to create virtual hangout spaces for young people and the young at heart.
It allows users to create "servers" or channels about anything and everything, with features like video calls and screen sharing to make the experience more immersive and engaging. Now there's less 'fear of missing out,' more servers to join!
While Discord mostly gained popularity in the online gaming community (shout-out to all our student streamers!), the app has significantly grown its users during the global pandemic, too. As of December 2020, it has attracted over 140 million monthly active users–with a pool of students either playing games with their friends, hanging out in chat rooms, or both. Some students even meet on Discord to discuss homework and group projects. Because why not, right?
A+ feature for students:
Pulling an all-nighter together with your friends... online? Good music might help! Discord's 'Listening Along with Spotify' feature lets you jam along with your friends even when you're apart. Sing your heart out. No judgment here.

Shifting to online classes has been a real challenge for everyone. For the teachers, for the students, even for the parents who are the no. 1 cheerleaders of their child's learning. The online platforms mentioned above are just some of the many educational tools that help both students and teachers adapt and thrive in education's "new normal."
Even our team at Bukas is up for the challenge! We know how tuition and other school fee payments can be a serious concern for students, more so parents, in this difficult time. With Bukas, there's a fully online, hassle-free payment option for the upcoming semester. And did we say affordable, too? (If you want to learn more about our tuition installment plan, we've got it all covered here.)
The global pandemic may end soon, but if there's anything we've learned the past months, these tools are here to stay–not to replace face-to-face learning, but to make space for new ways of learning and making education more accessible for all.
PS. It's enrollment season! Want to know if your alma mater is included in our partner schools? Find them here. If you're a school administrator and you believe in what we're doing for the students, you can start a conversation with us here. We're looking forward to it!
Learn more about how we make education affordable for thousands of Filipino students like you. Download the Bukas app today on Google Play today! If you want to stay updated with our latest content and updates, you can connect with us on Facebook or reach us anytime via email!