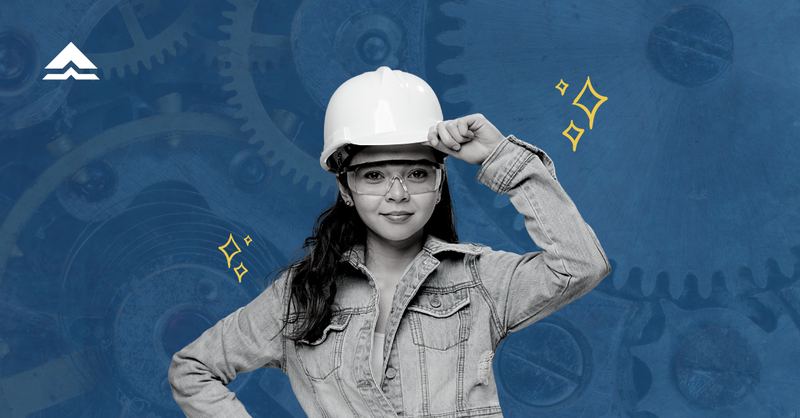 So you've decided to take up engineering, but you're not sure which type of engineer you want to be.
From building structures to the device you're using right now, engineering is everywhere! Engineering is such a broad field kaya gets namin kung hindi ka pa decided sa engineering course na gusto mo.
We're here to help you turn your vague dreams into specific action steps. Here's a list of engineering courses (in no particular order) and careers you can pursue in each field.

1. Industrial engineering (IE)
Mas madali at efficient ang buhay, thanks to industrial engineers! Industrial engineering is all about improving systems and streamlining production processes. As an IE student, you'll be learning how to maximize efficiency and limit waste in factories. Industrial engineers also streamline operating rooms and waste disposal systems.
Possible careers:
Industrial engineer
Manufacturing technician
Quality assurance inspector
Industrial designer

2. Chemical engineering
Chemical engineers develop and manufacture medicine, food products, fuel, and construction material. You'll be creating products that help people in their day-to-day lives. Kung favorite subject mo ang chemistry, then you should consider chemical engineering!
Possible careers:
Food scientist
Biotechnologist
Chemical plant and system operator

3. Electrical engineering
If electronics *spark* your interest, dito ka na sa electrical engineering!
Electrical engineers design electrical equipment like electric motors, generators, navigation systems, and communication systems. This course applies physics and math to solve engineering problems.
Possible careers:
Electrical engineer
Telecommunications engineer
Electronics engineer
Power engineer

4. Civil engineering
Buildings, roads, at railways ba ang nai-imagine mo 'pag sinabing "engineer"? Civil engineering ang specific na tawag sa field na 'to! This course is about designing and constructing all kinds of infrastructure. Civil engineers also design waste networks and flood defense systems. Moreover, civil engineers help solve problems like population growth and climate change through effective infrastructure.
Possible careers:
Engineering project manager
Architect
Land surveyor

5. Geodetic engineering
As a geodetic engineer, you'll get to work with cool-looking equipment like the total station! Ito ang gagamitin mo to plan for roads and buildings and measure angles and distance.
Geodetic engineering is a specialization under civil engineering. A geodetic engineer's job is to measure land, water, or air space. They then process the data and present it through maps, graphs, charts, and plans. Geodetic engineers may also compute highway alignments and property boundaries.
Possible careers:
Geodetic engineer
Land surveyor

6. Electronics and communications engineering (ECE)
ECE is the study of electronic communication systems, circuits, and computers. Electronic communications engineers design, test, and manage the production of communication systems. Our fast-paced world relies on smartphones, computers, and other communication systems. Kaya naman in-demand at mataas ang income potential sa ECE!
Industries in ECE include consumer electronics, IT, automotive, and telecommunication.
Possible careers:
Electronics design engineer
Software engineer
Desktop support engineer

7. Mechanical Engineering
Na-inspire ka ba mag-robotics after manood ng Big Hero 6? Mechanical engineering yung course na pwede mo kuhanin! This course will teach you how to design, build, and repair machines. Specializations in mechanical engineering include marine engineering, aerospace engineering, and automobile engineering.
Possible careers:
Mechanical engineer
Mechanical designer
Biomedical engineer

8. Computer engineering
Develop the next-gen smartphones or wearable tech through a career in computer engineering! Computer engineers design, develop, and build computer systems and parts.
Anong pinagkaiba ng computer science sa computer engineering? Computer science focuses on programming and software. Meanwhile, computer engineering focuses on electronics and hardware.
Possible careers:
Hardware engineer
Software engineer
Web developer

9. Aeronautical engineering
Become an aeronautical engineer and fly high in your career! Aeronautical engineering is all about flight technology. Mapa aerodynamics o aircraft construction pa 'yan.
Aeronautical engineers design aircraft and other flight-capable machines like commercial airplanes, military aircraft, spacecraft, satellites, and even missiles.
Possible careers:
Aeronautical engineer
Aerodynamics engineer
Computer Numerically Controlled (CNC) programmer

10. Marine engineering
Kung may engineer for land and air, syempre meron din sa tubig! Marine engineers design, build, and maintain all sorts of boats, ships and sea vessels. Other marine engineers may even specialize in constructing and repairing submarines and tankers.
See yourself designing ships? Want to help make sea travel safer and more efficient? Marine engineering is the way to go.
Possible careers:
Marine engineer
Marine technician
Naval architect


Now that you have an overview of engineering courses, you can answer question #1 on four things to ask yourself before choosing a college course. (Check out the article for other factors to consider when choosing your major.)
We're here to help you build your future in engineering. Learn more about how we make education affordable for thousands of Filipino students like you. Download the Bukas app on Google Play today! Kung gusto mo maging updated with our latest content and updates, you can connect with us on Facebook or reach us any time via email!
Want to get a FREE College Guide? Mag-sign-up na para makakuha ng more freebies at maging updated sa exclusive tips, how-tos, and latest events and webinars led by Bukas.

About the Author
Karr is a freelance writer with a passion for storytelling and self-development. For six years and counting, she's been creating content for impact-driven companies. Her skill set includes writing about student life, producing videos on inspirational athletes, and making resin art. As a multipotentialite, Karr believes a career path doesn't have to be a straight line.