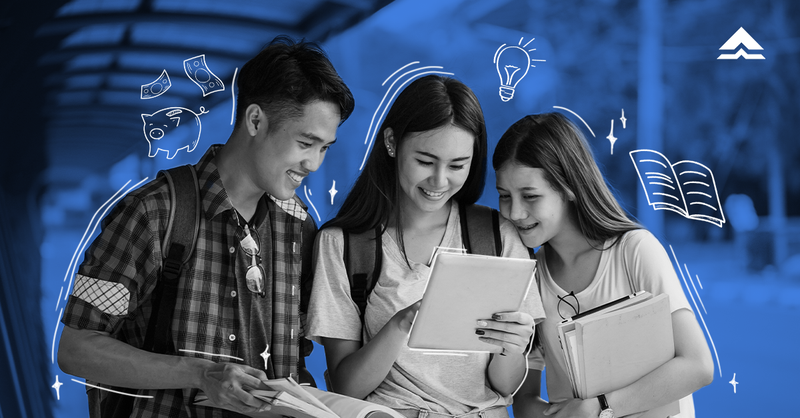 From a young age, we are taught to value our education. Being raised in an ideal learning environment provides you with benefits and opportunities that can help you attain a brighter future. As you gain knowledge through the years, magiging malaking tulong sa'yo sa real world yung mga natutunan mo sa loob ng classroom.
Despite the current global situation, it's good to know that there are practical benefits of studying amidst the pandemic. However, while the digital learning environment may promote flexibility, habitual learning, and adaptability, maraming estudyante ang hindi pa rin makapagpatuloy ng due to financial constraints.
The youth is the future of the country. Here's our call: to empower the leaders of tomorrow, educational institutions should be generous with scholarships and grants today. Kung isa kang school administrator, take some time to understand how college tuition assistance can impact the students and even the institution. It's a win-win situation .

1. Scholarships teach students the value of giving back
With tuition rates in the country constantly on the rise, many people view a good educational background as a luxury. Dahil mabigat sa finances ang enrollment fees, the high cost of schooling puts students from low-income families in a tough spot, forcing a lot of students to stop school or find work while studying. The Department of Education (DepEd) reports that over four million students were unable to enroll for this school year alone.
By providing financial assistance, educational institutions give students the opportunity to reach and complete their higher education. At the same time, providing aid can also be a way to inspire students to become philanthropic once they become established professionals. Since they know what it feels like to receive help, particularly in finances, their good experience can motivate them to give back to the university or possibly fund another student's education. It's a cycle of gratitude where both students and education institutions win.

2. Financial assistance lets working students focus on their academics
Para mabayaran ang school fees and ibang daily expenses, working students need to sacrifice some of their study time to pay off their dues. Since they may be spending more time at work than at their study table, their grades may be more prone to slip.
One of the most significant benefits of providing scholarships for college students is how it allows them to focus on their academics without worrying about their finances. This way, mas motivated sila mag-aral and they are given the time to pursue extra-curricular activities that can help them develop their skills and other interests.
This also lets educational institutions experience better retention rates and improved rankings during assessment periods since students are more engaged in learning. Aren't students a reflection of the school?

3. Providing scholarships can help establish a high-performing student population
There's no shortage of talented youth in the Philippines. However, it's sad to know that many young people fail to realize their potential due to financial problems. Without the proper guidance and educational background, many students are unable to develop their skills, preventing them from creating the future they want. With that said, schools that are generous with scholarships and grants have the opportunity to bridge this gap.
Apart from the financial assistance provided, schools enable the youth to grow and develop into competent professionals. Ultimately, this allows the institution to establish a pool of talented students, building the school's credibility in the process. A natural by-product, that is.
It's also good to see that scholarships in the educational sector now go beyond academic performance. Nowadays, students that are artistically gifted or talented in a particular sport have the opportunity to attend college for free through the varsity or athletics program.

4. Creates a stronger alumni base
When a school is generous with its support, it opens up a more welcoming environment for the students. Through these scholarship programs and grants, building an alumni network comes naturally because of the established trust slowly built with the student community.
In most cases, when a student feels highly supported and connected by their school, magiging supportive sila sa future events and programs ng school. Aside from making donations or conducting alumni-sponsored events, including academic scholarships for the next generation of students, it's also important to note that the memories they have within your institution will last with them for a lifetime. Dahil maganda ang karanasan nila, they are likely to put in a good word for your school when they can. Marketing campaigns are good. But word of mouth is even better.


Paving a path today for a better tomorrow
Educational institutions have the power to mold and shape young minds. However, obtaining the necessary background has proven to be quite difficult during these challenging times.
Fortunately, colleges and universities can help remedy the situation, starting with providing financial assistance for their students. Through scholarship programs and tuition assistance plans, a better future is within arm's reach for the youth. Para sa mga pag-asa ng bayan.
If we look hard enough, there are a lot of things we can to do to support our students. While we can't do it all overnight, we can start today. Bukas is committed to help the youth create a better tomorrow. If you share the same mission and are looking to provide more flexibility to your students, become a Bukas Partner today! By granting them the assistance they need today, we can empower the leaders of tomorrow.
Learn more about how we make education affordable for thousands of Filipino students like you. Download the Bukas app on Google Play today! Kung gusto mo maging updated with our latest content and updates, you can connect with us on Facebook or reach us anytime via email!