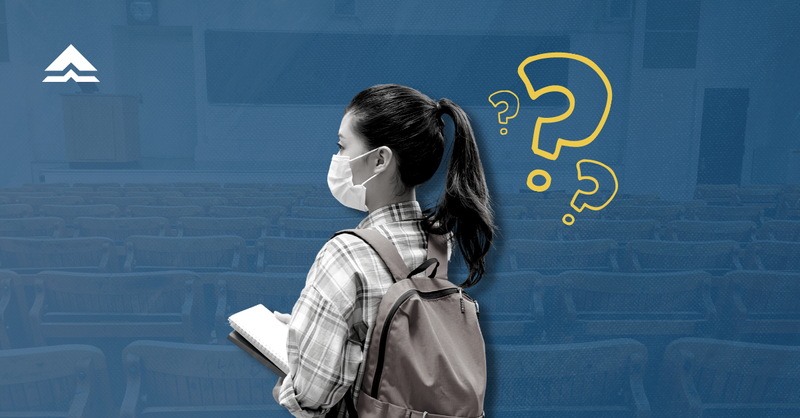 "May pandemic. Bakit kailangan ko pa mag-aral?"
If you're a student and you've asked that question over the past year, hindi ka nag-iisa. And you have every right to do so. To say that education in the pandemic has been challenging for everyone is an understatement.
The digital divide is wider than ever–with millions of students and teachers adjusting to online classes almost overnight. Not to mention the common struggles of studying from home: walang laptop, mahinang internet connection, and too much academic stress. Naranasan mo rin ba ang mga 'to?
If that's the case, then you might think that it's a no-brainer to quit studying at this time. Kailangan mo ba talaga ipaglaban ang pag-aaral mo sa gitna ng pandemya? If you have the means, the global organization UNICEF rallies you should. We hope so, too.
Talking about its 'Pandemic Classroom' installation at the United Nations Headquarters last March 2021, UNICEF Executive Director Henrietta Fore emphasized how continuous education, or rather its disruption, greatly affects the students' learning potential:
"This classroom represents the millions of centers of learning that have sat empty—many for almost the entire year. Behind each empty chair hangs an empty backpack—a placeholder for a child's deferred potential. We do not want shuttered doors and closed buildings to obscure the fact that our children's futures are being put on indefinite pause."
Kahit sa gitna ng pandemya, education continues to play a crucial role in building and shaping the minds of young people. And it should not be dependent on whether schools are temporarily closed or not. So if you have the capacity and access para ipagpatuloy ang iyong pag-aaral, the better question to ask is this: what makes studying amidst the pandemic worth it? We have four practical reasons to your benefit.

1. You can study anywhere and anytime
Education knows no bounds. Transforming bedrooms into makeshift classrooms may be less than ideal for students but the freedom to learn anywhere and anywhere, at least compared with traditional learning, almost always makes up for it. Hindi na lang pangarap o kataga ang "learning beyond the four corners of a classroom."
Para sa karamihan ng mga estudyante, it gives them opportunities to continue studying regardless of their situation. May mga estudyante na naipagpapatuloy ang degree kahit umuwi ng probinsya. May mga working students rin na mas kaya nang pagsabayin ang trabaho at pag-aaral ngayon dahil sa mas flexible na setup–something they have to juggle with difficulty or even choose between during the pre-pandemic setup.
Despite the huge adjustment for most traditional schools, teachers have also been working double time to repackage old programs for distance learning. For starters, schools like National Teachers College (NTC) implemented modular classes. This way students can continue studying in the "new normal" kahit na wala silang internet connection. This proves how distance learning can be a good alternative to facilitate learning, not just a last resort when face-to-face classes are limited.
Kung meron ka namang laptop and internet connection, then good for you. The world is at your fingertips! With all the learning resources available online, pwede kang makapag-aral anywhere in the world, from home.

2. You learn at some of your best years
We believe that anyone anywhere should be able to study and finish their education at their own pace. Mapa four years man 'yan or five (or six!), the numbers don't really matter. But that's not what we're talking about here. To get the most out of your learning experience, considering your best years is equally as important.
Don't you just love it when you can easily learn or do things without difficulty? According to scientific research, neuroscientists found that different parts of the brain work best at different ages. Bilang estudyante, specifically those aged 18 to 19, this is the point in your life when your cognitive skills are at your peak. Simply put, these are the years kung kailangan ka mas madaling nakakaalala at nakakaintindi ng complex information like those you encounter in class. Think pythagorean theorem or research subjects!
This pandemic may convince students like you to loosen up in your studies until things get back to "normal" (read: if you need to rest, that's okay!) pero kung gusto mong ma maximize ang learning capabilities mo when your at your smartest, now may be the best time to open your textbooks and study hard–while your brain cells are fully cooperating.

3. You become technologically literate, by default
Even before schools migrated to online platforms for its virtual classes, digital education has already been the direction for today's learners. Gone are the days when yellow manila papers were used for class presentations or lecture notes written on chalkboards. Nowadays, you just get a downloadable link from your teachers and proceed to organize your notes… online. Digital learning tools for a generation of digital learners.
Ngayong lagpas isang taon na ang online classes, you're probably past the adjustment stage and have mastered the ins and outs of virtual classrooms. From entering your classes on the dot down to submitting your modules at 11:59 PM! Isama mo pa ang lahat ng webinars na pinanood at inorganisa mo as part of your course requirements.
All this to say that though being 'tech savvy' is learned out of need to survive and thrive in online classes during the pandemic, it's a valuable skill nonetheless that you can use to your advantage. Lalo na ngayon where more and more schools (and workplaces!) are becoming more digital. Where does that leave you? Ahead of your peers.

4. You build a habit of learning
Last but not least, studying amidst the pandemic is worth it because of the learning habit it builds in you. Not a lot pays attention to how important continuous learning is until after semester break when students are back in school and having a hard time understanding the lessons. For decades, researchers called this the "summer learning loss."
To put it into perspective, ito yung feeling mo na parang naka bakasyon pa ang utak mo on the first day or week of classes. Except this learning gap is more than just a feeling and it results in lower academic performance among students. It's real and it's a struggle.
Just like muscle memory, making studying a habit trains your brain to perform better over time. Mas mahirap man ngayong may pandemya, hindi pa rin matatawaran ang tulong na naibibigay ng tuloy-tuloy na pag-aaral sa progress ng bawat estudyante. Think of it this way: if academic performance declines over two or three months of school break, can you imagine what it's going to be like for a year? We hope you won't have to know.


Education will always be important. No matter the season or the situation we're in. While we hope classes go back to normal soon, students will probably have to wait a few more semesters before they log out of their screens and back to their seats without looking over their shoulders. After all, education is important but so is safety.
Until then, we will wait and find more ways to adapt–with the help of technology–without losing sight of the reason why we fight for learning: the future of every student. Even if it means doing it amidst a pandemic. Because to answer the question, we believe it's worth it.
Need financial assistance to pay for your studies? Learn more about our tuition installment plans and how we make education affordable for thousands of Filipino students like you. Download the Bukas app today on Google Play! Kung gusto mo maging updated with our latest content and updates, you can connect with us on Facebook or reach us anytime via email!