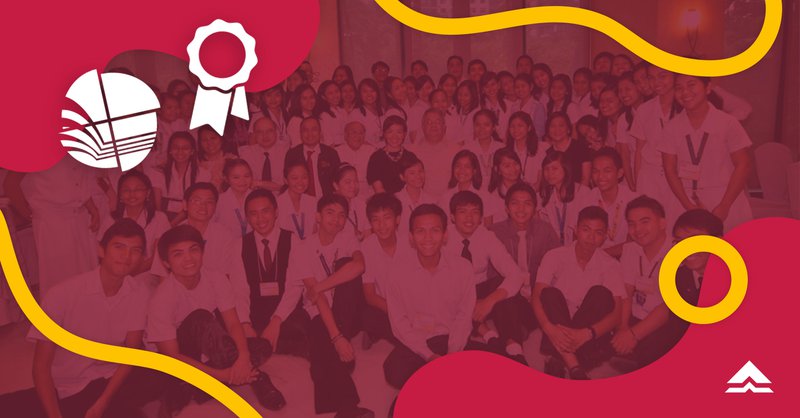 Education has always been a good investment. But it's often a costly one. During the past year, we've seen how the health and economic crises have made it more difficult for people to make ends meet. Dahil dito apektado ang mga pamilyang may pinag-aaral na mga estudyante. Marami sa kanila ang nahihirapan maghanap ng pambayad para sa tuition, dagdag pa rito ang internet connection at gadgets na kailangan sa online learning.
No student should be left behind. Ngayong balik eskwela na, mayroong mga scholarships na pwedeng makatulong sa'yo. Kung nag-aaral ka sa isa sa mga PHINMA Education schools, we've listed 5 PHINMA scholarships that can help you fund your studies.

Hawak Kamay (HK) Scholarship
PHINMA Education grants HK Scholarships to incoming freshmen from low-income families. No maintaining grade required! Depending on the school's review of your application, you can receive either a 25%, 50% or 75% discount sa tuition at miscellaneous fees.
Qualifications: Must be an incoming freshman or transferee in any PHINMA Education school in the Philippines from a low-income family
Requirements: Filled-out online application form for HK Scholarship
Duration: 4-5 years (until you complete your chosen course/degree)
Application period: Early enrollment period during 1st semester
Note: Stay updated at PHINMA Education website for the final requirements and application period. For the application form, you may also reach out directly to your PHINMA Education school!

Dean's List Scholarship
This scholarship is granted to current PHINMA Education students who make it into the top 25 of the semester's Dean's List! Full and half scholarships are given depending on the student's grade point average. Note that this only covers tuition fees.
Qualifications: Must be a Dean's Lister
Requirements: Official Dean's List from the school Registrar
Duration: One semester (renewable)
Maintenance:
Grade point average of 88 or above, with no grade lower than 85
No academic mark of Incomplete, Dropped, or Failed

PHINMA Scholarship
This is a full scholarship that covers the tuition and miscellaneous fees of incoming freshmen students who excel in their academics. The scholars also receive an allowance of Php 4,000 every month for the duration of the program.
Qualifications:
Must be a top student from previous school
Must come from a low-income family
Requirements:
Qualifying marks on the scholarship exam
Must enroll in a priority board (degree) program
Duration: One semester (renewable)
Maintenance:
Grade point average of at least 1.75, with no grade lower than 2.00
No academic mark of Incomplete, Dropped, or Failed
Ten (10) service hours per week or equivalent activity at the school

Student Assistance Program
This is a scholarship granted to students who are willing to study and work at the same time in their preferred PHINMA Education school. Depending on the number of service hours and subjects handled by the student, this scholarship can cover either 100% or 50% of the student's tuition for the semester.
Qualifications:
Must come from a low income family
Must not have any failing marks
Requirements: Applicants must submit 2 copies each of the following documents:
Income statement of parent/s
Recent proof of billing or certificate of indigency
Good moral certificate
Medical certificate
Report Card (for freshmen) or a photocopy of Grade Report from Registrar (for old student)
2×2 Photo
Duration: One semester (renewable)
Maintenance:
Attends the monthly meetings or activities of their assigned department
Maintains a good class standing
No academic mark of Incomplete, Dropped, or Failed
Twenty (20) service hours per week to assigned department

Siblings/Kapamilya Discount
This scholarship is applicable to siblings who are simultaneously enrolled in the same PHINMA school. The tuition coverage ranges between 5% - 30% depending on the number of siblings enrolled.
Qualifications: Must have at least one sibling enrolled in the same PHINMA Education school
Requirements:
NSO Birth Certificate of all siblings
Certificate of Matriculation from previous school
Duration: Valid as long as at least 2 siblings are currently enrolled


That's it! Take note that some application details may vary from each PHINMA Education school. To stay updated with the latest application period and requirements, make it a habit to check out their official Facebook page and website.
While those we listed are applicable across the school network, meron ding mga scholarships na specific sa iba't-ibang PHINMA Education schools. For more information on available scholarships, you can visit the following school websites:

Paraan Para sa Iyong Pangarap
Alam namin na mahirap maging estudyante, lalo na sa panahon ng pandemya. Bukod sa mga scholarships na mayroon ang PHINMA Education, may Bukas din para sa'yo!
With our partnership with PHINMA Education, Bukas offers student loans that can cover up to 100% of your tuition and other miscellaneous fees. Walang grade requirement at available ito for all year levels and course programs. So whether it's a scholarship or through an installment plan, you can pursue your studies in a PHINMA Education school. Either way, kasama mo ang Bukas!
Learn more about how we make education affordable for thousands of Filipino students like you. Download the Bukas app on Google Play today! Kung gusto mo maging updated with our latest content and updates, you can connect with us on Facebook or reach us anytime via email!

Written by: Bea Salcedo