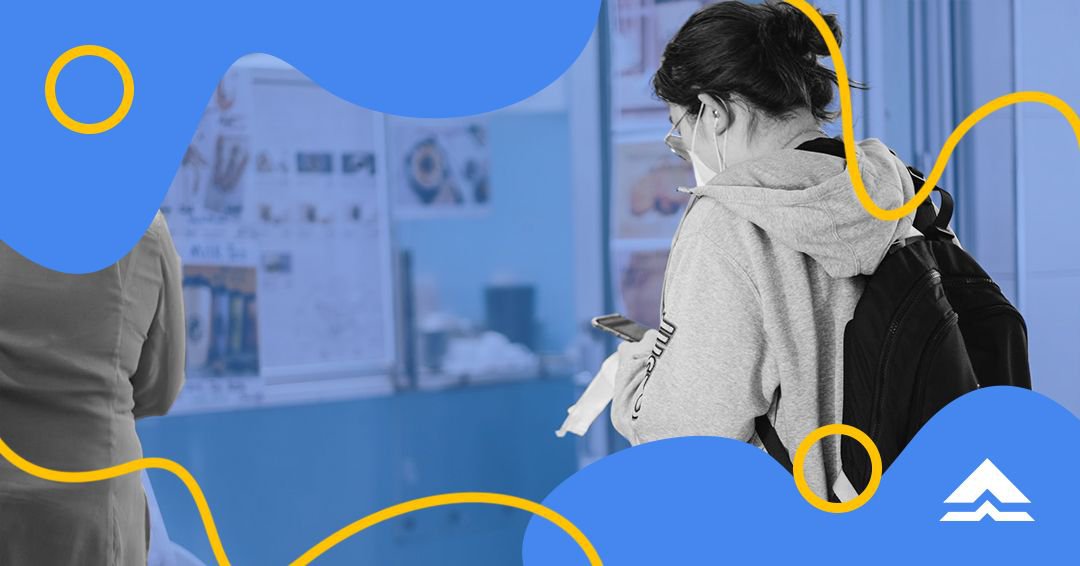 It's a new semester, students! This 2022, more colleges, universities, and specialized schools are conducting limited face-to-face classes now that the restrictions have been eased to Alert Level 1 in most cities in Metro Manila and other key cities in the provinces.
With more schools holding face-to-face classes, there's now an opportunity for you to reunite with or finally meet your classmates, professors, org mates, pati na rin ang mga ate at kuya from students' favorite food spots and coffee places.
While students are both excited and anxious over the new semester and the possibility of face-to-face classes, do take note that schools in different regions have varying guidelines depending on the Alert Level of their area.
Yours can be one of the schools resuming on-campus classes. Whether you're excited to see your classmates in the flesh or anxious about the beginning of classes, here are some tips to help you face the semester. Are you ready to go back to school (physically)?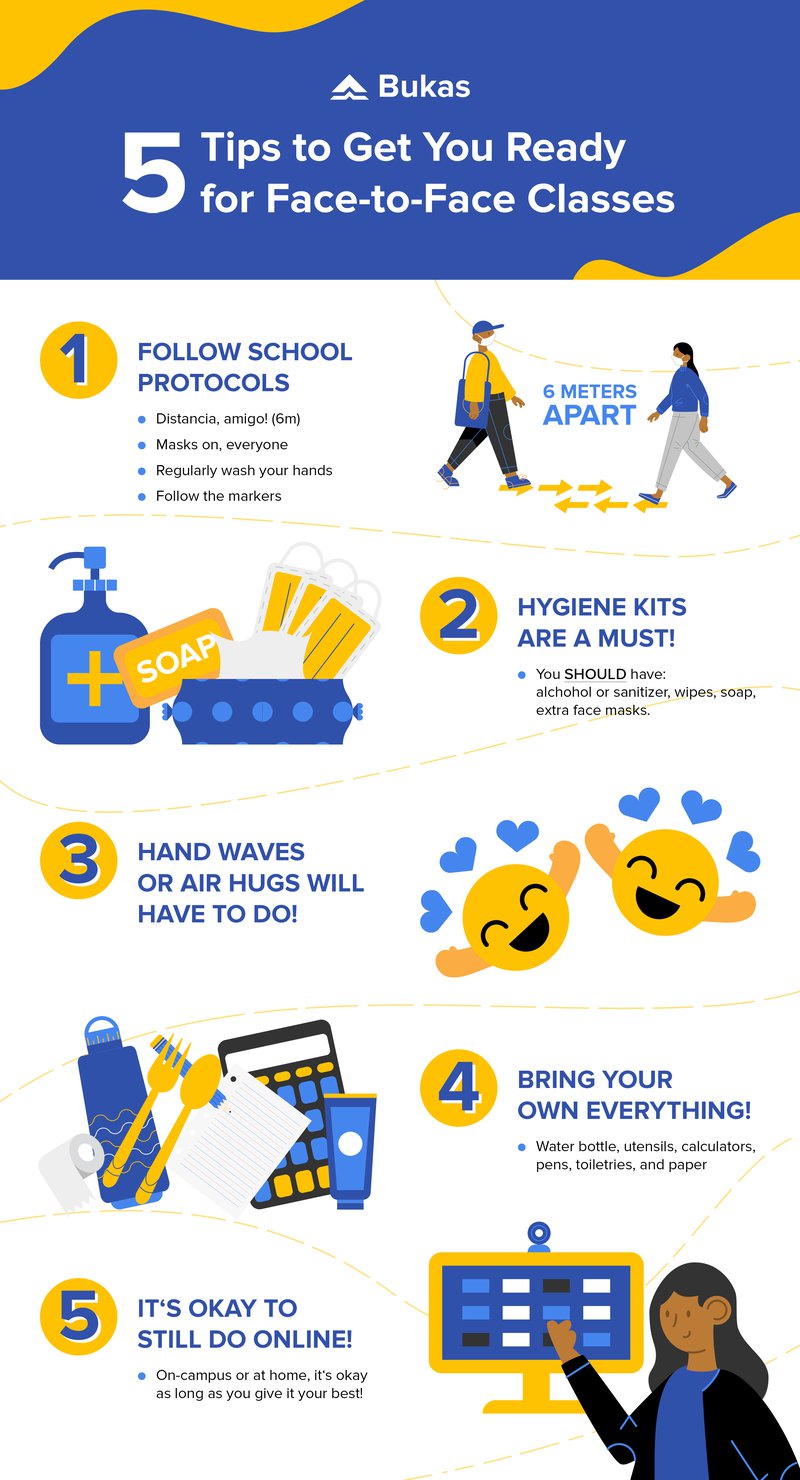 Follow the school's protocols
Schools, as public spaces, follow IATF COVID-19 guidelines. Apart from enforcing social distancing, temperature checks, and keeping your face mask on at all times, they also have their initiatives such as handwashing stations, ensuring proper ventilation, and setting up physical barriers, markers and signages, thermal scanners, and air purifiers. All these para mapanatiling ligtas ang mga estudyante at staff!
And when you're not feeling well, it's best to stay at home instead. Once you're well, make sure to frequently check your school's social media pages for the latest updates and protocols for face-to-face classes.
Hygiene kits are a must
Apart from following the school's guidelines, we also have to do our part in keeping the campus COVID-free. For one, dapat may nakahanda kang hygiene kit. Your kit should contain alcohol, wipes, soap, and an extra face mask. Having these will help mitigate the spread of the virus on-campus and at home.
Bringing a sanitizing kit alone is not the way to go– using the items is! Siguraduhing palaging nag-di-disinfect ng iyong uupuan, your lunch table, the items you frequently use, and even your classmate's or friends hands (if they ask, of course). Wash your hands regularly and avoid touching your eyes, nose, and mouth as much as possible.
As soon as you get home, disinfect your phone, ID, bag, eyeglasses (if you have one), money, shoes, and clothes. Have your home wear ready and shower immediately after arriving home. Sa ganitong paraan, your family will be safe from possible exposure to the virus.
Hand waving will do
It's been a while since you saw your friends, and hugging them is definitely tempting. But, for everyone's safety, waving at each other will have to do in the meantime. Not only does it minimize possible contact with the virus, but hand waving also encourages everyone to still be friendly while remaining socially-distanced
Alternatives to hand waving can be bowing or air hugs, too!
Bring your own… everything
Another way to minimize the potential spread of the virus is to bring your own, well, everything: water bottle, utensils, calculators, pens, toiletries, and paper.
We're sure that schools and establishments have been regularly disinfecting the facilities, so let's do our part by disinfecting them too after use for the next person. This includes the utensils and cups you're going to use whenever you eat at the cafeteria or outside.
It's no secret that part of school life is asking for a sheet of paper whenever the professor suddenly requires one. But, for now, it's best to buy your own. Tigil muna saglit sa paghingi ng yellowpad paper sa katabi.
It's okay to still do online
If you're worried about the commute, the crowds, and other circumstances that can affect your face-to-face class experience, it's okay to still do online classes. To add, some schools offer a hybrid classroom setup where professors teach both in-person and remote students. Maaaring mag-accommodate ng in-person students ang classes depending on the school location's alert level status and at the same time, other students can continue doing distance learning. On your end, make sure to be engaged in your classes, nasa classroom ka man o nasa bahay.
Check out the latest list of schools that allow limited face-to-face classes in the Philippines. You can also ask your schools whether they support a hybrid learning setup. This way, you have the option of going to school or continuing your learning at home.
Whether you're attending on-campus classes or distance learning, there are ways your university administrator can help out, especially with distance learning. What matters is you get the best out of the incoming year, whether it be at home or on your campus.
PS. The new year also means enrollment season for most universities! Want to know if your alma mater is included in our partner schools? Find them here. If you're a school administrator and you believe in what we're doing for the students, you can partner with us!
Learn more about how we make education affordable for thousands of Filipino students like you. Download the Bukas app on Google Play today! If you want to stay updated with our latest content and updates, you can connect with us on Facebook or reach us anytime via email!