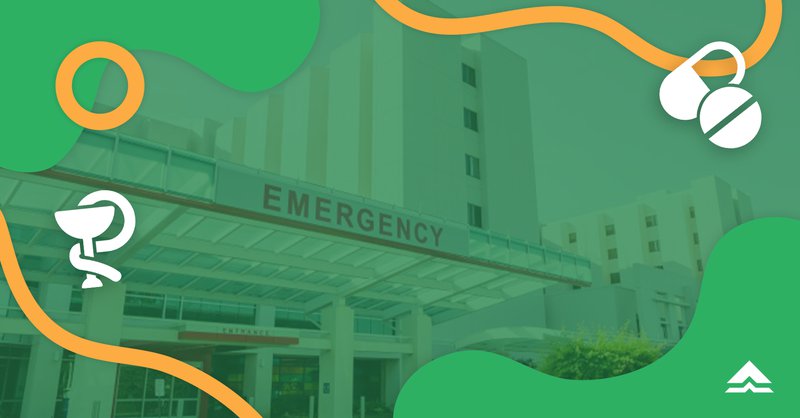 Are you interested in taking medical courses in college? If you are considering a career in the medical field, we have good news for you! Hindi lang doctor o nurse ang pwede mong maging trabaho in the future.
There are many routes you can take to pursue a medical profession. To help you navigate your healthcare career journey, we've put together a list of the in-demand medical careers in the Philippines and abroad:

1. Nurse
Average salary: ₱163,055/year
Alam mo bang nurse ang isa sa pinaka in-demand na trabaho ngayon, hindi lang sa Pilipinas kundi pati na rin sa ibang bansa? Our country is one of the biggest suppliers of nurses in the world, comprising roughly 25 percent of all overseas nurses worldwide.
Whether you want to work in hospitals, assist in company clinics, or contribute as a health aide to those in need, nursing is one of the most versatile jobs you can take in the medical field.
Tasks:
Conduct physical exams, check a patient's vital signs and perform other health-related testing
Take detailed health care histories of patients
Provide guidance and health care education to patients
Coordinate care with other health care providers and specialists
Stay current with advances in health care options, medications, and treatment plans

2. Physician
Average salary: ₱483,500/year
Alam mo bang ang pagiging Physician ang isa sa mga highest-earning professionals sa healthcare field? As a physician, it is your duty to diagnose and treat your patients, take their medical histories as well as prescribe medication.
Tasks:
Take medical history or patients
Update charts and patient information to show current findings and treatments
Order tests for nurses or other healthcare staff and review result to identify any abnormal findings
Recommend and design a plan of treatment
Address concerns or answer questions that patients have about their health and well-being
Guide patients on how to properly take care of their health

3. Pharmacist
Average salary: ₱237,000/year
The main responsibility of pharmacists is to dispense prescription medications to patients as well as offer expert advice on how to safely administer the medicine without causing adverse reactions. Upang maging isang Registered Pharmacist, kailangan mong magtapos ng kursong BS Pharmacy at pumasa sa Phamarcist Licensure Exam.
Tasks:
Dispense or supervise the dispensation of medications and related supplies, according to physicians' prescriptions
Reviewing prescriptions for accuracy
Compounding medications and preparing special solutions
Guiding patients regarding appropriate use of medications
Collaborating with other healthcare professionals to plan, monitor, review, and evaluate patient effectiveness

4. Medical Technologist
Average salary: ₱178,458/year
Do you imagine yourself working in a lab and performing laboratory tests like urine and blood analysis? Kung oo, baka Medical Technologist na ang career na para sayo! Medical technologists usually are in charge of facilitating laboratory tests (e.g. CBC tests, urine, and fecal) and providing data that needs to be interpreted. But before that, you need to get your degree in BS Medical Technology first and pass the Medical Technologist Licensure Examination.
Tasks:
Perform professional laboratory work following established clinic procedures
Conduct chemical and biological tests on patient specimens for medical diagnosis
Conduct laboratory tests, procedures, and analyses to provide data for diagnosis, treatment, and prevention of disease

5. Healthcare Customer Care Representative
Average salary: ₱205,659/year
As a Healthcare Customer Care Representative, your job is to help address inquiries about insurance claims and program coverages. You may also provide assistance on finding information about products and services, placing orders, and resolving issues.
In this line of work, you can get a job in call centers owned by or affiliated with health insurance providers. Or directly at healthcare insurance companies!
Tasks:
Answer incoming calls from customers
Assist customers with requests for information, complaints, making appointments, and resolving issues
Ensure that patient forms contain all the necessary information billing and other relevant purposes
Maintain and update customer and referral information

6. Healthcare Data Management Specialist
Average salary: ₱325,000/year
Do you love clerical and administrative tasks like preparing and filing documents? Alam mo bang merong medical career para jan? Healthcare Data Management Specialist take charge of updating databases and creating reports related to healthcare. They also analyze and validate data to ensure that the processes in place are effective.
Tasks:
Manage and update databases related to healthcare.
Ensure data are consistent, complete, accurate, and reasonable.
Perform data analysis using statistical tools.
Generate data reports on a periodic basis for management and customers.
Address any issues, questions, and problems in an accurate and timely manner.

7. Medical Coder
Average salary: ₱330,644/year
Ever heard of medical coders? Think of this profession as a translator! Medical coders translate procedures into alphanumeric codes that can be understood by insurance companies, in case patients need to make a healthcare claim.
Kung interesado kang maging isang Medical Coder, pwede kang kumuha ng Medical Coding and Billing NC II course as TESDA. In this program, you'll be trained in assigning diagnostic and procedural code using the International Classification of Diseases (ICD-9) and Current Procedural Terminology (CPT) manuals.
You'll also learn how to perform tasks related to medical billing and reimbursement. This course usually takes 196 hours to complete at kapag naipasa mo ang Competency Assessment, maaari mong makuha ng certication mo sa TESDA!
Tasks:
Assign codes to diagnoses and procedures, using ICD-9 and CPT manuals
Ensure codes are accurate and sequenced correctly
Follow up with the provider on any documentation that is insufficient or unclear
Communicate with other clinical staff regarding documentation
Receive and review patient charts and documents for accuracy
Ensure that all codes are current and active


Ready to begin your career in the medical field? Start by checking out these top medical courses in the Philippines that you can take in college.
Learn more about how we make education affordable for thousands of Filipino students like you. Download the Bukas app on Google Play today! Kung gusto mo maging updated with our latest content and updates, you can connect with us on Facebook or reach us any time via email!
Want to get a FREE College Guide? Mag-sign-up na para makakuha ng more freebies at maging updated sa exclusive tips, how-tos, and latest events and webinars led by Bukas.