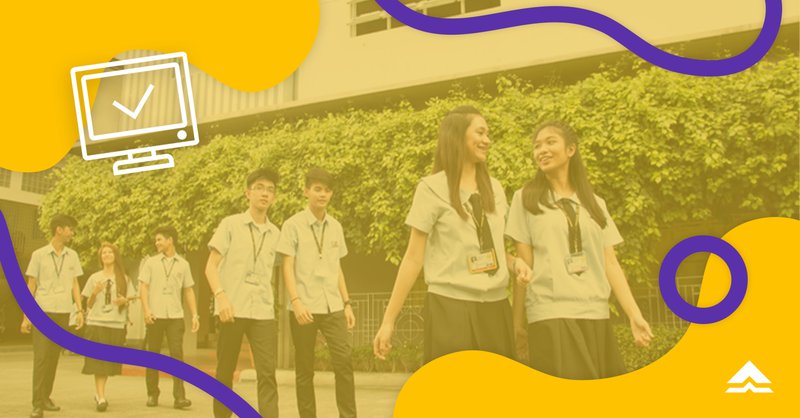 Since many schools transitioned to virtual learning, students had to be extra creative in channeling their school spirit. That may even be you! Whether you're an incoming or current student of the Technological Institute of the Philippines (T.I.P.), you probably want to unleash that campus pride within you, too. Kahit na online setting pa muna ang mga klase.
One of the best ways to feel like a full-fledged T.I.P.ian is by getting to know your school. That being said, read on and take note of these 7 fun facts about this premier technological institution.

1. T.I.P. has a vlog channel on Youtube called T.I.P. TV.
Even before the shift to online classes, T.I.P.ians already knew the ropes around vlogging. You'll surely find T.I.P. TV's videos helpful and entertaining. Sa channel na ito, mapapanood mo ang mga informational video tulad ng Q&As, Student Hacks, at Life as a T.I.P.ian. Watching their vlogs is a great way to get acquainted with the campus culture and community even when you're at home!

2. They have one of the best Career Centers.
In 2019, the T.I.P. Career Center was internationally recognized as a "Model Career Center" in the Philippines by the Science, Technology, Research and Innovation for Development (STRIDE) Program of the United States Agency for International Development (USAID).
Having one of the best career development centers in the country means T.I.P.ians have access to services like career advisory, internship networking, online resources for career development, and resume building. With all these readily available student services, mas madaling makakuha ng trabaho ang mga estudyante when they graduate. This is the part where you say, "Salamat, T.I.P.!"

3. The first T.I.P. site was at the Old Lorenzana Building in Quiapo, Manila.
Back in 1962, T.I.P's first site was located at what was then known as the Old Lorenzana Building in Quiapo, Manila. The school started with only 2,400 students and grew its current population to an impressive 25,000 students. That's ten times better in student quantity and quality education!

4. Jorey Napoles was the first T.I.P. athlete to get drafted as a PBA Rookie.
Napoles made history as the first T.I.P. basketball player to get drafted as a PBA player in 2018. After the first round, he caught the attention of the Phoenix team and eventually secured a contract with them as a player. Having battled with the top collegiate leagues in basketball, Napoles serves as an inspiration to those aspiring to make it big in Philippine sports. With hard work, dedication… and a good school like T.I.P., you can make it anywhere!

5. The school logo is inspired by elements in engineering.
The T.I.P. logo is something you see all the time on campus merchandise and social media posts. Pati na 'rin sa ID mo! Pero alam mo ba ang ibig sabihin ng T.I.P. logo?
True to being one of the best schools in engineering, the design incorporates essential elements of engineering in the school logo, specifically: line and symmetry. The color ratio also suggests the school's stability and overall great structure. Now you know!

6. They offer flexible learning options for students.
Keeping in mind the students' well-being during these trying times, T.I.P. curated a modular approach to their programs. Unlike regular semesters in school where students have to take 9 courses all at once, the modular approach makes virtual learning more manageable.
Do you wish you could take only 3 courses (or less) every 6 weeks? Sa T.I.P., pwede! With this approach, mas may oras ang mga estudyante to relax, unwind, and do the things they enjoy outside of school. Now, that's school-life balance for you.

7. T.I.P.ians can now pay for their tuition through installments.
May Bukas para sa'yo! Through a tuition installment plan, or simply student loan, mas magaan at abot kaya na ang pag-aaral mo sa T.I.P.
With our partnership with the school, we can cover up to 100% of your tuition and other miscellaneous fees all throughout your studies at T.I.P. It's available for all year levels and programs. Mapa-college pa yan or graduate studies! No minimum grade requirement, and all online applications can be approved in as fast as three working days.


We hope these fun facts helped you get to know T.I.P better. But a surefire way to channel your school spirit is by engaging with the school community. Huwag kang matakot to make new friends at T.I.P. Kahit online classes, may campus life pa rin.
Learn more about how we make education affordable for thousands of Filipino students like you. Download the Bukas app on Google Play today! Kung gusto mo maging updated with our latest content and updates, you can connect with us on Facebook or reach us anytime via email!

Written by: Bea Salcedo