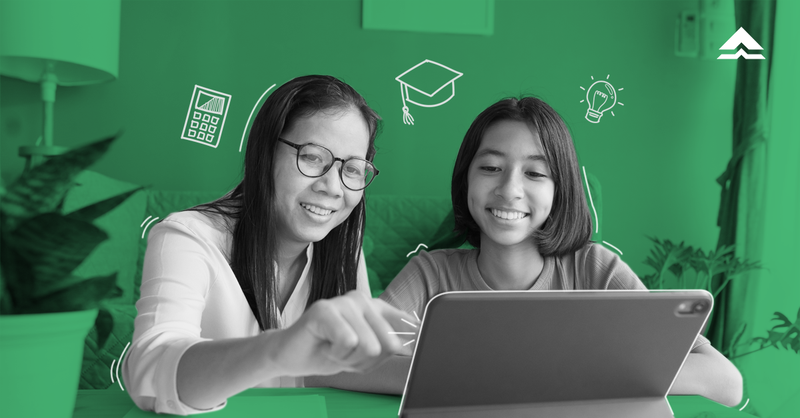 Many parents believe that a good educational background is essential for their child's upbringing. Being raised in an ideal learning environment simply opens up more opportunities that can pave the way for a better future. Sadly, tuition fees in the Philippines can be quite costly and are expected to increase through the years.
As you prepare for your child's future, know that you'll have a lot of expenses to shoulder. Apart from enrollment fees, you'll need to take school supplies, food, and other necessities into account. In some cases, you may also need to pay rent to avoid lengthy and tedious commutes for your child.
Fortunately, you still have time to prepare. Makaka-ipon ka for your child's college education by saving up early, estimating costs, and maximizing financial options. While some families are stable enough to pay tuition out of pocket, many others also rely on financial assistance for college students in the Philippines. To help you secure your child's future, here are some options you can look into.

Invest in an educational plan.
Getting an educational plan is a great way to save up for your child's college education. It builds up your savings over a specific period and grants life protection while the term is active. This ensures that your child is automatically guaranteed a payout that can fund their studies if anything were to happen to you.
This method is one of the most common college funding plans in the country. Investing in one as soon as possible is ideal since it will allow you to maximize the benefits of compound interest. In simple terms, the money you've placed in an educational plan will grow more effectively since both your interest and savings will increase through the years.
Taking advantage of your long time horizon will help you stay ready once your child moves towards higher education.

Apply for a student loan.
If you want to attain more flexibility over your finances, taking a loan may be your best option. Nakakatakot mang magkaroon ng utang, but there are times where it's the best way to get out of a tricky financial scenario. You just have to choose good and credible loan providers. Luckily, getting a student loan is fairly straightforward, which means that there's nothing to worry about. After all, there's such a thing called 'good debt!'
Today, student loan providers such as Bukas are trusted by thousands of parents and students for financial aid. Applying for a tuition installment plan lets you enjoy a flexible payment plan, an easy application process, and more. Compared to traditional methods, getting a loan from Bukas is much faster, too. This gives you enough time to prepare and complete your child's enrollment. In as fast as 3-5 working days, pwede nang makapag enroll ang anak mo through a Bukas installment plan!
If you're still hesitant to apply for one, here are 5 reasons why you shouldn't be scared of student loans.

Find niche scholarships and grants.
Getting a scholarship for your child's college education can help you deal with your financial responsibilities. However, this method can be a bit trickier as you'll need to search for government and private organizations that offer them. At the same time, success in scholarship applications can be very challenging due to the high amount of competition.
Kung nagtatrabaho ka as an OFW, you can also apply for grants such as the Overseas Workers Welfare Administration's Education for Development Scholarship Program (EDSP) to help finance your child's 4–5 year college course.

Start a side hustle.
Financial comfort is easier to attain when you have multiple streams of income to rely on. Thanks to the advent of social media and other digital channels, starting a side hustle can be done with hard work, and a stable internet connection.
Typical side jobs include working as a freelancer, getting a part-time job, or starting a small business. Along with your regular job, having a side gig can help you reach financial goals a lot quicker, too.

Consider your child's talents and skills.
Several colleges and universities in the Philippines offer scholarships to students who show promising talents. These grants are usually given to those who demonstrate academic prowess, high artistic skill, or excellence in a particular sport.
Keeping this in mind, support your child's passion at an early stage. Encouraging them to draw, play basketball, or explore their hobbies and interests will help them in their development and bring about other practical benefits that can help pay for their education.

Invest in rental properties.
This option doubles as an investment instrument for your child's college fund and your personal goals. By purchasing rental properties, you can address your expenses easier since they can generate passive income.
After your condo unit or home appreciates through time, you can also resell it at a higher price, which will allow you to cover a significant portion of your child's college fees.

Let your child earn their keep.
Hit two birds with one stone and teach your child the value of money at an early age. Giving your child a fixed allowance per week will teach them how to manage their expenses accordingly. On the other hand, encouraging them to save up for their wants will keep impulse spending at bay.
Over time, these practices will teach your children the virtue of frugality or "pagtitipid." When your children grow older and become more independent, they will see the true value of things and spend on what's important. Apart from securing their college education, letting your children earn their keep will help them build a better tomorrow.


Education can be quite costly, but it's always a good investment for your children's future. Letting your child experience the wonders of college is one of the best gifts you can give as a parent. A good educational background will widen their network while opening more opportunities for their career.
While there's no denying that costly tuition can cause a huge dent in your savings, the good news is you can deal with college expenses easily with the help of Bukas and all the financial options mentioned above. With proper preparation, securing your child's future is possible.
Learn more about how we make education affordable for thousands of Filipino students like you. Download the Bukas app today on Google Play today! Kung gusto mo maging updated with our latest content and updates, you can connect with us on Facebook or reach us anytime via email!