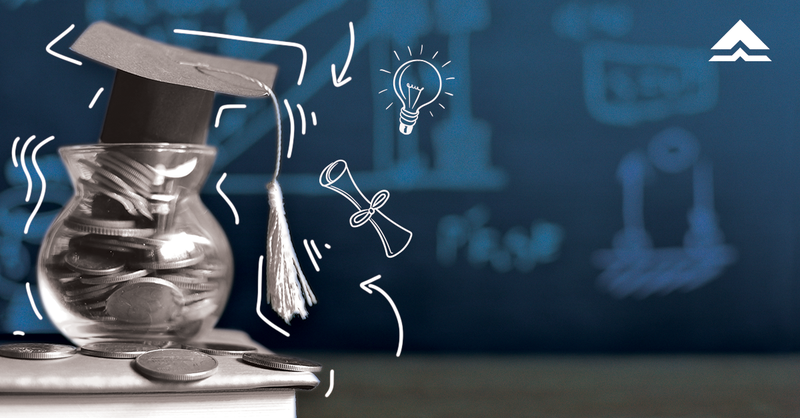 For people fortunate enough to have their parents or scholarship support their education, that's incredible. Deserve nila ang heartfelt appreciation speech or 'thank you' card. But if you have to foot the bill for your education, pwede kang mag-apply ng student loan to help you pay it off.
Oo, many students and parents are still skeptical about student loans, kesyo baka hindi nila mabayaran within the given time, or fear that it may derail their lives. Bear in mind that student loans were created not to harm you but assist you, and make education more affordable. The benefits of student loans far outweigh your fears and worries of getting them.
If you still have reservations about applying for student loans, here are some good reasons why you shouldn't be terrified of them. Let's dive into it.

1. Student loans are more inclusive than before.
The Commission on Higher Education launched a student loan program for tertiary education back in 2019. The program is open to all students, both in public and private schools, to borrow up to P60,000 to support their tuition and other school expenses. If paid within a year from the date of approval, students can even get it with zero interest!
Mas inclusive na ang mga financial assistance programs ngayon kumpara noon. Regardless kung saang school ka galing, basta qualified ka to apply, enrolled sa university o technical and vocational training centers, or isa kang undergraduate or postgraduate, at pasado ka sa requirements, pwede kang makakuha ng student financial assistance.

2. Some student loans have a "study-now-pay-later" plan that eases financial burden.
There is a multitude of repayment options available depending on the type of loan you're considering. But specifically for student loans, you can borrow money to pursue education and spread the cost into flexible monthly payments. As with other documents, always read the repayment terms and conditions before submitting your application.
Para makapag-focus sa acads mo, may flexible payment terms ang Bukas para sa'yo. You can repay the loan in 12 months, but if you have the budget, you can pay in advance without extra costs. This is especially helpful for students experiencing financial setbacks and are struggling financially to remain in school. Instead of paying a one-time payment, you can do it in affordable monthly payments para pasok sa budget!

3. Applying for a student loan is simple and hassle-free.
These days, applying for a student loan is as easy as signing up for a social media account. Sa Bukas, simple at mabilis lang ang application process—no long lines or long forms to fill out. And the best part, you can get a Bukas Tuition Installment Plan entirely online! Di na kailangan lumabas. Basta may internet ka, pwede kang mag-apply.
All you need to do is visit the Bukas website or download the Bukas app on Google Play, and ensure you have the requirements to create an account. Then, proceed to set up your student profile and submit the application. You can check out the Application Process and Requirements for a step-by-step guide on how to become a Bukas borrower.

4. Student loans open more options for colleges and universities.
Often, students have reservations about taking their dream course at their dream school because of financial issues. Maraming tao ang pinroblema 'yan. And it's a serious consideration! But with the aid of student loans, you have the choice to pursue a career you're genuinely passionate about nang hindi masakit sa bulsa.
Saan mo gustong mag-aral at anong course ang plano mong i-take? With a student loan, you can turn your, "Di ko afford ang tuition sa [X school], di nalang muna ako mag-aaral, or dun nalang ako sa iba," into "Pwede na 'kong mag-aral sa [top university] at kunin ang course na gusto ko!"

5. Applying for student loans is like investing in yourself.
Parang business lang 'yan—starting up costs a lot of money. But the better you invest in your business, the greater the returns it can provide long-term. 'Pag nag-invest ka sa education mo, you get to expand your knowledge and skills, unlock more job opportunities, earn a higher income, and achieve financial security for you and your family.
Think of student loans not as a burden, but as an investment that will open up better opportunities in the future. The key lies in changing your perspective and doing your research to figure out which student loans are better for your specific situation.


Don't let your fear of student debt scare you from getting the education you want and deserve. Investing in your education boosts your lifetime income and value. Find the courage to get over that fear and grab the opportunity in front of you.
Student loans won't look so scary once you do your research, learn more about it, and get a healthy mindset on what it's really about. Ready ka na ba mag-apply for a student loan? Here's how you can get started!
Learn more about Bukas and how we make education affordable for thousands of Filipino students like you. Apply for a tuition installment plan in your upcoming enrollment, and join our growing community for more tips and advice about all things student life. A brighter future awaits. Sa'yo ang Bukas!