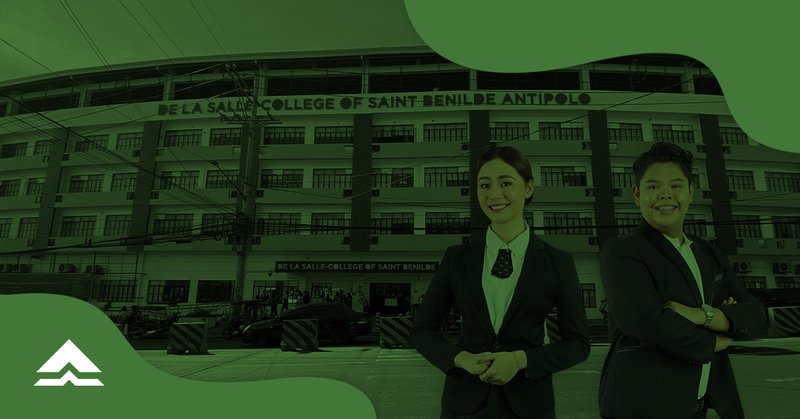 Benildean-Lasallian Education went above and beyond to promote innovation by expanding its reach to the eastern part of the Greater Manila Area, with Benilde Antipolo Campus located in the heart of Antipolo, Rizal. The institution has a long-standing tradition of academic excellence that aims to provide aspiring and current Benildeans with a top-notch education designed to prepare them for the real world.
The programs provided by Benilde Antipolo help Benildeans get ready for rewarding careers. The programs that Benilde Antipolo offers are Accountancy, Communication, Education, Psychology, Marketing Management, Tourism Management, and Hospitality Management.
With Bukas, students can pursue the course of their choice without worrying about their tuition fees.
Covering Benilde campuses
Last December 2022, DLS-CSB Taft Campus became a partner institution of Bukas to provide students with more payment options for their tuition. This year, DLS-CSB Antipolo campus is added to the roster of partners.
"Bukas is a blessing for Benilde Antipolo. It opens new opportunities for our deserving students who are struggling financially to continue their education. This partnership can help us continue our Lasallian mission of serving the lost, the last, and the least," Ms. Cerisa Katrina Roxas, Head of the Center for Admissions, mentioned.
Bukas is an education financing institution partnering with universities and colleges nationwide to provide students with affordable tuition payment options. With Bukas, Benilde Antipolo students can enjoy:
✅ Up to 100% of their tuition covered
✅ Low monthly interest rates at 1.25% only and a 2.3% one-time service fee
✅ Over 8,000 payment channels nationwide!
✅ A chance to avail of a Bukas Tuition Plan again (when they have a good borrower rating)
For example, a student requests coverage for the following amount:
Tuition Fee: ₱25,000
Repayment period: 12 months
Interest rate per month (1.25%): ₱312.50
One-time service fee (2.3%): ₱575
Monthly due: ₱2,444
Apart from easing the financial burden through education loans, Bukas also has a Student Community where students can be updated on the latest events, activities, and content for them to have the best college life experience.
Reaching new heights
Studying at Benilde Antipolo comes with many benefits. For one, the institution has a highly experienced faculty that is committed to providing students with quality education. The school's curriculum is designed to ensure that students receive the necessary knowledge and skills to excel in their chosen fields. The school also provides students with a vibrant campus life that includes various extracurricular activities that promote personal growth and development.

Through this partnership, both Bukas and Benilde Antipolo aim to have more students have a better tomorrow ahead of them.

Learn more about Bukas and how we make education affordable for thousands of Filipino students like you. Apply for a Bukas tuition installment plan in your upcoming enrollment, and join our growing community for more tips and advice about all things student life! Kasama mo ang Bukas tungo sa magandang kinabukasan.