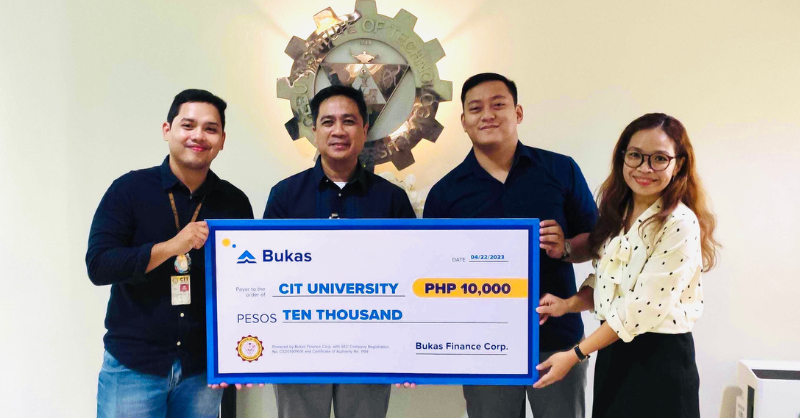 In photo (L-R): Mr. Gensbergh G. Rago, CPA, OIC for CIT-U Assessment and Billing/Student Support; Jigny Lustre, Bukas Partnerships Manager; Engr. Roberto P. Base, Jr., Head of the Office of Admissions and Scholarships; Ms. Raffy P. Diano, Marketing Director
On July 9, 2023 (Sunday), Bukas awarded a cheque amounting to ten thousand pesos (Php 10,000) to Cebu Institute of Technology - University (CIT-U) for achieving the most number of student activations and disbursements under the "Kasama Ka Bukas: Fund-a-Future" program.
The program was launched to assist more students in starting and completing their college degrees through Bukas tuition installment plans while also supporting our partner schools' own initiatives to provide scholarships and financial assistance for underprivileged yet deserving students. CIT-U is one of two partner schools that received funding from Bukas.
"The University is dedicated to providing accessible and quality education for all students including the underprivileged ones, which is why it offers a range of academic and nonacademic scholarships. These scholarships serve multiple purposes primarily ensuring that education is within reach for students regardless of their financial backgrounds. By breaking down financial barriers, the University enables deserving and talented students to pursue their respective academic aspirations fostering an environment that promotes academic excellence," shared Engr. Anna Marie A. Granaderos, MEngg-IE/Assistant Head, CIT-U Office of Admissions and Scholarships
Making education accessible for all Teknoys
Bukas is a third-party educational loan assistance partner of CIT-U, and has collaborated in numerous efforts since its partnership was launched in 2021—all for the same mission: to help Teknoys start, continue, and finish their studies.
When asked how Bukas was able to help CIT-U, Mr. Gensbergh G. Rago, CPA, MSA/OIC from the University's Assessment and Billing/Student Support Division – Finance and Accounting Office, shared its impact both for the institution and the student body, specifically emphasizing the latter: "For students, these flexible payment plans ease the financial burden and reduce immediate financial strain, allowing them to focus on their studies without undue financial worries. This enhanced focus can lead to better academic performance and personal growth during their time at the university."
Through the "Kasama ka Bukas: Fund-A-Future Program" and many more student-centered initiatives, our goal as an education financing company and student-first brand is that more students will be equipped and empowered to pursue their own path, starting with their studies and, eventually, be able to create a better tomorrow for themselves and their families. Our recent collaboration with CIT-U is one step towards making it happen for all Teknoys.
Learn more about Bukas and how we make education affordable for thousands of Filipino students like you. Apply for a tuition installment plan in your upcoming enrollment, and join our growing community for more tips and advice about all things student life. A brighter future awaits. Sa'yo ang Bukas!