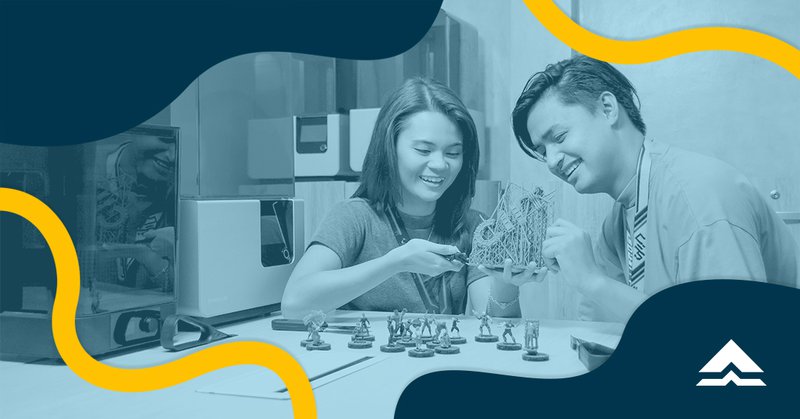 Specialized schools and industry-based learning institutions have been on the rise in the Philippines. Students aiming to enter a specialized field can now focus on honing their skills in the field of their choice. For those interested in earning a degree in the digital arts and tech field, there's the College of Arts and Technology (CIIT).
For almost 15 years, CIIT has been providing programs that equip students with industry-ready skills they can use in their careers. The school offers two-year diploma courses and specialist programs in arts and technology, the Arts and Design Track and Technical Vocational Livelihood Track in Senior High School, as well as short courses in web development, digital marketing, game design, and digital arts for interested professionals who want to upskill in these fields.
Pursuing your creative passions at CIIT has now been made more affordable with Bukas Tuition Installment plans.
Explore your creativity at CIIT with Bukas
Bukas provides students with affordable and flexible monthly installment plans to help them pursue their dreams at their chosen university. For instance, if you have an overall tuition balance of Php 25,000 at CIIT, Bukas can make it affordable for you to pay as follows:
Tuition amount: Php 25,000
Plan duration: 12 months
Monthly interest: 1.5%
One-time Fee: 3%
Total amount to pay: Php 2,521 per month
With this, you and your family can better manage your finances without compromising your dreams!
How to apply for a Bukas Tuition Installment Plan
Bukas made it simple for you to apply for a tuition installment plan within the comforts of your home.
Step 1: Register and complete your profile via the Bukas app or app.bukas.ph/register
Step 2: Fill out and submit the application form. Wait 2-3 working days to get feedback from our team via SMS or email. Note that you may be asked to provide additional information via email. Make sure you submit these as soon as possible to avoid delays in processing your application.
Step 3: Once approved, log in to your Bukas account and confirm your application.
Step 4: Once confirmed, Bukas will deposit your full amount directly to CIIT. You'll receive an SMS once it's disbursed. It will also reflect on your Bukas account after 1-2 working days.
Step 5: Study hard and pay your Bukas monthly dues at any of our payment partners.
Who are eligible to apply for a Bukas Tuition Installment Plan?
You should have the following if you're interested in applying for a Bukas Tuition Installment Plan:
✅A Filipino citizen at least 18 years old during application
✅Has a guardian that's at least 21 years old and resides with you
✅Have a guarantor with a stable income. Working students can nominate themselves as guarantors.
Check out the valid documents you need to submit during your registration with Bukas. Pro tip: make sure to complete them and take clear photos to avoid delays in your application.
Practicing out-of-the-box creativity
If you've ever wondered how dedicated CIIT is to their mission of providing hands-on experiences and world-class industry skills in tech and the arts, just visit their building (whether online or on-site). CIIT's campus is the most colorful building in the area, making it stand out. Inside the establishment, CIIT shares how they designed and equipped the building with the latest technology vetoed by company partners and industry-based specialization subject instructors to create a space where students can hone their talents together with fellow CIITzens.
And to jumpstart your journey at CIIT, apply for a Bukas Tuition Installment Plan today.
Learn more about how we make education affordable for thousands of Filipino students like you. Download the Bukas app on Google Play today! If you want to be updated with our latest content and updates, you can connect with us on Facebook or reach us anytime via email!