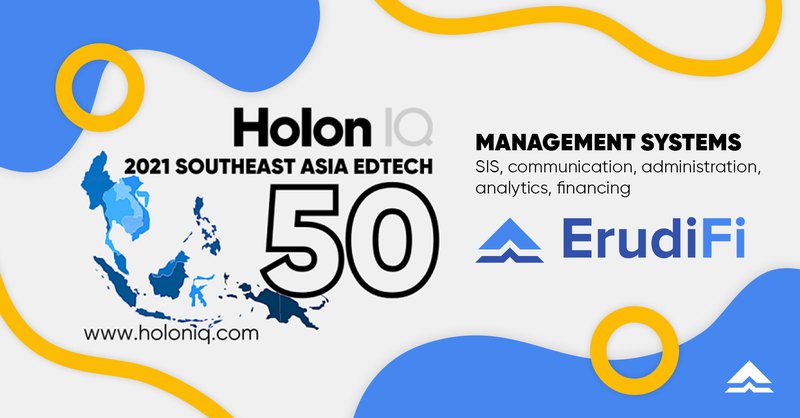 For the 2nd year in a row, ErudiFi, a mission-driven technology startup and Bukas' parent company, was selected for HolonIQ's annual list of the 50 most promising EdTech startups from Southeast Asia—a recognition that bears witness and further strengthens the company's commitment to provide a better future for youths in Southeast Asia through affordable and accessible education.
HolonIQ, the world's leading impact intelligence platform, runs the Southeast Asia EdTech 50 - recognizing young, fast growing and innovative companies in the region focused on learning and upskilling. This includes startups geared towards digital content, learner support, language learning, learning environments, and management systems. ErudiFi, with its focus on education financing, falls under the last category.
The 2021 cohort, announced last December 1, 2021 (Wednesday), was handpicked from over 2000+ EdTech startups in Southeast Asia, based on HolonIQ's scoring fingerprint that includes market, product, team, capital, and momentum.
Earlier this year, ErudiFi raised a $5 million Series A funding, co-led by Monk's Hill Ventures and Qualgro. This expanded operations both in the Philippines (Bukas) and in Indonesia (Danacita), growing the team and scaling services with more educational institutions onboard.
As of writing, Bukas now has a total of 35 partner schools, with presence in 71 campuses, including Mapúa University, Far Eastern University, Adamson University, Our Lady of Fatima University, PHINMA Education Network, University of Nueva Caceres, Centro Escolar University, Eskwelabs, De La Salle University, University of Asia and the Pacific to more specialized institutions like SoFA Design Institute, Enderun Colleges, Avion School, and Uplift Code Camp.
Bukas also welcomed its first international partner school IE University this December 2021, making education more affordable and accessible to Filipino students who want to pursue higher education overseas. This is the first of many milestones for the company in this capacity, serving the Filipino youth from the Philippines to all over the world.
Learn more about Bukas and how we make education affordable for thousands of Filipino students. Want to get involved? Partner with us or join our growing team! To stay updated with our latest announcements, you can connect with us on social media or send us an email.