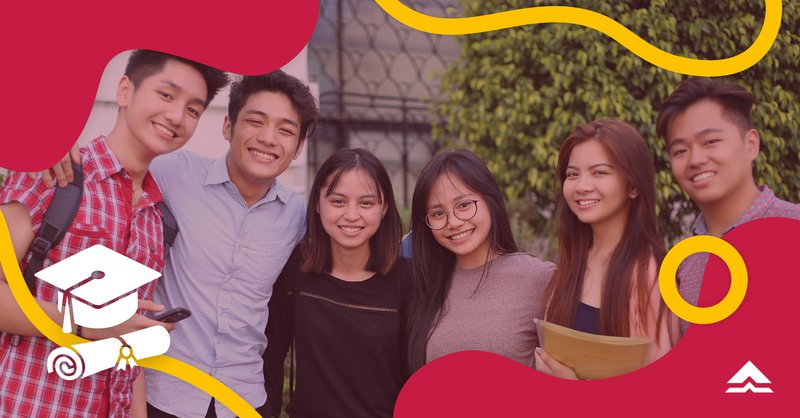 In 1925, Mapúa University opened its doors to train the next generation of architects and engineers. Its founder Don Tomás Mapúa established the school with the goal of producing graduates who are excellent both in practice and in character and will help build the nation. This can be you!
Pursuing your studies at Mapúa can be the highlight of your college life, especially when you're not worried about the finances! The university offers many scholarships to incoming freshmen, undergraduate students, and even graduate students! Here are some of the Mapúa scholarships that can help pay for your studies:
1. Academic Scholarship
The academic scholarship is granted to students who make it to the President's List every term. In other words, pwede kang mag-apply kung grade conscious ka! Depending on the grade weight average, qualified students may receive either a full or half scholarship that covers the tuition. Since the President's List is automatically generated per term, students don't need to apply. They just need to keep up the good grades!
Qualifications:

Must be a current student
Must have a grade weight average ranging from 1.75 - 1.00
Must be a regular student
Must not have academic marks of Incomplete, Dropped, Withdrawn, and Failure
Must not have incurred any disciplinary sanction based on the school's code of conduct

Requirements:

Scholarship validation at the Registrar's Office
Signed academic scholarship undertaking at the Center for Scholarships and Financial Assistance (CSFA)

Duration: One term (renewable)
Maintenance:

Must maintain the grade requirement
2. Income-Based Financial Assistance Program (IBFAP)
Calling all incoming freshmen! If you come from a public high school and have high grades, consider applying for the income-based financial assistance program. This financial assistance is granted to qualified students coming from low-income families. Grantees receive a 40% tuition coverage.
Qualifications:

Must be a regular student
Must have an annual family income of Php 700,000 or less
Must have a grade weight average of at least 85% in high school or belong to the top 10% of the graduating batch
Must score at least 60% in the Mapúa Program Placement Assessment (MPASS)

Requirements:

Filled out application form
Personal letter explaining the family's financial situation (from parent or guardian)
Latest income tax return of both parents*
Proof of utility billing (electricity, water, telephone, etc.)
Copy of latest Senior High School report card
Certificate of good moral character
Map of residence from Mapúa indicating major streets and landmarks

Duration: Four years (until completion of degree program)
Maintenance:

Must maintain a grade weight average of at least 2.75, and no grade below 3.00
Strictly no shifting to other degree programs
*if income tax return is not available, submit a certificate of non-filing of tax or tax exemption from the BIR; for parents working abroad, submit copy of a contract showing their monthly salary; siblings helping out with the expenses of the family should also submit proof of income
3. Siblings Discount
Mayroon ka bang mga kapatid na nag-aaral din sa Mapúa? If yes, you're eligible to apply for a siblings discount! This scholarship is granted to siblings that are simultaneously enrolled in the same term. The tuition coverage ranges from 15- 50% depending on the number of siblings enrolled. Both full and half siblings can apply for the discount!
Qualifications:

Must have at least one sibling enrolled in Mapúa
Must not have other Mapúa-sponsored scholarships

Requirements:

Accomplished application form (all siblings)
PSA Birth Certificates of all siblings (original and photocopy)
PSA Birth Certificates of parents (original and photocopy)
Signed waiver from all siblings enrolled in Mapúa
Copy of parents' marriage contract

Duration: One term (renewable)
4. Don Tomas Mapúa Scholarship (DTMS)
Don Tomás Mapúa was the founder of Mapúa University. Not to mention, the first registered architect in the country. In honor of the university's founder, this scholarship is granted to incoming freshmen who have ranked first in their high school batch. Scholarship recipients receive full tuition coverage.
Qualifications:

Must have graduated high school with the highest honor (rank 1)
Must have qualifying marks in the MPASS
Must have enrolled in a Department of Education-accredited high school in the Philippines or abroad

Requirements:

Certification from the Principal's Office or Registrar*
Scholarship Validation from the Center for Scholarships and Financial Assistance

Duration: Two terms
Maintenance:

No academic marks of Incomplete, Dropped, Withdrawn, and Failure
No grade below 3.00
Note: Once the scholarship expires, students can still apply for an academic scholarship!
*Must have the school's dry seal, printed name and signature of the Principal or the Registrar, and contact details of the Principal or the Registrar. It must indicate the award of "highest honor", name of the school, and school address.
5. Engineering Research and Development for Technology Scholarship (ERDT)
The Engineering Research and Develop for Technology (ERDT) is a scholarship created by an association of eight Philippine universities, including Mapúa! This scholarship aims to deliver high-impact research, upgrade the qualifications of practicing engineers, and develop a culture of research and development in the industry.
Students pursuing master's or doctorate degrees in engineering may apply for the scholarship. The benefits of the scholarship include a full tuition coverage, allowance for miscellaneous fees, and a thesis/dissertation grant!
Qualifications:

Must be enrolled in a qualified graduate program
Must not be more than 45 years old at the time of application
Must have an undergraduate or a master's degree in engineering
Must not have a criminal record
Must be a full-time graduate student
Must not have other scholarships

Requirements:

Filled out application form
Transcript of records (original copy)
Three (3) Recommendation letters from former professors or supervisors
PSA birth certificate (original and photocopy)
NBI clearance (original and photocopy)
Medical Clearance
1000-word essay describing your current work or a project/research that you worked on and your contribution towards the completion of the project
500-word essay about your plan (e.g. work, business) after earning a graduate degree
Essay describing your intended research area (no word count)
Certification of Leave of Absence (if employed)

Duration: Two years (master's degree), Three years (doctorate degree)
Maintenance:

Must render at least two (2) years of public service in the Philippines (to be determined by the Department of Science and Technology)
Must complete the degree program
Bukod sa mga nabanggit, Mapúa also offers company-sponsored scholarships and alumni-sponsored scholarships. Kung may mga tanong ka pa tungkol sa scholarships or need help in processing your application, you can reach out to Mapúa's Center for Scholarships and Financial Assistance (CSFA) or send an email to [email protected].
Aside from these study grants, may Bukas rin para sa'yo! Bukas can cover up to 100% of your tuition and other school fees for the term while you pay us back in low monthly installments. With a Mapúa scholarship and a Bukas tuition installment plan, you can pursue your studies in full force without worrying about your finances. Viva Mapúa!
Learn more about how we make education affordable for thousands of Filipino students like
you. Download the Bukas app on Google Play today! Kung gusto mo maging updated with our latest content and updates, you can connect with us on Facebook or reach us anytime via email!
Written by: Bea Salcedo