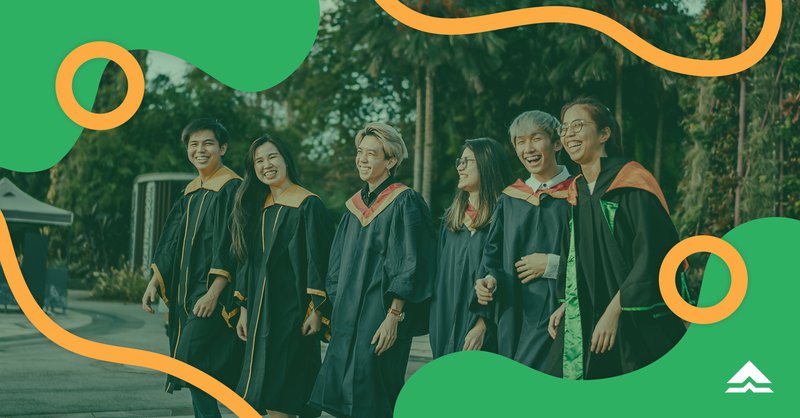 Choosing a grad school can be daunting—sa dami ng grad school at grad program dito sa 'Pinas at abroad. To add to the pressure, grad school is a huge commitment of time, money, and hard work. If you're stuck and don't know how to move forward with your grad school plans, we're here to help!
We listed down tips on how to choose a grad school, so you can break down the decision-making process. Hopefully, this guide helps you narrow down your grad school options and plan out your next steps. More planning equals less uncertainty!

1. Make your grad school wish list
First, list down the grad schools where you want to apply. By writing things down, vague ideas can turn into actionable steps. We suggest listing down grad schools based on your confidence in getting in.
When making your grad school wish list, write down:
Your ultimate dream school (may be hard to get in but still possible)
Two grad schools where you have a strong chance of getting in
Two safety schools where you have a good chance of getting in (para may Plan B in case things don't work out with your top choices)
Saanmang school ka makapasok, you can explore tuition installment plans if you need help paying for your tuition.

2. Research your target grad schools
Once you have your grad school wish list, time to gather "data" on the schools! Google Sheets is life. You can compile your research and include your personal criteria, such as:
School recognitions - Is the school a Center of Excellence (COE) or Center of Development (COD) in your chosen grad program?
Success rate - How many graduates get hired for top positions after completing their grad studies?)
Quality of the faculty - Will you be learning from established experts in your field?
Tuition and scholarships - Does the grad school offer financial aid? (Bukas has partnered with leading colleges and universities nationwide to provide tuition installment plans for grad students. Check our full list of partner schools!)
Feel free to copy this grad school worksheet!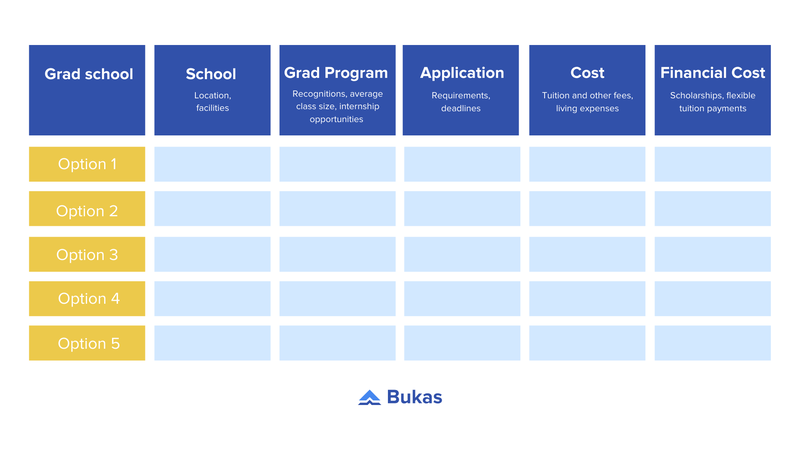 'Pag nakita mo na yung info ng schools side by side, it will be easier to compare grad schools and decide which school is best for you.

3. Check the curricula of your preferred grad schools
Remember: Grad programs may vary across different schools kahit pareho yung pangalan ng grad program. One grad school may have a practical approach, while another school focuses more on theory and research.
Check the curriculum of each grad program and grad school on your list. This will give you an idea of the structure and focus of the grad program in each grad school.
Here are some extra tips when learning more about your potential grad schools:
School rankings are not everything. Rankings are one factor in choosing a grad school but don't rule out other schools; A less popular school may offer a top-notch graduate program in your field. In the same way, don't limit your schools to those within Metro Manila only. Malay mo nasa provinces pala ang right grad school for you!
Know your goals. Are you taking up graduate studies to gain specialized knowledge, change careers, get a promotion, or increase your salary? If you're shifting careers, for example, it may be best to choose a school that offers hands-on learning opportunities.

4. Talk to people from your potential grad school
Go beyond online research! May mga malalaman kang insights from students, alumni, and professors na 'di mo mababasa sa Internet. Reach out to your friends, family, and professional network who've studied in your target grad school. Ask about their experiences in the school and how the grad school benefited their careers.
Here are some questions you can ask, especially former or current students of your potential grad school.
What do you like and dislike about your grad program and school?
Did you get enough academic and career guidance?
How are the professors in the grad program?
How do you feel about the campus culture?
What are your tips if I go to this grad school?
If it's safe and convenient, you can also visit the campus (AKA do a vibe check). Walking around the school can help you decide if it's a good fit. Do you see yourself studying in this school for the years to come? With research and practical insights, you'll come out of this more sure of your choice of grad school.


Final thoughts on choosing a grad school
Going to grad school can be one of the most challenging things you'll ever have to do. But by knowing what you want in a school and grad program, grad school can be a little easier and more fun. "Know thyself" ika nga. From there, you'll be able to choose a grad school that aligns with your goals, wants, and needs. 'Pag nakapili ka na ng school, nandito ang Bukas para tulungan ka with affordable tuition installment plans.
Learn more how we make education affordable for thousands of Filipino students like you. Download the Bukas app on Google Play today! Kung gusto mo maging updated with our latest content and updates, you can connect with us on Facebook or reach us any time via email!

About the Author
Karr is a freelance writer with a passion for storytelling and self-development. For six years and counting, she's been creating content for impact-driven companies. Her skill set includes writing about student life, producing videos on inspirational athletes, and making resin art. As a multipotentialite, Karr believes a career path doesn't have to be a straight line.