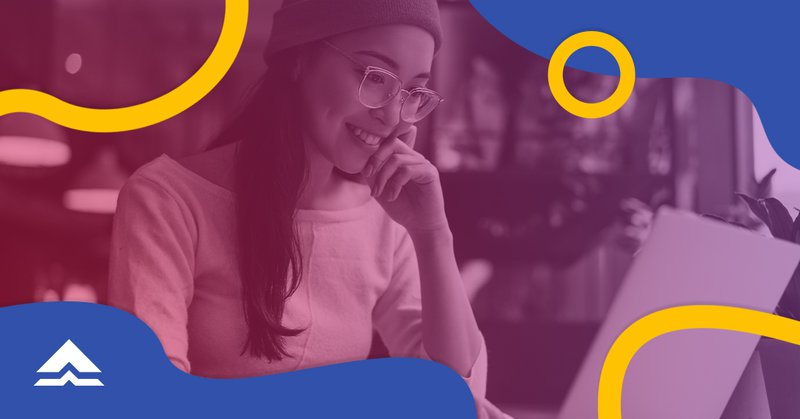 The I.T. industry is still one of the fastest-growing industries with a high demand for professionals. The good news is that you can easily jumpstart your tech career with various institutions that offer bootcamps in this field.
KodeGo is one of those institutions you should consider if you want to enter the field of information technology. KodeGo offers:
A full-time or part-time Web Development Bootcamp
Learn the fundamentals of front-end and back-end development at your preferred schedule.
Learn within 12 (full-time) or 16 weeks (part-time)
KodeGo offers an intensive program that exposes its students to I.T. theories and real-life applications in a shorter time frame.
End-to-end career assistance provided
KodeGo helps its graduates land a position with their partner companies the moment they graduate.
And with Bukas, your 12-16-week KodeGo bootcamp has been made more flexible and affordable!
Securing your future with KodeGo and Bukas
Currently, KodeGo offers a Study Now, Pay Later payment method where students pay a maximum of 17% of their income when they get hired. Student graduates can pay for a maximum of 24 months.
Meanwhile, the institution's partnership with Bukas brings alternative options for students to pay for their tuition.
"In line with KodeGo's mission to remove financial barriers to education, we wanted to partner with Bukas.ph to provide our students with a convenient option to pay via installment. Now our students can worry less about their finances and focus on growing their dream tech career with KodeGo!" - Cristina Gervasio, Head of KodeGo
You can pay for your bootcamp with the following plans: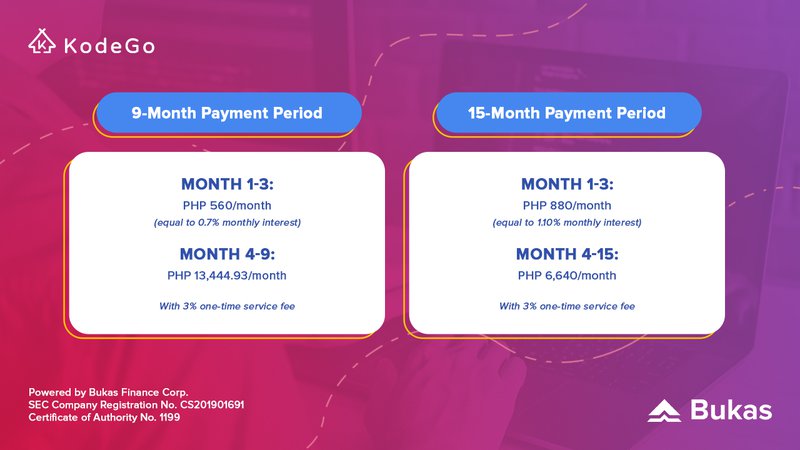 With Bukas, you can pay a sum off your total due even while studying. Students can pay off their tuition in nine or 15 monthly installments, depending on their financial capacity. What's also good about a Bukas tuition plan is that you can pay earlier without worrying about pre-termination charges because there are none. Instead, there's a chance that you can even earn rebates!
How to apply for a Bukas Tuition Installment Plan:
Apply for a KodeGo bootcamp and select "Installment via Bukas.ph" as your payment method in your contract.
Register through bukas.ph or download our app in the Google Play Store.
Complete your profile and submit your application! Receive feedback in 3-5 business days.
Be ready with your requirements and wait for verification calls from the Bukas team. Make sure to inform your additional contacts that they will also be contacted.
Once approved, make sure that you and your co-signor sign the agreement right away. No disbursement will be made without a signed agreement from the student.
Tuition will be disbursed straight to KodeGo and you can start your bootcamp! First payment due is 30 days after confirmation.
Build your tech career with KodeGo and Bukas
There are several benefits to taking up short courses, whether you're upskilling or entering a new industry altogether. What's good is that you have Bukas to help you finance your education. Through KodeGo, you have another institution to help you secure a career in tech within a few weeks.
To learn more about KodeGo, visit their website, Facebook, and Instagram pages.
Learn more about how we make education affordable for thousands of Filipino students like you. Download the Bukas app on Google Play today! If you want to be updated with our latest content and updates, you can connect with us on Facebook or reach us anytime via email!