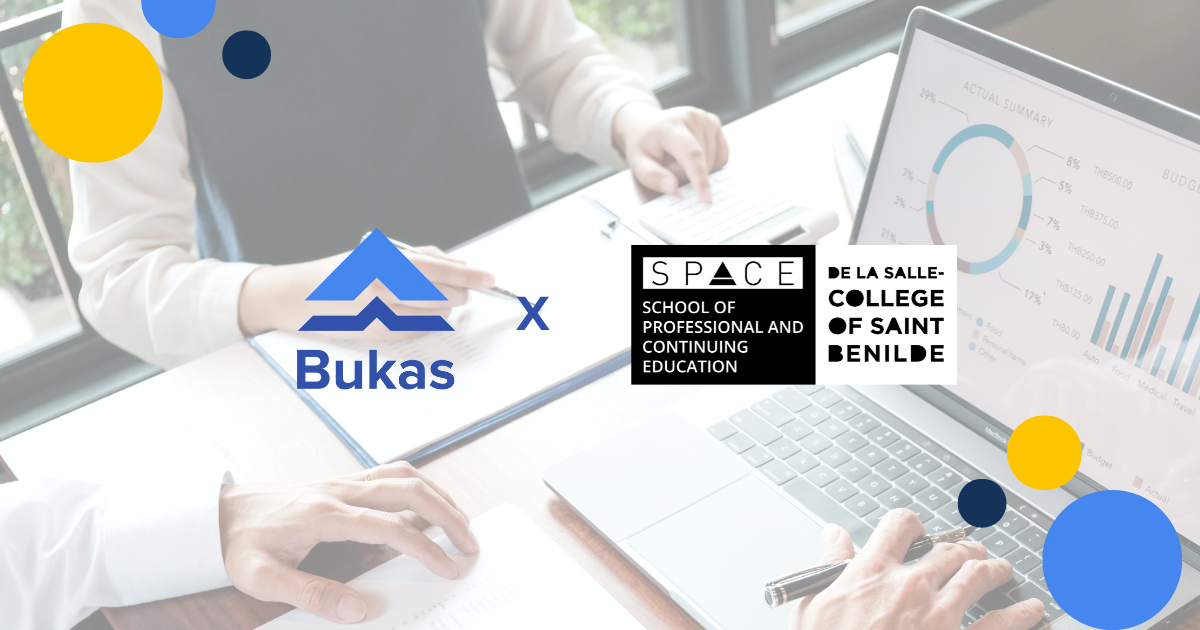 If you are a professional seeking to grow and advance in your career, you probably considered enrolling in a course that would equip you with skills in in-demand industries such as digital marketing and design, to name a few.
The good news is you can now acquire sought-after skills through a shorter, custom-tailored program that aligns perfectly with your unique career goals, without the need for a four-year degree.
A space for continuous growth
SPaCE, or the School of Professional and Continuing Education, is DLS-CSB's non-degree arm and Bukas' newest partner that is created for both experienced professionals who want to change or advance in their careers and for newcomers who want to jumpstart a career through further studies. Whichever you are, there's a SPaCE (program) for you!
SPaCE offers certificate, diploma, and short courses for in-demand industries that could unlock additional opportunities for professionals in their chosen fields. Applicants can also look forward to high-quality training led by experienced industry professionals. Just as what you would expect from a Lasallian education! Certificate and diploma programs in SPaCE are all to be conferred by De La Salle-College of Saint Benilde (DLS-CSB).
In 2021, the School partnered with the Philippine Stock Exchange Inc. (PSE) to launch the first ever online Certified Securities Specialist Course! This is just one of many efforts that prove SPaCE's commitment in making education more aligned and adaptable to the learning needs of the current generation. Interested applicants can choose from SPaCE's diverse range of course offerings through its twelve (12) program clusters:
Human Capital Development and Education
Marketing and Entrepreneurship
Finance and Accounting
Supply Chain Management
Design, Arts and Fashion
Real Estate, Construction and Building Management
Cybersecurity
Leadership and Management
Mental Health and Well-Being
Diplomacy and Governance
Emerging Technologies
Food, Restaurant and Hotel Management
Found a cluster that interests you? Check out the courses offered in SPaCE here.
Never stop learning with SPaCE through Bukas
As Bukas' newest partner school, all participants in a SPaCE program are qualified to avail of Bukas' flexible tuition plans to finance their studies. With this new partnership, taking further studies to amplify learning and career growth just become more accessible and affordable to Filipino learners—regardless of educational and professional background. Gelli Cahulogan, a Benilde SPaCE graduate of Diploma in Strategic Marketing Management and Diploma in Strategic Digital Marketing, shares how her programs helped her as a Cluster Marketing Communications Manager.
"I entered SPaCE with the intention of just getting one course, and that's it! But because of the fun learning environment, experienced lecturers, and classmates from all walks of life, I just saw myself enrolling from one course to another. I am proud to say that I am able to apply whatever I learned in SPaCE to my job today as the Cluster Marketing Communications Manager of not just one, but three Marriott properties in the Philippines."
Just like Gelli, enrolling in a SPaCE program might make a huge difference in your career. Make it happen with Bukas! Here's what you can expect with this newly-launched partnership:
What is Bukas?
Bukas is an education financing company that provides affordable and secure tuition plans to Filipinos who are in college, graduate school, or specialized learning institutions like SPaCE. With the vision of building a better tomorrow for Filipino youths through quality, accessible education, Bukas works closely with top colleges and universities across the country to provide students with more options to finance their studies through its integrated tuition installment plan.
Why enroll at SPaCE with Bukas?
As a third-party financing partner of SPaCE, Bukas offers professionals and interested participants with an alternative and flexible payment option to finance their certificate, diploma, or short course programs. Instead of a one-time payment for your program, paying with Bukas allows you to stretch your total payable amount in affordable monthly installments so you can study without worrying about financing your education.

✅ Up to 100% of your tuition covered
✅ Low monthly interest rates
✅ One-time service fee
✅ Over 8,000 payment channels nationwide
✅ Dedicated customer support channels
Note that every Bukas plan includes a monthly 2.5% interest rate and a one-time 4.5% service fee. Depending on your course of learning, you can pay back your tuition plan within 3 to 12 months. If you take a module, you can avail of a 3-month Bukas plan. If you choose to study a bundle, you have a 6-month plan as an option. Or if you're interested in taking an entire diploma program, you can pay back your Bukas plan in 12 months.
What are the requirements to apply for a Bukas tuition installment plan?
Pursuing your further studies at SPaCE is now easier and more affordable with Bukas. To get started with your application, make sure to prepare correct, accurate, and complete documents for a smooth and hassle-free process. For starters, applicants must meet all these requirements:

1. You must be successfully enrolled in a SPaCE program;
2. You have a source of income. This can be yours, your co-borrower's, or both; and
3. You and your co-borrower must be Filipino citizens and at least 18 years old.

Got questions about your co-borrower? Check out our Help Center!
Who can apply for a Bukas tuition installment plan?
As long as you meet the following criteria mentioned in the requirements, you are welcome to apply for a Bukas tuition installment plan. However, note that SPaCE follows their own guidelines and qualifications for admission.
To learn more about SPaCE's application process, visit their website.
How to apply for a Bukas tuition installment plan?
Enjoy a seamless online application process with Bukas. Our registration and application is fully digital so you can do it anytime, anywhere! Just like your SPaCE programs.
Ready to study in SPaCE with Bukas? Follow these simple steps:
1. Create your account at https://app.bukas.ph
2. Fill-out the application form. Upload all your documents.
3. Submit your application. Wait for feedback and approval within 3-5 working days.
Once your application is approved, don't forget to confirm your tuition plan agreement through your Bukas account and Bukas will then disburse your approved amount directly to SPaCE. After that, you're all set! You're officially enrolled in SPaCE and you can start repaying your monthly dues to Bukas through our payment partners.
Advance, change, and enhance your career today with Bukas and SPaCE! Get started on your application today! Check out https://bukas.ph/partners/space/ to know more how Bukas can help you upskill and pursue your further studies. For more information about SPaCE, you may check out their official website and Facebook page.
Learn more about Bukas and how we make education affordable for thousands of Filipino students like you. Apply for a tuition installment plan in your upcoming enrollment. A brighter future awaits. Sa'yo ang Bukas!