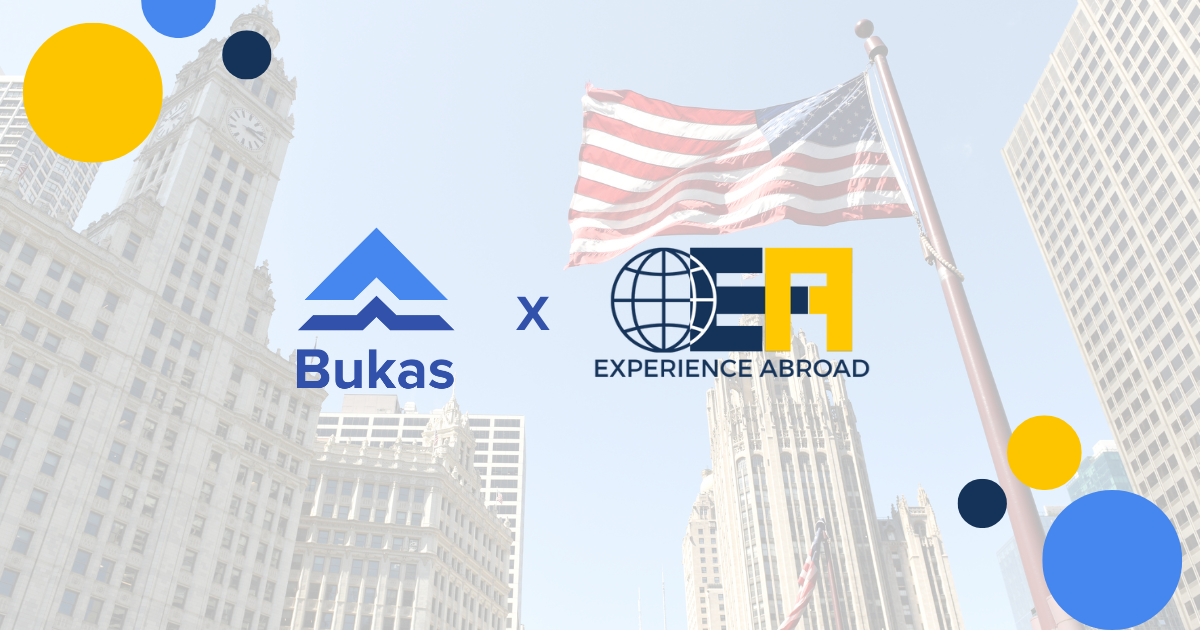 Ever wondered what it is like to study or work in the USA?
For a lot of Filipinos, the "American Dream" can be just that—a dream. Whether it's visiting for a short vacation or staying for good through education and employment, going through the process can be really challenging and costly. But the good news is it is not impossible. Yes, you read that right. Thanks to organizations like Experience Abroad, which also happens to be Bukas' newest partner, your dream can be a reality. Here's how.
Launch your career with Experience Abroad
True to the term "American Dream," venturing out in the United States can open doors of opportunities for a better, richer, and fuller life. One of the many ways you can do that is through taking an internship, specifically the J1 USA Internship program.
While the program is usually popular among culinary graduates who want to experience working in the USA, there are different eligibility requirements you can check out to see what fits you best. These categories apply to current students, recent graduates to young professionals with a few years of work experience. So, there's surely a spot for you!
Talking more about the benefits of this unique experience, Bukas' Head of Growth John Bellosillo said it best, "I look forward to more young hospitality graduates to have an international training experience in the US, one that will surely mold them to be better chefs and hoteliers. Moreover, we believe in the value add of a quality international experience in launching careers of young Filipinos. This will give them a differentiation versus other graduates when it comes to workplace opportunities."
Whether you are a hospitality student or a young professional in the culinary industry, taking the J1 Intern-Trainee program through Experience Abroad can equip you with next level skills and help you launch a career in the US or back home.
Not to mention, Experience Abroad can help you secure an internship with top hotels like Four Seasons, The Greenbrier, Hyatt Regency, Rosewood Mansion on Turtle Creek, Hilton Miami, and The Peninsula to name a few. A cherry on top in your already impressive professional background!
Check out courses and training programs offered at Experience Abroad here.
Make your American dream happen with Bukas
Now that Experience Abroad is an official partner, aspiring applicants can avail of Bukas' flexible tuition plans to pay for all the internship fees which usually include the registration, service fee, and program fee. With this newly launched partnership,
the American dream is now more affordable and accessible to all Filipinos.
"It has been our mission to offer unique and accessible opportunities to students and young professionals. Over the years, Experience Abroad has been offering affordable payment plans that will help applicants achieve their American Dream through the J1 Program. Through Bukas, we will be able to amplify this mission and give more options to applicants despite their economic status. With Bukas, you can now Experience Abroad with US," shares Ariel Cinco, Business Development and Recruitment Specialist of Experience Abroad.
Here's what you can expect with this partnership:
What is Bukas?
Bukas is an education financing company that provides affordable and secure tuition plans to Filipinos who are in college, graduate school, or specialized learning institutions like Experience Abroad.
With the vision of building a better tomorrow for Filipino youths through quality, accessible education, Bukas works closely with educational institutions and agencies such as Experience Abroad to provide students with more options to finance their studies through its integrated tuition installment plan.
Why take the J1 Internship Program at Experience Abroad through Bukas?
As a third-party financing partner of Experience Abroad, Bukas offers a safe and secure payment option for interested applicants to finance their internship. Since the whole process can be costly and tedious, the partnership makes it easier for the applicants. Experience Abroad can help students to process their internship placements and visa applications while Bukas can provide flexible installment plans to lighten the payment.
Here are some benefits you can enjoy when you pay with a Bukas tuition plan:

✅ Up to 100% of your program expenses covered
✅ Payable within 12 months
✅ Low monthly interest rates
✅ One-time service fee
✅ Over 8,000 payment channels nationwide

Note that every Bukas plan includes a 3.5% monthly interest rate, and a one-time 6% service fee. Since Bukas only charges interest for the months you consume, paying back your plan earlier lets you save more with no pre-termination fees. The choice is yours!
What are the requirements to apply for a Bukas tuition installment plan?
Preparing correct, accurate, and complete documents is key to a smooth and hassle-free process. This applies both for a Bukas plan and your internship application with Experience Abroad. To be eligible for a Bukas plan, make sure you meet these criteria:

1. You are a current or prospective applicant at Experience Abroad;
2. You have a source of income. This can be yours, your co-borrower's, or both; and
3. You and your co-borrower must be Filipino citizens and at least 18 years old.

Got questions about your co-borrower? Check out our Help Center!
Who can apply for a Bukas tuition installment plan?
Anyone who meets the following requirements mentioned above can apply for a Bukas tuition installment plan to finance their studies. However, please note that Experience Abroad has its own guidelines and program qualifications.
To learn more about Experience Abroad's application process, visit their website.
How to apply for a Bukas tuition installment plan?
Applying for a Bukas tuition installment plan for your internship is easy and convenient. With a fully online application process, you can get started with your internship at Experience Abroad anytime, anywhere with these three simple steps:

1. Create your account at https://app.bukas.ph
2. Fill-out the application form. Upload all your documents.
3. Submit your application. Wait for feedback and approval within 3-5 working days.

Once your application is approved, you can confirm your tuition plan agreement through your Bukas account and Bukas will disburse your approved amount directly to Experience Abroad. After that, you're all set! Consider your fees at Experience Abroad fully paid while you repay your monthly dues to Bukas through our payment partners.
Are you ready to live the American Dream? Make it happen with Bukas and Experience Abroad! Get started on your application today. Check out https://bukas.ph/partners/experience-abroad/ to know more how Bukas can help you finance your internship application. For more information about Experience Abroad, you may check out their official website and Facebook page.
​​Learn more about Bukas and how we make education affordable for thousands of Filipino students like you. Apply for a tuition installment plan in your upcoming intake, and join our growing community for more tips and advice about all things student life. A brighter future awaits. Sa'yo ang Bukas!