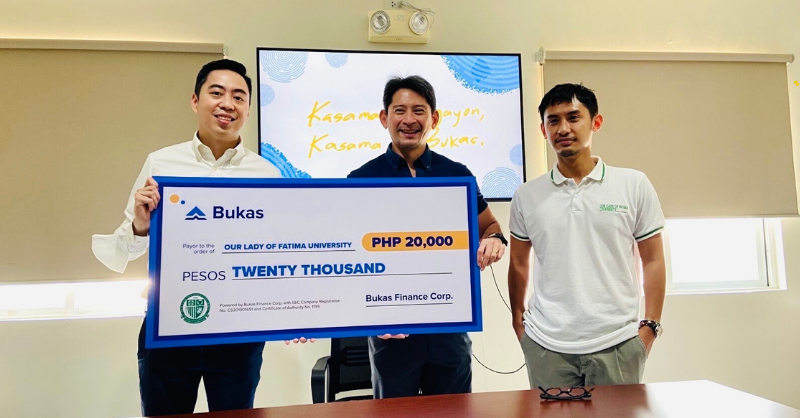 L-R John Bellosillo, Bukas Head of Growth; Don August Santos, OLFU Executive VP & CFO; Vincent Mercado, Assistant VP for Finance
On May 12, 2023 (Friday), Bukas presented a cheque to Our Lady of Fatima University's (OLFU) for achieving 100% activated student borrowers under the "Kasama Ka Bukas: Fund-a-Future" program. The program aimed to assist more students in starting and completing their college degrees through Bukas tuition installment plans while also assisting OLFU's endeavors in creating programs and grants that would help align with the financial needs of their students. The amount serves as a donation to the University's scholarship fund.
Funding Futures
Bukas is a third-party educational loan assistance partner of OLFU, and has collaborated through the years to help Fatimanians start, continue, and finish their studies.
"Bukas has helped our students by providing another avenue of assistance during times of financial distress. The past few years have put a strain on incomes and budgets of the Filipino family. In this environment, Bukas has and is creating a product that is in tune with the needs of our students and parents. We appreciate their help to achieve our shared goals in helping provide education to our stakeholders," shared Mr. Vincent Mercado, OLFU Assistant Vice President for Finance.
OLFU's partnership with Bukas and its various efforts to bridge the gaps in student financing, specifically through its financial grants and scholarship opportunities, have helped more Fatimanians graduate from college and gain employment amidst financial difficulties in a post-pandemic economy.
With the "Kasama ka Bukas: Fund-A-Future Program," Bukas and OLFU were able to collaborate and continue to create a better tomorrow together, both for the students and their families.
Learn more about Bukas and how we make education affordable for thousands of Filipino students like you. Apply for a Bukas tuition installment plan in your upcoming enrollment, and join our growing community for more tips and advice about all things student life! Kasama mo ang Bukas tungo sa magandang kinabukasan.