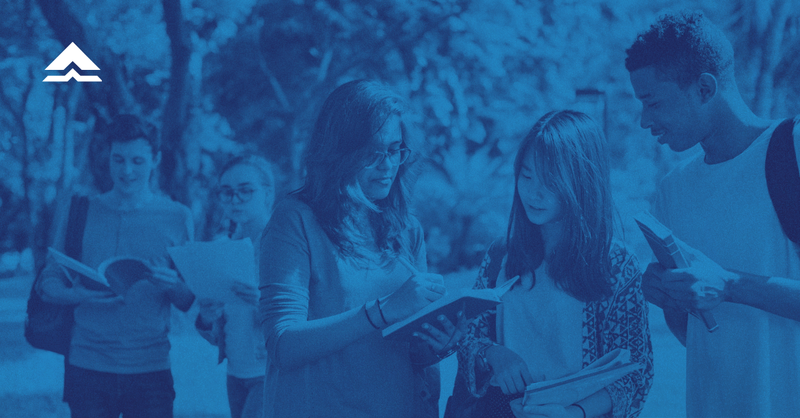 If choosing a college course were easy, you would not be here. And there would not be a need for this article. But you are here and honestly speaking, hindi ka naman nag-iisa!
Maraming mga estudyante na nagsipagtapos sa Senior High School (SHS) ang hindi pa desidido kung anong kurso ang kukunin nila sa college. Not until the moment they have to write it down on the application form… or dahil online enrollment na ngayon, until they have to pick one from the drop-down list. (Note: Huwag tularan! Your future deserves much thought.)
Your choice of college course is important. Read that last line again.
Ang apat na taon mo sa kolehiyo ay hindi lang apat na taon na pag-aaral. These are crucial years that are meant to prepare and equip you for your career path. When taken seriously, it can even open doors of opportunity that can change your life for the better. If that's the case, hindi ba tama lang na pag-isipan mo ang course mo nang mabuti? Kung kailangan mo naman ng tulong in choosing the right college for you, may guide rin kami na sinulat para sa'yo. #shamelessplug
While there's no way to know whether a certain course will be the perfect fit for you, we've listed down questions that can somehow lead you to reflect and evaluate for yourself. That's the closest we can get for now!

Question #1: Ano ba 'yan?
A good decision is often a well-researched decision. When choosing a college course, hindi lang sapat na sikat o maganda pakinggan. Do your homework and learn what the course is all about! You may want to be a medical doctor someday pero hindi ibig sabihin pwede na kahit anong pre-med course ngayong college. The same principle applies if you're interested in other fields like communication, engineering, or computer science.
Go into the details! Checking the course curriculum on the school website can be really helpful. Lalo na kung gusto mong malaman kung anong subjects ang matututunan mo throughout your four or five-year program! You can also check out other relevant information like how likely students finish the course or what career paths are available for you in this program. Makakatulong din ang mga ito when you try to shortlist your potential courses with your other school options.
How to get to know a potential course:
Check the school website! Most schools have easily accessible course curriculum available on the website. This is what differentiates one school from another.
Surf the web. The internet can be a black hole. Quit your mindless scrolling and be intentional in your screen time! Read student blogs and watch student vlogs about your course! For this, Google and Youtube be your new BFFs.

Question #2: May pera ba diyan?
College education is important. But if we're to be really honest, it can also be quite costly. Good thing, education is a big investment that almost always promises a good return. Even better for students who study hard and maximize it for their future careers. At dahil hindi naman tumutubo ang pera sa puno, evaluating a college course's future earning potential is definitely worth considering! For a lot of students, this holds the most weight when deciding.
Ano ang average salary ng mga college graduates in this course? Is there a board exam or a professional certification you need to take to increase your chances of getting better job offers? What are the possible career growth opportunities for you in this field? Questions like these should help you evaluate whether the money you're going to pay for every semester is going to be worth it. Don't forget to consider present and future possibilities! In-demand courses differ over time.
Pro-tip:
Meron ka na bang college course na napupusuan pero hindi kaya ng budget ang tuition? May Bukas para sa'yo! When you apply for a tuition installment plan, we can cover up to 100% of your tuition while you pay us back in low monthly installments. That way you can pursue the course you want nang pasok pa rin sa budget–mula first year hanggang graduation! Learn more about how our installment plan works.

Question #3: Gusto mo ba talaga 'yan?
When choosing a college course, hindi mawawala ang usapang 'passion versus practicality'–and for good reason! Not everyone can afford to pay for college with only their dreams in mind. So let's make it clear that this particular question is not meant to focus on existing privileges (that's for another discussion!) as it is with maximizing your strengths. Specifically, choosing a course that you would love and enjoy!
College is an investment, ika nga. It's only right and wise to pick one that puts your skills and interests to good use. Which course is this for you? Consider the skills and abilities you're good at! Think about what subjects interest you. The truth is, kapag gusto mo ang course na kinukuha mo, you're more likely to be fully engaged in learning. And hopefully, excel more! Mahirap 'yan mangyari kung napipilitan ka lang sa kursong kukunin mo.

Question #4: Sino ang pumili?
Last but not least, the golden question of all: whose decision is it? Asking help from your parents and friends on which college course to take is a wise thing to do. They know you best, and they have valuable insights from their own experiences you can learn from. But letting them decide for you is another thing. What worked for them may not necessarily work for you. Iba noon, iba na rin ngayon!
Take into consideration their opinion but own your decision. Alam naming mahirap mag decide for yourself, lalo na kung hindi galing sa sarili mong bulsa ang pambayad. But trust us when we say standing up for the course you want now will help you stick by it when the going gets tough someday. You're gonna thank yourself later!


Alin sa apat ang pinaka nakatulong sa'yo? Some of these questions you may find easy to answer, others may shake up the way you decide for your college course. Either way, just a friendly reminder to take it all with a grain of salt! The good thing about decisions like this is that it all depends on your context. Keep these questions in mind when deciding but don't let it decide for you. We're pretty sure the right course is just around the corner!
PS. Need more help? Kasama mo ang Bukas! Kung SHS student ka, take time to answer this quick survey. We'll help you find the right course and school na bagay sa'yo!
Learn more about how we make education affordable for thousands of Filipino students like you. Download the Bukas app today on Google Play! Kung gusto mo maging updated with our latest content and updates, you can connect with us on Facebook or reach us anytime via email!
Want to get a FREE College Guide? Mag-sign-up na para makakuha ng more freebies at maging updated sa exclusive tips, how-tos, and latest events and webinars led by Bukas.