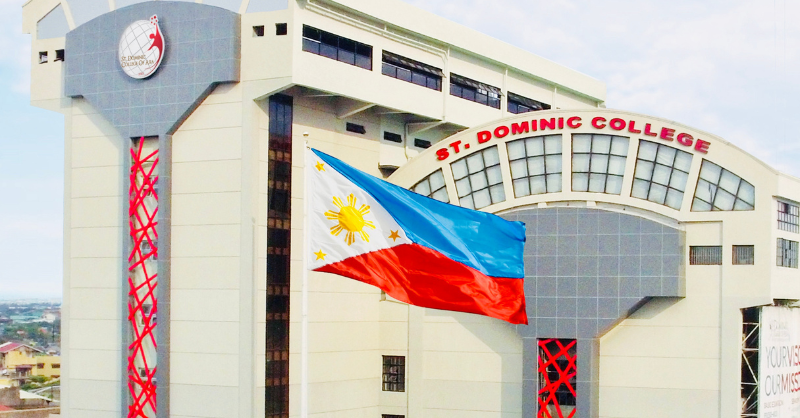 With a proven history of academic excellence and service to Bacoor and its neighboring communities, St. Dominic College of Asia (SDCA) continues to be a trusted learning institution in Cavite that provides excellent but affordable education while adapting to the current trends and practices required of a highly globalized educational institution.
By partnering with Bukas, SDCA continues its march towards "Revolutionizing Education," the College's battlecry for academic excellence and development since 2011, by launching tuition installment plans for its students.
Here's why this newly-launched partnership is a win for Dominicans.
The fight for affordable, quality education
Effective June 15, 2023 (Thursday), SDCA officially joins the roster of Bukas partner schools across the country. This enables the College to offer its students a secure and alternative way to pay for their studies every semester.
Simply put, all incoming and currently enrolled SDCA students can now avail of a Bukas tuition installment plan to pay for their tuition and other school expenses every semester (including summer!); covering all year levels and programs in college and graduate school regardless of grades or academic status. This is a big win against the fight for affordable, quality education in a post-pandemic economy.
"Bukas has the best rate among others who provide the same services to the students. SDCA has partnered with other providers but only Bukas considered the contribution of the school to their students' fees. This will give more value for the student finances," shared Mr. Adrian Chris A. Arevalo, CPA, SDCA's Director for Finance.
What is a Bukas tuition installment plan?
A Bukas tuition installment plan, or simply a student loan, is a safe, secure, and flexible way to pay for your tuition. When you enroll at SDCA with Bukas, we can cover up to 100% of your tuition for the semester while you pay back the amount in low, affordable monthly installments.
Take note that every installment plan comes with a monthly 1.55% interest rate and a one-time 4.5% service fee.
How does the Bukas tuition installment plan work?
When you apply and get approved for an installment plan, Bukas will pay your tuition directly to SDCA. You will then have to pay your Bukas monthly dues through our online and over-the-counter payment partners nationwide.
For example, if you need Php 50,000 for your tuition next semester, you can get an installment plan from Bukas and pay only Php 5,129.17 every month for 12 months instead of a one-time tuition payment.
You also have the option to pay off your student loan earlier. If a 12-month plan is too long for you, you can choose to pay within 3, 6, or 9 months. Note that Bukas only charges interest for the months you consume your student loan. This means that the shorter your plan, the bigger savings you'll have. Your payment term depends on what works for you!
Want a sample computation for your tuition? Get a free quotation from Bukas.
How can SDCA students apply for a tuition installment plan?
Bukas offers a fully online process so there's no more physical appointments and long lines to worry about. Just make sure you meet all the requirements and submit complete, correct, and accurate documents. Once you're all set, follow these simple steps:
Step 1: Create your account at app.bukas.ph
Step 2: Fill out the application form
Step 3: Submit your application and wait for evaluation within 3-5 working days
Once your application is approved and confirmed, Bukas will deposit your approved amount directly to SDCA. Don't worry! You'll receive an SMS once it's disbursed. It will also reflect on your Bukas account after 1-2 working days. At this point, you should be officially enrolled at SDCA!
The winning strategy
Reflective of the Caviteños' aggressiveness and fighting spirit, "Revolutionizing Education" has not only been a catchphrase for SDCA but an effective campaign strategy that earned the College a strong track record of providing high-quality education for nearly 20 years. These factors contribute to exceptional board exam results and the success of SDCA's globally competitive graduates. Additionally, the College celebrated the achievement of producing a topnotcher in the 2023 Nurses Licensure Examination and maintaining a 100% passing rate for first-time takers. Talk about quality education!
Moreover, SDCA has also been recognized by PACUCOA as one of the top three colleges in the country with the highest number of accredited programs for three consecutive years, even holding an ISO 9001:2015 certification and membership in the ASEAN University Network – Quality Assurance, further reflecting its commitment to quality education.
As the College celebrates two decades since its launch in 2003, the strategy remains clear: to make sure that SDCA continues to be as accessible and affordable to the community it serves while marching towards excellence, and soon enough, becoming a full-fledged university in its own right. Teaming up with Bukas is one step towards that.
Mr. Arevalo affirmed this as he expressed his excitement over this new partnership, "Providing quality education is the main purpose of St. Dominic College of Asia (SDCA). With this partnership, SDCA will be able to augment the financial needs of our students who may be temporarily struggling financially. This is an additional avenue where students can loan their tuition and pay at a later time."
Start your learning journey with SDCA and Bukas!
Ready to jumpstart your Dominican journey at SDCA? Do it with Bukas! Here are the following college, graduate, and short course programs you can choose from:
Higher Education
BA Communication
Bachelor of Elementary Education
Bachelor of Secondary Education
BS Psychology
BS Accountancy
BS Business Administration
BS Information Technology
Bachelor of Multimedia Arts
BS Nursing
BS Medical Laboratory Science
BS Pharmacy
BS Physical Therapy
BS Radiologic Technology
BS Biology
Graduate Studies
Master of Arts in Psychology
Master of Business Administration
Short Programs
Caregiving NCII
Bread and Pastry Production NCII
Electrical Installation and Maintenance NCII
Shielded Metal Arc Welding NCI and NCII
Agriculture Crops Production NCI and NCII
Organic Agriculture Production NCII
Learn more about Bukas and how we make education affordable for thousands of Filipino students like you. Apply for a tuition installment plan in your upcoming enrollment, and join our growing community for more tips and advice about all things student life! Kasama mo ang Bukas tungo sa magandang kinabukasan.