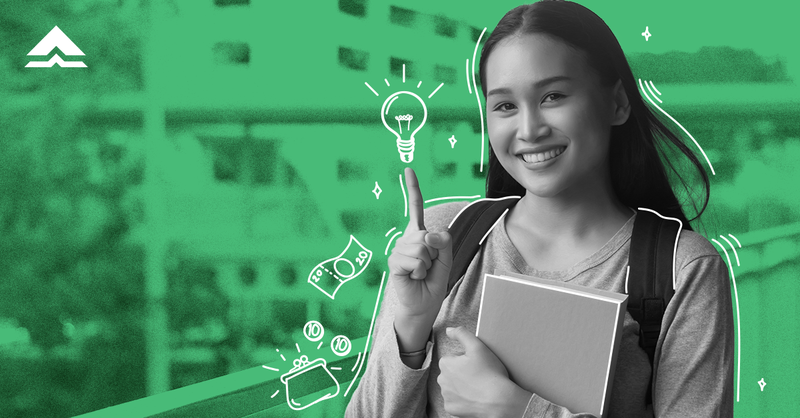 With thick readings, org projects, and your thesis, another stressful ingredient that makes up a sleep-deprived college student is budgeting. Kailangan may budget ka para sa mga araw-araw na gastusin like school requirements, dorm rent, meals, and pamasahe, among other things.
Saving up may not be something a lot of students think about. Since most aren't earning their own money yet and are still relying on their parents for their needs, it's easier to splurge on gimmicks or online shopping. But as a responsible adult who wants to build a brighter future, hindi ba mas okay nang maging responsible with your finances as early as you can?
If you're a self-sufficient student, financial responsibilities like school fees and other necessities can eat up most of your budget. When unforeseen expenses and other notable factors come into play, managing through multiple obligations can make it especially hard for you to build up your college savings plan. In this guide, you can get some useful tips that can greatly improve your finances.

Plan your meals
You don't have to stop eating out. We all know na kapag nagkayayaan, it's hard to say no. You don't have to decline all the time and deprive yourself from good food and company. Remember, financial literacy practices like budgeting are not meant to deprive you of good things but to help you prioritize better para may pagkukuhanan ka ng mga needs and wants mo. With that, a better thing to do would be to plan your meals for the week.
Anong araw mo gusto kumain ng sisig? Kailan ka naman magbabaon? Try to space out the days when you want to eat out and when you want to stick with food from home. Mas tipid talaga kapag may baon! By doing this, you can still enjoy meals with your friends while learning how to curb unnecessary expenses.

Cut back on overpriced drinks
Masarap talaga uminom ng soft drinks, milk tea, coffee, and juices. Lalo na kung mainit ang panahon! Sometimes, you just can't help buying an iced cold drink. Okay lang 'yan! But try mo din mag-set ng limit on the number of drinks you can buy for the week.
Bottled drinks may not sound like a big expense, but buying them often will unconsciously drain your savings. One of the best ways you can do to stay on budget is to bring your reusable water bottle whenever you're heading out. Not only is water the best drink you can have to stay hydrated but choosing it will also save you some money.

Distinguish your wants from your needs
This tip can get tricky because determining your wants from your needs is up to you. To be clear, this doesn't mean that you should live on the bare necessities and say good-bye to your "luho" or wants. Rather, you should plan out the things you want to spend your money on to avoid impulse shopping.
A good trick you can start doing is to list down what you're planning to buy first, then sleep on it for a week. If gusto mo pa rin siya after and you have the budget, then go for it! Most of your overspending can come from impulses derived from "budol culture" or social media ads that get you excited and buy things you don't really want or need. Hanggang add-to-cart ka na lang muna, next time ka na mag checkout.

Buy secondhand books
You don't have to buy new books every year, especially when you're only using them as a reference. Use your college Facebook groups and ask if any higher-year students are looking to sell it for a cheaper price, or better yet, discard their books for free.
Join relevant Facebook groups, tapos mag-post ka ng, "LF: [insert book title here]" and members will most likely comment on your post and offer to sell you the book. You can also check out Facebook marketplace and Carousell for secondhand books and score them half their original price.

Download financial management apps
Money-management apps can be a lifesaver. Hindi mo kailangan ng degree to do your personal accounting dahil maraming helpful apps sa Google Play Store or App Store. From gamified experiences to straight-to-the-point budgeting apps, there's a finance app for every kind of student.
May pangkain ka pa ba sa Friday if bumili ka ng face mask? With a money-management app, you can have a brief overview of your expenses in just a few taps. You can record your expenses and set a daily, weekly, and monthly budget para aware ka kung magkano na ang nagagastos mo araw-araw.
In case you need to apply for a student loan to pay for tuition next semester, check if your desired lender has a dedicated mobile application. For starters, credible institutions such as Bukas have an app to help students like you manage your accounts straight from the phone. The Bukas App will give you real time updates on your transactions, send you reminders on your payment deadlines, and more! How convenient is that?

Maximize student discounts
One of the advantages of being a student is the student perks and discounts. You get a student discount when you ride a jeep, sign up for online services like Canva Pro for Education and Spotify Premium for Students, and even buy tickets for concerts, museums, and galleries. These perks won't be around once you graduate so make the most out of them while you still can.

Take advantage of mobile data packages
As a tech-savvy student, your WiFi and mobile plans will be of utmost importance. To make sure that lag doesn't get in the way of online classes, you'll need to ensure that your data package can keep up with your data usage. With that said, try comparing the different services offered by the providers in your area.
Do you need mobile data promos coupled with unlimited texts to get in touch with your classmates? Do you need more data to watch video lectures? Your sim provider offers tons of options, so it's best to find out which package has the best deal for your needs. Choose one that you think you can use the most out of, given your limited budget.

Explore extra income opportunities
Some students don't just rely on their allowance to fund their daily expenses. Marami na ring rumaraket on the side!
Whether it's online selling, tutoring, or freelancing, there are multiple ways for you to get extra income. Kailangan mo lang magsipag or "hustle," pero it'll be worth it. You can pay for certain necessities, add to your savings, and even go on little splurges. If you have some free time on your hands, we've listed some side hustles you can do after your student duties!


Plan Your Finances to Plan Your Future
Every transaction or purchase you make greatly affects your financial stability. With that said, saving for the future doesn't mean that you have to abstain from your wants or avoid big purchases completely. Instead know your priorities, be aware of different cost-cutting practices, and actually make the right decisions with your money. When you get into these habits, it will be easier for you to address present needs and save up for the future.
Speaking of the future, Bukas provides financial assistance for college students in the Philippines that can help you secure a better tomorrow through funding your education today. As you develop a comprehensive budget plan, getting a student loan can help you manage your everyday transactions and big ticket expenses such as tuition and other school fees. How's that for tipid tips?
Learn more about how we make education affordable for thousands of Filipino students like you. Download the Bukas app on Google Play today! Kung gusto mo maging updated with our latest content and updates, you can connect with us on Facebook or reach us anytime via email!