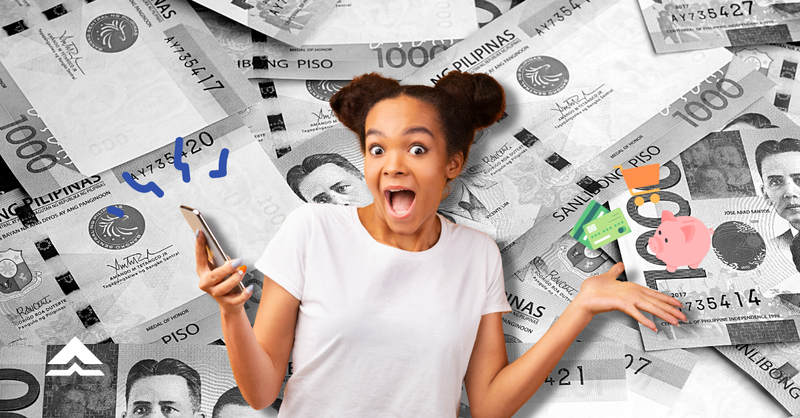 Money management is a difficult subject for everyone. (Kung madali lang sa'yo, good job! Please share with us your ways.) Whether you are getting money from your weekly or monthly baon, o kaya naman sa mga raket mo on the side, practicing good money habits are crucial to achieve your hashtag financial goals. Yes, kahit estudyante ka pa.
However, unlike your latest online shopping budols (read: impulse buy), hindi nabibili ang disciplina. Managing your finances will require some help. The good news is there are a lot of money saving apps available in the market today! The bad news is there are a lot of money saving apps available in the market today! So which one should you get?
There's no one way to save money nor a formula to be good at it. Money management looks different for everyone! To help you get started and find the right match for you, we've handpicked some finance apps that use different techniques in managing money. No minimum amount of financial literacy required. Take your pick!
GoodBudget: Para sa mga cool but old school
If you are a firm believer in the envelope method, then GoodBudget might help you believe in finance apps, too! The envelope method is a time-tested budgeting system where you have paper envelopes for each budget category. Depending on your priorities, you can have envelopes para sa savings, school fees, thesis expenses, at iba pa. Sama mo na pati yung envelope para sa mga budol finds mo!
GoodBudget lets you do all these except with virtual envelopes. This way hindi mo kailangan dalhin ang physical envelopes mo everywhere you go and you can easily check on the app kung magkano nalang ang budget mo for each category. Now that's living within your means!
Pros: Keeps you from overspending since you have limited budget for every category; helps you track which category you spend the most and least money on
Cons: Since hindi ka pwede humiram from other envelopes, handling unforeseen financial situations can be tricky. (Expert tip: Have a separate "emergency" envelope!)
Download it on Google Play and App Store!
Money Lover: Para sa mga mukhang pera… ang kahinaan
Being good at money isn't always about growing your money to a million. Sometimes, it can be simply knowing where your money goes–down to the last centavo. However, while tracking your spending seems like a good idea, it can also be time consuming and difficult to maintain in the long run. Baka nga nagawa mo na siya before at some point and just forgot it in the busyness of school work and life in general. Gets ka namin!
With the help of the Money Lover app, you might learn to love tracking your money again. It includes helpful features like a Money Manager that can track and categorize your expenses, a Budget Planner para hindi ka mag overspend with your daily allowance at meron ring Financial Reports to give you an overview of how you're doing in general! All the basics you need to know about managing your money, you'll probably find it on the app. Ikaw nalang ang kulang!
Pros: All-in-one app for managing personal finances; includes a debt and loans management feature; reminds you of your payment dues ahead of time
Cons: Some features are only available on premium subscription
Download it on Google Play and App Store!
Ipon: 52 Weeks Challenge: Para sa mga may #ipongoals
There's a popular saying that goes, "It's not how much money you earn but how much you save." While we'd agree that having a lot of money to begin with gives someone a head start, always remember na iba pa rin ang taong marunong mag-ipon. That takes a whole lot of self-control and discipline.
Level up your ipon skills and reach your hashtag goals with the Ipon app! Just like the money challenge templates circulating online, this app helps you develop a good habit of saving through consistency over time–a full year or 52 weeks, to be exact. Mapa bente pa 'yan o isang daan, hindi mo mamamalayan, tapos mo na pala yung challenge and you already saved up enough money by then to hit your goal. Ang tanong, are you up for the challenge?
Pros: Keeps you motivated by showing your progress over time; highly customizable money challenges (e.g. reverse order or zero increase per week)
Cons: Not recommended for people who prefer the template printed version
Download it on Google Play!
Fortune City: Para sa mga savers but gamers at heart
Who says managing your money has to be boring? Fortune City proves it does not have to be that way. Using a gamified user experience, you can have fun while developing good financial habits. The app keeps users engaged through a simulation game where every financial activity can grow and develop a virtual city. Oh diba, panalo?
Gusto mo bang pagandahin ang city mo? Record your expenses! Gusto mo ba bumili ng bagong building o kotse? Categorize your transactions! Simply put, the future of your city depends on your financial habits. But of course, no pressure.
Pros: Cultivates good habits in a fun way; has plenty of practical features to understand and improve personal spending habits; Encourages healthy competition with family and friends
Cons: Some features are only available on premium subscription; takes bigger phone storage because of the gameplay
Download it on Google Play and App Store!
GCash: Para sa mga walang pera… sa wallet
Nakalimutan mo ba magdala ng pera sa wallet? Don't worry! We have an app that will turn your mobile phone into a wallet in just a tap: GCash. This popular finance app offers various services that range from saving money, sending money to investing money real quick–kahit na Php 50 lang ang laman ng online wallet mo!
While there's definitely a lot of ground to cover, students like you can take advantage of features like GSave, Send Money, and Bills payment. Kung wala ka pang bank account, using GSave is a good starting point since wala kang kailangan na initial deposit and maintaining balance. On the other hand, the Send Money and Bills Payment features let you settle your school fees and other expenses without leaving your phone. Hindi ka na mapapagod, makakatipid ka pa sa pamasahe!
PS. Did we mention na pwede ka rin magbayad ng Bukas monthly dues mo using GCash? Yes, pwede! To know more details, check out our step-by-step instruction.
Pros: Widely accepted as a payment channel for online and offline stores; you can use all GCash services for free (except for cash out and card application and withdrawal)
Cons: Consider service fees and other charges when making transactions
Download it on Google Play and App Store!

Bonus!
Bukas: Para sa mga masipag mag-aral at may mga pangarap
Of course, we cannot end this article without sharing this exciting news: #MayBukas app na! We know how important education is for you, and the last thing we want is for costly tuition and school fees get in the way of your dreams. We believe in you!
Kaya naman, with the same mission to make education affordable for every student, our team created the Bukas app para masiguradong mas convenient at mas accessible na ang tuition installment plans para sa'yo. If you need more convincing, we've listed down three good reasons why you should download the Bukas app today!
Pros: Pay for your tuition and other school fees in affordable monthly installments; easily check your application status and other announcements
Cons: Still gearing up for our launch on the App store. Abangan!
Download it on Google Play!

Which of these budget and money saving apps are you trying out first? As you explore and find which works for you, always go back to your why. Why are you trying to develop this habit? What are your financial goals? Kapag malinaw sa'yo ang mga bagay na yun (btw, it looks different for everyone!), saving one peso or one thousand pesos becomes more rewarding. Kaya mo 'yan!
Learn more about how we make education affordable for thousands of Filipino students like you. Download the Bukas app on Google Play today! Kung gusto mo maging updated with our latest content and updates, you can connect with us on Facebook or reach us anytime via email!