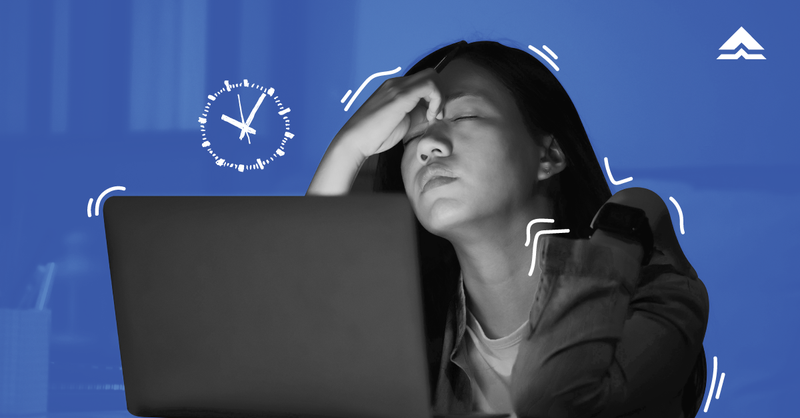 While getting good grades and getting that hard-earned diploma may be the goal of most students, not everyone's experiences are the same. While others only have their academics to worry about, marami sa mga estudyante ang nagtatrabaho kasabay ng pag-aaral o naghahanap ng mga paraan para makabayad sa tuition tulad ng pagkuha ng educational loans.
At Bukas, we understand that managing your schoolwork and job can be overwhelming. Whether it's getting an assignment done before your part-time job or finding time to spend with your friends, here are a few things that all working students can relate to.

1. Your to-do list is never-ending
Working while studying means that you have a pretty long to-do list. May forever sa mga gawain! Just when you've finished one assignment, it seems like a
nother one always adds on. Luckily, as you get used to your routine, you generally become better at managing your time and energy.

2. You're much more experienced than people your age
Not everyone you meet in college will be in the same boat as you. Since people have different timelines, opportunities, and circumstances, some students won't know what it's like to work while studying.
Due to the different experiences that come with your job, balancing academics with other big responsibilities can make you feel more mature than your peers. But if you feel alienated from your friends or experience FOMO (the fear of missing out) because of this, don't be. We respect the hustle and bustle you go through. We might even learn a thing or two from you!

3. Finding time for friends and family is a lot more challenging
Between balancing homework and working a part-time job, you barely have any time for yourself, let alone for other people. Planning a day to hang out with your loved ones may be a real challenge sometimes, but once you do, you feel excited and grateful for the people around you.

4. Sleep is a luxury
As a working student, you have a long list of priorities in and outside of school. Juggling the hectic demands of both your student and professional life can leave you exhausted at the end of the day.
Be proud of yourself for all the hustle and bustle you go through each day but don't forget that you need breaks too. No matter how hard things may get, know that your family and friends (and Bukas) are here to cheer you on!

5. Holidays and short breaks make you very happy
You love long weekends and any holidays. Whether it's catching up on shows you've missed, making time to hang out with friends and family, or kahit simpleng activities for self-care, planning for these days excites you.

6. You get labeled as the serious one
Maintaining a part-time job while you're in college may make you seem like the responsible friend in the barkada. Because of this, your peers often come to you for help, and good advice, since they know you're that reliable friend they can rely on.

7. You're aware of the true value of money
It's important for all students na maging wais sa pag-manage ng pera. But for working students like you, frugality is second nature. Compared to other students receiving a school allowance, working hard for your monthly salary makes you see the true value of money.
You know how hard it is to earn cash. It's no surprise that you've mastered the art of budgeting. But as you manage your finances for the month, don't forget to spoil yourself from time to time! You deserve it.

8. Starting a new semester makes you nervous
Going back to school means following a new routine. If you're working a day shift during school break, you may need to consider doing a night shift once classes start. As you get accustomed to the changes in your student and work life, wag kalimutan na nandito ang mga kaibigan mo para sayo!

9. You are a master multi-tasker
Being a working student basically means that you need to become a master multi-tasker. Because you need to constantly plan for things ahead of time, you gain more experience and manage your tasks and responsibilities better. If you're having trouble with your workload, consider downloading productivity apps and other helpful tools! Whatever help you need, sigurado kaming may online app para diyan. (Shameless plug: May Bukas app ka na ba?)

10. Say goodbye to weekends
Holding on to a part-time job usually means sacrificing your weekends in exchange for a few shifts. While there may be no better feeling than sleeping in on a Saturday, remember what you're working towards your goals and building a better life for yourself—all your hard work will pay off in the end!


Never-ending hustle for a better future
Being a student is hard. Being a working student is harder. While we believe that working hard for what you want is all fair game, don't forget to enjoy yourself in college while you still can. You are, still, a student after all.
To help you carve more time for your family and friends, more so help you focus on your studies better, consider applying for a Bukas tuition installment plan. You're already doing a great job. But there's no harm in taking all the help you can get. Kasama mo ang Bukas. We're rooting for you!
Learn more about how we make education affordable for thousands of Filipino students like you. Download the Bukas app on Google Play today! Kung gusto mo maging updated with our latest content and updates, you can connect with us on Facebook or reach us anytime via email!