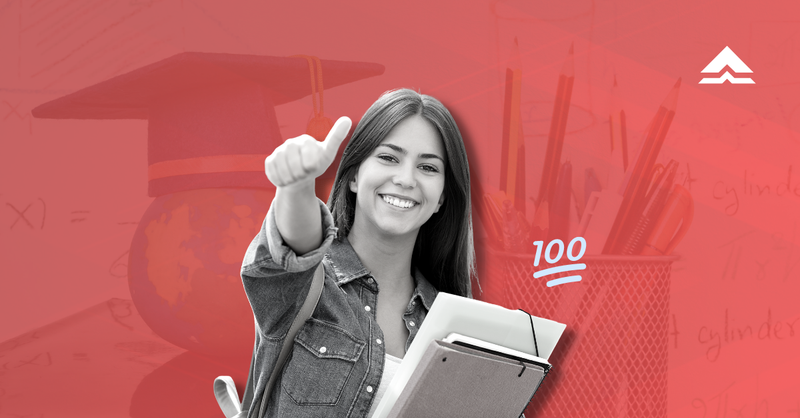 Still deciding whether or not to pursue graduate studies?
Not sure if the time, money, and emotional investment will be worth it?
We're listing down the advantages (and challenges) of graduate studies para fully informed ka. Ika nga, pag-isipan muna bago mag-commit!
Graduate study is a requirement in some professions like law and medicine. Meanwhile, other fields like communication and engineering encourage graduate studies. Pero nasa 'yo pa rin ang choice whether to take your postgrad or not.
Find out what graduate study is all about and how it can benefit your career. Nanghingi rin kami ng words of wisdom mula mismo sa mga graduate students!

What is graduate studies?
Graduate study (AKA graduate school or postgraduate studies) is an advanced program beyond a bachelor's degree or undergraduate degree.
Medical school and law school are popular specializations in graduate studies. But there are master's degrees and doctorate degrees in many other fields, such as:
Arts (e.g. Master of arts or M.A.)
Science (e.g. Master of science or M.S.)
Philosophy (e.g. Doctor of philosophy or Ph.D.)
Business (e.g. Master of Business Administration or MBA)
Engineering
Communication
Education
Social work
Agriculture
Compared to an undergraduate program, graduate study is more focused on a field or profession. Thus, graduate studies may have fewer electives, smaller classes, and more frequent discussions.
Now that we've covered the basics, let's dive into the benefits of graduate studies.

1. It will deepen your industry knowledge
Graduate studies will position you as an expert in your industry. Your advanced studies will give you in-depth knowledge and practical skills in your field.
While learning in the classroom, you'll get to apply your knowledge through internships and teaching opportunities. Theory and practice make perfect!
The key is to choose a field you're passionate about. Whether it's undergraduate or graduate studies, magiging mahirap kung hindi mo gusto ang inaaral mo. So take your time and reflect well on your choice of graduate program.
Years after quitting law school, Frances Damazo, 29, decided to pursue a different graduate program. Her work experience in the development sector inspired her to take up an MA in sociology.
"I enjoyed the field I was in at work, and I was curious enough to deepen my understanding of the world and society. This time, I was in graduate school not because I was rushing to tick something off my timeline or because of societal pressures but because I was genuinely interested in my field of study, and I wanted to contribute to this bigger pool of knowledge."

2. It gives you a competitive edge
Fact: Many employers prefer candidates with master's degrees, especially for senior positions.
A master's or doctoral degree not only boosts your credentials but also expands your network. Makaka-meet ka ng classmates at professors who will sharpen your mind and open doors for you in your career.
Moreover, postgraduate degree holders often experience the 'leapfrog' effect by skipping entry-level jobs and landing higher management positions. With a postgraduate degree under your belt, you become a highly competitive job candidate.
Edmer Maguan, 28, attended the Stanford University Graduate School of Business. An MBA opened doors for Edmer, ultimately leading to a job as Sr. Program Manager in Amazon.
"If you intend to work in a different country, employers will always have a bias for those with a degree from the country that they operate. This is especially true for western countries.
I wanted to pivot my industry, role, and geography, and I was able to do all of that while learning a lot and meeting a ton of amazing friends in business school."

3. It leads to higher-paying jobs
Companies often require a postgraduate degree (e.g. master's degree or MBA) for senior positions. Higher position equals higher income! At least in most cases.
Salary Explorer states that professionals with a master's degree earn 29% more than those with a bachelor's degree. Some high-paying professions even require a postgraduate degree, such as psychologists, lawyers, and doctors.
A master's degree also offers teaching opportunities at a college or university. Hello, extra source of income! As you move up in your career, makakatulong ka pa sa future generation by sharing your knowledge.

4. It contributes to the greater good
Not many people realize this, but graduate education also offers many benefits to society.
As the world copes with the pandemic, advanced education provides knowledge and expertise that communities need now more than ever.
Former university president and Forbes writer Michael T. Nietzel lists down the social benefits of graduate education.
Expertise: Professional services in mental health and allied health are on the rise. Thanks to graduate education, we have counselors, psychologists, and social workers to help people deal with pandemic-related trauma and mental health issues.
Innovations: University labs are the birthplace of many valuable innovations. Graduate students and university researchers have been at the forefront of vaccine development and disease tracking in light of the coronavirus.
Stronger communities: Postgrad education inspires students to go beyond themselves. In fact, graduate degree holders are highly likely to give back to the community. They may do so by donating to charity, joining civic groups, and volunteering.

But graduate school is not for everyone
Graduate studies may offer many benefits, pero malaking investment sa oras at pera ang kailangan dito. A master's degree usually takes 2 years if you study full-time. That's two extra years on top of college! And a doctoral degree will take anywhere from 4 to 7 years, including writing and defending your thesis.
MA sociology student Frances Damazo, 29, says people shouldn't feel pressured to take up graduate studies if it's not for them.
"I don't think graduate school is for everyone and it's perfectly okay . . . Growth is a beautiful thing and it happens to us in a multitude of ways—whether it is through graduate school where we learn new knowledge, or by spending a certain amount of years in the workforce to hone skills."
Architect and MBA student Patricia Grafil, 28, shares the same advice.
"Don't pursue [graduate studies] if you think it's not worth your time. It's a commitment, and sayang resources if you spend money on it tapos hindi magagamit. Don't pursue it if solely to increase your salary and if you're not passionate about it."

The bottom line
Yes, graduate study is worth it, but only if it aligns with your career goals. In short, you do you.
If you're up for the challenges of graduate school, then we say go for it! Graduate studies will lead you to amazing opportunities. (And if you need extra motivation to study amidst the pandemic, we gotchu too!)
With Bukas, you can worry less about the financial side of graduate studies, so you can pursue your grad school dreams.
Learn more about how we make education affordable for thousands of Filipino students like you. Download the Bukas app on Google Play today! Kung gusto mo maging updated with our latest content and updates, you can connect with us on Facebook or reach us any time via email!

About the Author
Karr is a freelance writer with a passion for storytelling and self-development. For six years and counting, she's been creating content for impact-driven companies. Her skill set includes writing about student life, producing videos on inspirational athletes, and making resin art. As a multipotentialite, Karr believes a career path doesn't have to be a straight line.