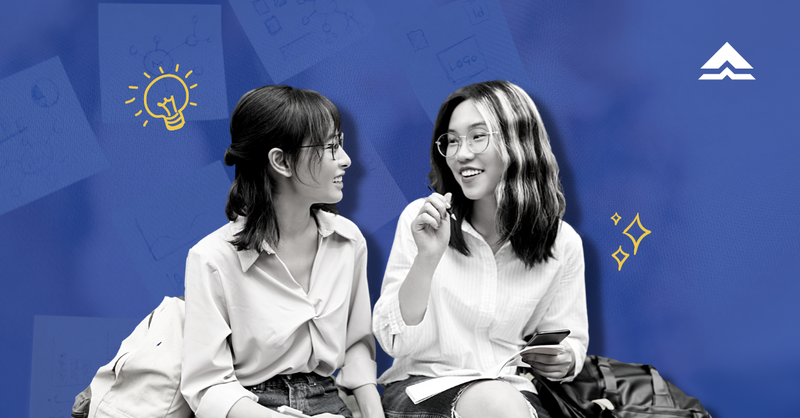 How many communication courses do you know? If you're just entering college, siguro mass communication pa lang ang narinig mong communication course. Pero actually maraming klase ng communication course—kasing dami ng iba't ibang paraan ng pag-communicate!
If you're thinking of pursuing a communication course in college, the next question to ask is which communication course to take. So alin nga bang communication course ang para sa 'yo? Ano ang pinagkaiba ng mass communication sa development communication? To answer your questions, here's a list of communication courses in the Philippines and what to expect in each field.

1. Mass communication
Mass communication focuses on creating and analyzing messages for a large audience through mass media.
A mass comm degree offers vast career opportunities, from broadcast news to online marketing. As a mass comm graduate, you can go into various fields like television, radio, film, and digital media. Mass comm graduates enter careers in journalism, marketing & advertising, entertainment, public relations, and non-profit organizations.
You can also go the academic route. Communication scholars may study the effects of media, ethical and legal issues in mass communication, and cultural and gender issues.
Possible careers:
Content writer
Copywriter
Director
Scriptwriter
Researcher
Public relations specialist
Journalist
Media planner

2. Visual communication
Visuals are everywhere, from Instagram posts to billboards along EDSA. If design is life, then VisCom may be the perfect course for you!
Visual communication is the study of creating visuals to convey information. Think art with the users' needs in mind. VisCom students learn how to create effective visuals for websites, social media, trade shows, business presentations, and more. Other topics you can learn include visual branding, visual merchandising, and motion graphics.
Graduates of visual communication go to work with well-known advertising agencies and companies.
Possible careers:
Graphic designer
Motion graphics designer
Packaging designer
Advertising and media professional
UI/UX designer
Events and exhibitions designer
Visual merchandising designer

3. Development communication
"Para sa bayan" ba ang mantra mo? BS Development Communication is your path to a career in solving society's problems. In devcom, you'll be studying communication and its role in positive social change.
For example, DevCom students may study communication methods to help the poor and underserved communities. Other DevCom topics include information dissemination, social marketing, and media advocacy. This course also covers related subjects like social sciences, agriculture, health, and the environment. If you see yourself working in development institutions and non-profit organizations, devcom is the way to go.
Possible careers:
Project development officer
Writer
Public relations officer
Communication analyst
Researcher
Media planner
College professor
Journalist

4. Organizational communication
Organizational communication focuses on communication within and outside a company. Graduates of this course help employees and managers communicate effectively. Organizational communication specialists help improve a company's productivity, so they can reach their goals. The role may also include proposing structures that help prevent conflict and reduce errors in daily business operations.
Organizational communication skills include presenting business ideas, making proposals, fulfilling client orders, and conducting effective meetings. The course may also discuss workplace dynamics, communication ethics, and public relations.
Possible careers:
Corporate communications consultant
Public relations specialist
Project manager
Account manager
Human resources specialist
Marketing director
Public affairs specialist
Career coach

5. Technical communication
Technical communication is about conveying information on technical and specialized topics. These topics include computer applications, medical procedures, environmental regulations, and other technical subjects. Technical communication comes in various forms like manuals, product instructions, web pages, and social media sites.
Making technical information accessible is the goal of a technical communicator. Technical communicators aim to make people's lives easier and more productive. These experts guide people through technical tasks like using software or caring for a patient properly.
Possible careers:
Technical writer and editor
Instructional designer
Technical illustrator
E-learning developer
Web designer and developer

6. Speech communication
Kung bibo ka at heart, speech comm is your time to shine! Kung shy type ka naman, go lang din. Speech comm can build your confidence and public speaking skills.
Aside from training your communication skills, speech comm also enhances your analytical skills. Quality communication is crucial to better relationships within the family, social situations, and in the workplace. Speech comm can teach you skills in presentation, negotiation, effective listening, PR writing, and theater arts.
Gaya ng mass comm, speech comm is a broad field that can lead to many career opportunities. This course will give you the confidence to take on any career, be it corporate or broadcast.
Possible careers:
Project manager
Partnerships officer
Public relations officer
Broadcasting professional (television, digital media, or radio)
Performer


Some communication courses overlap in terms of subjects and careers. This goes to show that any communication course will give you flexibility. Your college course does not limit what you can or cannot do. The important thing is to choose a communication course that best fits your strengths and passions.
Still not sure which communication course is best for you? You can ask yourself these 4 essential questions while choosing your college course. Pag alam mo na ang course para sa 'yo, nandito and Bukas para tulungan kang abutin ang pangarap mo.
Learn more about how we make education affordable for thousands of Filipino students like you. Download the Bukas app today on Google Play! Kung gusto mo maging updated with our latest content and updates, you can connect with us on Facebook or reach us any time via email!
About the Author
Karr is a freelance writer with a passion for storytelling and self-development. For six years and counting, she's been creating content for impact-driven companies. Her skill set includes writing about student life, producing videos on inspirational athletes, and making resin art. As a multipotentialite, Karr believes a career path doesn't have to be a straight line.
Want to get a FREE College Guide? Mag-sign-up na para makakuha ng more freebies at maging updated sa exclusive tips, how-tos, and latest events and webinars led by Bukas.