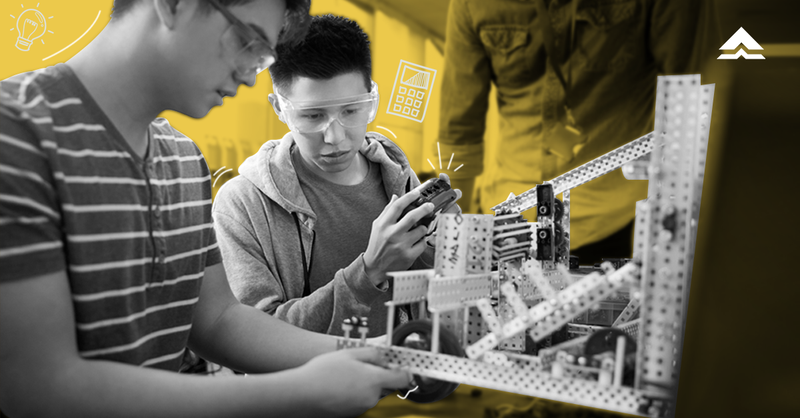 College is your gateway to the real world. It's where you can identify and work on attaining your goals para ang Bukas mo sigurado! Kaya naman importanteng makapili ka ng course na aligned sa career path na gusto mong tahakin after graduation.
Some may be good in arts, and others in science and math. If you're one of those na magaling sa math, maybe a career in engineering would suit you. Did you know that there are a lot of engineering courses you can choose from?
May industrial engineering, mechanical engineering, civil engineering, pati materials engineering. If you're still undecided if this field is for you, we have the perfect guide to discuss the different reasons you should take up engineering.

1. Engineering trains you to be a problem-solver
Whether you're designing a new structure or trying to fix a problem, engineering involves a lot of problem-solving. If you're the type of person who loves knowing how things work, then engineering will be a course that you will genuinely enjoy.
Vien Bruces, a Computer Engineering student from Mapúa University, shares "As an engineer, ang objective namin ay to solve problems that are yet to be solved. Kapag nagtatrabaho na ako, I hope to find ways to innovate and contribute in improving our systems…."

2. It gives you career options, options, options….
One great thing about engineering is that it's always in demand. Hindi mo kailangan mag alala kung may mahahanap kang trabaho after graduation. Engineering is a diverse course that you can apply to different industries, such as medicine, IT, and manufacturing. Be on the lookout so you can land a good job easily.

3. It's a practical and challenging field
Engineering could be ideal for you if you don't see yourself working in a 9-to-5 job. It's a hands-on career that practices all the theories and concepts explained in school. Magagamit mo ang lahat ng napag-aralan mo when you start working with materials and machinery.
Take it from Mapua Civil Engineering student - Stanly Garcia, an adventurous person who loves to travel. Beyond his genuine interest in engineering, the idea of relocating for projects and visiting other places in the country greatly factored into his course selection process.

4. You can attain international career opportunities
An engineering course provides you with the opportunity to land a job on the international market.
Parte ng trabaho ng isang engineer ang lumipat at mag relocate for work, depending on the project. This is especially true if you're asked to oversee sites and facilities in different parts of the country. Or even overseas!

5. Your income potential is high
Everyone wants to be financially stable. Because of the qualifications needed to be a licensed engineer, an average monthly salary of an engineer can go as high as PHP79,000.00. How's that for a good-paying job?
Benjamin Abdul, a Civil Engineering student of the University of Nueva Caceres (UNC), shares that he chose his course hoping to help his family financially in the future when he becomes a certified engineer.

6. You can make a difference in society
Engineers impact the lives of everyone because of the developments they make to infrastructures and technology. Kahit na ano pang branch of engineering ang aralin mo, it can potentially make an impact in the lives of the people around you. Just to name a few examples, making safer buildings and building better transportation options are all great ways engineers contribute to the society. It's just a matter of choosing what school and course you'll pursue to achieve your goal.


To the Future Engineer
Education is priceless. Ito ang foundation mo so you can start building the future you've always wanted. Fortunately, Bukas has partnered with top educational institutions in the country that are well-known for their engineering courses. Through affordable tuition educational loans in the Philippines,you can pay for your engineering program from your first year until graduation!
Here at Bukas, we are committed to helping students succeed in and out of the classroom. If you're still having trouble choosing a course that could work for you, take some time to reflect. For starters, using a course search tool may help you see what programs might interest you. On another note, asking yourself: "What am I good at? Where do my interests lie?" should give you an idea of what you'd like to be in the future.
The road is long, but the destination is worth it. As we like to say it: #AngBukasMoSigurado. We're rooting for you, future engineer!
Learn more about how we make education affordable for thousands of Filipino students like you. Download the Bukas app on Google Play today! Kung gusto mo maging updated with our latest content and updates, you can connect with us on Facebook or reach us anytime via email!