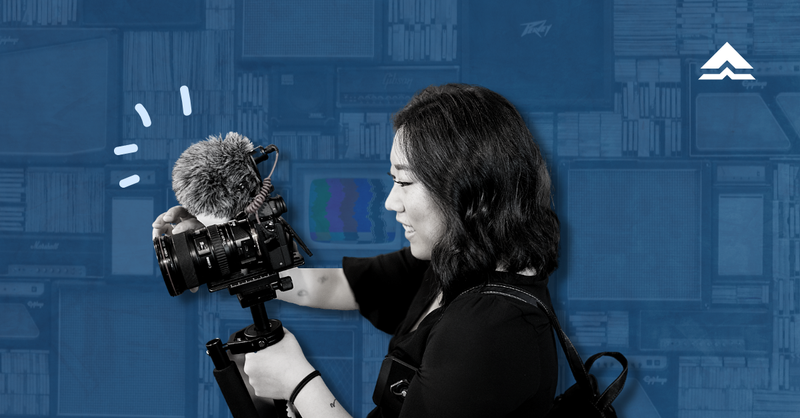 "Ah, gusto mo maging news reporter?"
"Pa-autograph sa mga artista 'pag nasa TV network ka na ha?"
Kung mass communication major ka o nagbabalak ka mag-mass comm, baka nasabihan ka na ng ganyan by a curious relative or a well-meaning friend. People attach certain stereotypes and assumptions about college courses, especially mass communication.
While journalism and entertainment are popular careers for communication graduates, they're not the only communication careers out there! So if you haven't figured out what to do with your communication degree, that's okay. Baka hindi mo pa nadi-discover yung career path para sa 'yo.
To help you explore your other options, here's a list of exciting careers in communications. From media planner to social media manager, there's a job for every type of skill set.

1. Public relations officer
Cancel culture happens often nowadays. And this is why brands need the help of public relations officers to manage crises (and prevent them in the first place!).
Public relations officers develop PR strategies and publicity campaigns to boost a company's reputation. You can do PR for a commercial brand, advertising agency, charity, or government organization. At the core of it, PR officers ensure a positive relationship between the brand and its audience.
Ideal qualifications:
Bachelor's degree in marketing, journalism, management, or another related course
Tasks:
Planning PR campaigns
Writing press releases, brochures, speeches, and website copy
Representing a company at public speaking events, such as press launches and radio interviews
Monitoring the public's opinion of your client

2. Copywriter
Are you a master of witty puns and persuasive writing? Your knack for words is your key to excelling as a copywriter!
Copywriters write all sorts of marketing content, from Instagram ads to video scripts. As a copywriter, your goal is to write compelling copy, sell products, and inspire action.
You can be a freelance copywriter and work with international clients. (Yay for online jobs and remote work!) Or you can take the traditional route as a full-time copywriter for an advertising agency.
Ideal qualifications:
Bachelor's degree in communication, marketing, or advertising. Other relevant courses include English and creative writing.
Tasks:
Writing ads for Facebook and Instagram
Writing social media captions
Crafting email newsletters, website copy, and product descriptions
Coming up with catchy business taglines
Writing video scripts

3. Media planner
Hindi basta-basta ang pag-place ng ads sa billboards, websites, at TV programs. Media planners decide when and where to place ads.
A media planner maximizes an ad's audience reach while minimizing ad placement costs. Statistics and budgeting skills ang kailangan dito!
Media planners craft content strategies that attract and retain customers. You can become a media planner for an advertising agency or media planning and buying agency.
Ideal qualifications:
Educational background in communication, media studies, advertising, business, or statistics
Tasks:
Gathering and analyzing data on people's viewing habits
Designing marketing campaign strategies
Understanding the client's needs, wants, and goals
Choosing the most effective media channel for displaying an advertisement
Analyzing post-campaign results

4. SEO content writer
Thanks to SEO (Search Engine Optimization), isang search lang sa Google ang kailangan mo to find relevant answers to your search queries. Goal ng SEO content writer ang magsulat ng article na lalabas sa search results page mo, whether you searched "when BTS concert in Philippines" or "communication career options."
An SEO content writer creates SEO-friendly website content, such as blog posts and website copy. By SEO-friendly, we mean high-quality content with relevant search keywords. Companies hire SEO writers to write about their business and ensure this content will appear in users' search results when they go on Google or other search engine platforms.
Data science meets art in this profession! A well-rounded SEO writer has excellent writing skills and knowledge of online media.
Ideal qualifications:
Bachelor's degree in creative writing, English, communications, or any other related field
Tasks:
Using digital marketing tools to find relevant topic keywords
Incorporating SEO keywords into blog posts and website copy
Writing clear, concise, and helpful blog posts for the target audience
Monitoring website performance through metrics like page visits, time on page, and new subscribers

5. Social media manager
Kung mahilig ka mag-post sa TikTok o Instagram, why not do it for a living? Brands need a good social media presence to thrive in today's highly connected world. Kaya in-demand ang social media managers ngayon.
Social media managers plan and create social media content for businesses. A social media manager, also known as a community manager, interacts with users on social media.
From running social media contests to working with influencers, social media managers are master multitaskers. You can combine your skills in writing, graphic design, and video editing in this dynamic career!
Ideal qualifications:
Bachelor's degree in communication, marketing, or public relations. A background in business, advertising, or psychology can also benefit a career in social media management.
Tasks:
Building social media content calendars
Creating or curating social media content
Scheduling and publishing posts
Replying to followers' comments and messages
Monitoring hashtags to identify content ideas
Making weekly or monthly reports on social media performance

6. Project manager
Lagi bang ikaw ang leader 'pag may group project? Do classmates often look to you to take charge? You could be a project manager in the making.
Project managers (PMs) oversee projects from planning to execution. Every industry needs project managers, whether to manage the construction of a new building or spearhead the launch of a new app (Shameless plug: may Bukas app ka na ba?). A project manager leads a team to ensure they complete a project on time and within budget.
Ideal qualifications:
Education background and work experience in your preferred industry
Tasks:
Planning a project and discussing the project scope with company leaders
Proposing project budgets to the finance team
Setting project deadlines
Checking in with team members on project progress
Re-assigning tasks to manage the team workload
Leading post-mortem project meetings and gathering feedback

7. Media researcher
TV hosts and actors may have the spotlight, pero mahalaga rin ang role ng media researcher.
A media researcher, or program researcher, finds information on show subjects, contributors, and locations. Researchers also fact-check the information that goes into a show. Media researchers can work for television, radio, documentaries, films, and online projects.
Ideal qualifications:
A degree in broadcast communication, communication research, or another relevant field. Specialist production companies may prefer graduates in a specific field like biology, psychology, or history.
Tasks:
Sourcing contacts and program contributors
Organizing and researching case studies and shoot locations
Fact-checking information for the program
Writing production briefs and ensuring the production abides by local regulations
Interviewing people, sometimes filming or recording on-location


Don't let society's expectations dictate what you should do after you earn your communication degree. Feel free to explore careers that suit your skills and interests.
If you're just entering college or thinking of shifting to communication, this handy guide can help you decide which course to pursue.
Bukas is here to help you turn your dream job in communications into a reality. Learn more about how we make education affordable for thousands of Filipino students like you. Download the Bukas app on Google Play today! Kung gusto mo maging updated with our latest content and updates, you can connect with us on Facebook or reach us any time via email!

About the Author
Karr is a freelance writer with a passion for storytelling and self-development. For six years and counting, she's been creating content for impact-driven companies. Her skill set includes writing about student life, producing videos on inspirational athletes, and making resin art. As a multipotentialite, Karr believes a career path doesn't have to be a straight line.