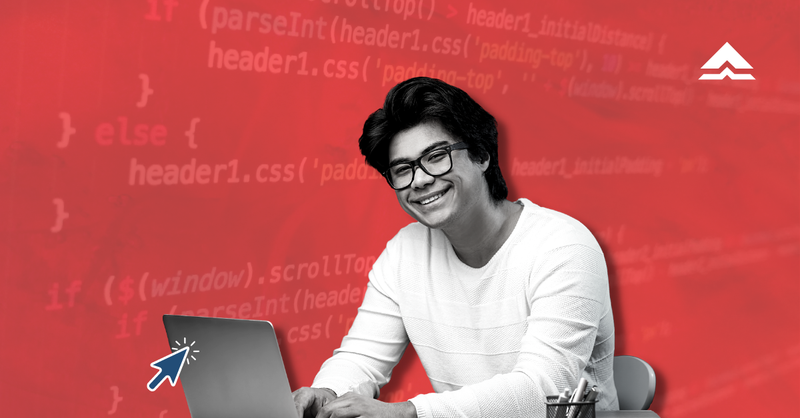 Hi-tech na ang takbo ng buhay ngayon! Businesses are launching online stores. People and brands are on social media platforms, mapa-TikTok man yan o Twitter. And companies use all types of software and digital tools in their daily operations.
Kaya naman in-demand ang ICT professionals nowadays. Companies need experts who can help them apply tech to their businesses. If you're a current or aspiring ICT major, many career opportunities in ICT are waiting for you! ICT—or Information and Communications Technology—focuses on all things communication, including the Internet, wireless networks, and cell phones.
Here's a list of in-demand careers you can pursue after you finish your ICT course. Look through this list and see which ICT career piques your interest!
Note: Average salaries are based on available data in Payscale.com. Salaries may vary from case to case.

1. Computer programmer
Average salary: ₱205,048 / year
Computer programmers code, create or customize computer programs, and debug software. Based on the 2019 DOLE report on labor market trends, computer programming daw ang isa sa highest-paying jobs sa Pilipinas. Bukod pa dyan, our country is on its way to becoming the call center capital of the world. As the tech industry grows, so will job opportunities in computer programming and IT!
Tasks:
Writing and testing software codes
Maintaining and improving computer programs
Identifying and solving technical problems
Preparing software reports and manuals

2. Systems analyst
Average salary: ₱483,917 / year
Para sa problem solvers at heart! A systems analyst helps a business find the best system to solve their problems and achieve their goals. As a systems analyst, you'll be the middle person between IT and non-IT stakeholders. Systems analysts are experts in programming languages, operating systems, and hardware.
Tasks:
Designing and implementing software or hardware for businesses
Conducting app testing
Managing access levels and passwords
Providing support in database management

3. Web designer
Average salary: ₱299,907 / year
Combine your love for design and tech. Web designers use their creative and technical skills to design the layout and visuals of a website. These specialists make sure websites are not only #aesthetic but also functional.
Web design further branches out into two specializations: UI (User Interface) design and UX (User Experience) design. UI focuses on website visuals and user interactions, while UX involves the structure of a website.
Tasks:
Designing engaging websites
Improving a website's usability to ensure users complete an action
Building content management systems (CMS) for websites
Running website tests
Improving a website's page load speed

4. Web developer
Average salary: ₱290,081 / year
Kung sa web designer ang website layout, sa web developer naman ang website structure. Web development involves more technical work like using complex coding languages. As a web designer, your job will be translating designs into a functional website.
Both programmers and web developers do a lot of coding. Ang pinagkaiba? Programmers usually build computer applications from scratch or make additional app features. Meanwhile, web developers build and maintain websites specifically.
Tasks:
Working with HTML, JavaScript, CSS, PHP, Python, and other web design coding languages
Collaborating with designers and creating functional websites
Fixing website issues
Monitoring website traffic

5. IT support specialist
Average salary: ₱222,641 / year
IT support specialists manage computer systems and provide technical support. There are many types of IT specialists, depending on the needs of a company. Kaya iba-iba rin ang tawag sa IT support specialist: IT support engineer, technical support manager, desktop support manager, at iba pa.
According to Recruitday, IT support specialists in the Philippines can earn anywhere from ₱31,300 to ₱80,000 per month. G na!
Tasks:
Installing, repairing, and upgrading computer systems
Assisting hardware and software users in tech support issues
Troubleshooting computer systems, servers, and networks

6. Information security analyst
Average salary: ₱584,534 / year
With great connectivity comes great risks to data security. Companies need cybersecurity experts to keep their confidential information safe from hackers. Information security analysts provide security solutions and find data security threats. These experts use security software and network computer programs to solve security issues.
PS. As a future data security expert, make sure to practice data privacy in your own life! There are practical ways to keep your data safe from hackers and scammers.
Tasks:
Documenting and analyzing data security threats and breaches
Developing data security strategies
Operating company systems like routers, firewalls, and hardware
Coordinating system updates to minimize downtime and protect company assets

7. Data scientist
Average salary: ₱641,277 / year
Puro iced coffee videos ba YouTube recommendations mo, kaka-search mo ng dalgona coffee recipe? Data science at algorithms ang explanation dyan.
Data scientists consider the human aspects of applying technology. This science involves collecting and analyzing data to solve everyday problems. For example, data science helps companies understand their customers, make better decisions, and improve their products. Math, statistics, at machine learning ang kailangan sa data science. If you're up for the challenge, baka data science ang career para sa yo!
Tasks:
Collecting large sets of structured and unstructured data
Analyzing customer and market trends
Finding patterns and trends in data sets
Coming up with data-driven solutions
Using analytics and reporting tools


Abot-kamay na ang dream job mo sa ICT, no matter your gender or socioeconomic status. Step one is pursuing the best ICT course for your chosen career path.
Learn more about how we make education affordable for thousands of Filipino students like you. Download the Bukas app on Google Play today! Kung gusto mo maging updated with our latest content and updates, you can connect with us on Facebook or reach us any time via email!
Want to get a FREE College Guide? Mag-sign-up na para makakuha ng more freebies at maging updated sa exclusive tips, how-tos, and latest events and webinars led by Bukas.

About the Author
Karr is a freelance writer with a passion for storytelling and self-development. For six years and counting, she's been creating content for impact-driven companies. Her skill set includes writing about student life, producing videos on inspirational athletes, and making resin art. As a multipotentialite, Karr believes a career path doesn't have to be a straight line.