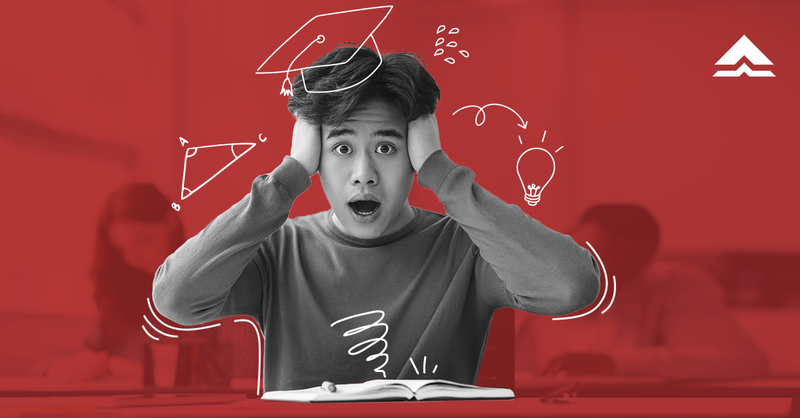 College is a significant chapter in your life that can greatly determine your future. Because of how crucial this season is , it's understandable that students want to make the right choices. While incoming freshmen may be wondering how to choose the right college, it's important to know na pinagdaanan din ng sophomores and juniors yung ganyang dilemma. Hindi ka nag-iisa.
Throughout your college journey, facing seemingly impossible lessons and terror professors are all part of the package. But when second thoughts about your course selection enter the picture, ibang usapan na 'yan. To help you out, we will discuss 8 signs that your chosen program isn't for you.

Sign #1: You feel pressured more than fulfilled
Your college years can hold some one of the most rewarding or challenging experiences in your life. Compared to elementary and high school where you were guided directly, you now have more freedom at your hands.Unlike before where attendance and projects were mandatory, college gives you the option on whether you should go to class, sign up for seminars and more.
All the experiences you'll go through are meant to give you a glimpse of the real world. Normal lang naman ang peer pressure, pero hindi normal ang constant feeling of unfulfillment from the work you put in. If your studies are taking a toll on your well-being, take some time to reflect. Ask yourself why you picked this course in the first place should help you put things in perspective.

Sign #2: You feel unmotivated most days
Being unmotivated to study every now and then is common for students. But if you begin to dread the thought of attending your majors or are procrastinating on your assignments constantly, then you should look to take a step back.
Usually, dito nagsisimulang mag-suffer ang grades. Instead of letting your grades slip, try to talk things out with an advisor. Venting out to your parents, a close friend, or even your school counselor will help you get things back on track (or help you realize what you really want).

Sign #3: Failing doesn't bother you anymore
Following the previous point, it's clear that lacking motivation can greatly impact your performance in school. During your first days in class, getting a bad mark on your record might have felt like the end of the world. But that's okay. May adjustment period naman talaga in college. But if you find yourself growing numb to low grades, then there might be something wrong.

Sign #4: You spend more time on your passion projects and hobbies
At the end of the day, your heart wants what it wants. Kapag hindi yung course na gusto mo ang pinili mo, your actions will naturally sway in the direction of your interests. If you've recently discovered what you're passionate about, you should factor it into the shifting process. Kung hindi naman option mag-shift ng college degree, joining school orgs is another great option!

Sign #5: The thought of shifting courses has crossed your mind
When things get too tough, natural lang na pag-isipan mong magpalit ng course. But in the face of adversity, it's always better to stay calm and collected to not make impulsive decisions. You wouldn't want to make a big decision if you're not in the right headspace.
Before you consider switching courses, make sure that your mind is clear from irrational thoughts and emotions. Hindi ka na ba talaga interested or happy sa course na tinetake mo? Or are you just feeling overwhelmed with all the work at hand? If you're having some trouble, try to write down what you feel and see if it remains the same a month or two later.

Sign #6: You don't see yourself working in the field
Kung hindi ka pa sure sa career path na gusto mo, okay lang 'yan. Big decisions like this often take time.. After all, college is a period of self-discovery. Don't be too hard on yourself if you don't know what you want just yet. But if you can't see yourself in a career related to your course, then this might be a sign that you should consider shifting to a course that will equip you for life after college.

Sign #7: You struggle to find balance
College should be an enjoyable time in your life. While it's true that you should have extracurricular activities and other experiences outside the classroom, not having your priorities in order will make it difficult for you to find balance. Kung mas motivated ka to focus on other things more than your academics, then you should probably look at this as a sign to shift.

Sign #8: You clicked on this article!
If you've clicked on this article and can relate to the points listed above, then congratulations. You just took the first step to owning your future: being honest with what you want.
While we encourage you to pursue your true interests, it's important to consider the practical side of things. Pag-isipan mong mabuti kung ano talaga ang gusto mong gawin. Shifting with no plan can put you in a tough spot, so make sure to map things out beforehand.


Make the Right Choice!
College can be exciting and nerve-wracking at the same time. As you go through the daily responsibilities of your student life, always remember that you need to set goals and keep yourself accountable. If you feel like your college course isn't for you, take some time to reflect, talk with the ones you trust, or utilize tools such as our course search program to help you weigh your options.
At pag nahanap mo na kung anong course talaga ang gusto mo, it will still challenge and stretch you in every way but then it will all be worth it. In case you require financial assistance as you shift courses, know that you can always rely on a student loan from Bukas! May helpful blog articles din na pwede mong basahin to help you navigate your student life like picking a course, a school, or even your future career path. We are rooting for you!
Learn more about how we make education affordable for thousands of Filipino students like you. Download the Bukas app on Google Play today! Kung gusto mo maging updated with our latest content and updates, you can connect with us on Facebook or reach us anytime via email!
Want to get a FREE College Guide? Mag-sign-up na para makakuha ng more freebies at maging updated sa exclusive tips, how-tos, and latest events and webinars led by Bukas.