It's becoming increasingly difficult to achieve financial stability nowadays. The cost of living continues to rise as the prices of everyday items such as food, housing, gas, clothing, and utilities regularly increase.
Isa sa mga gastusin na patuloy din na tumataas ay ang tuition. Ngayong panahon ng COVID-19, higit pa na dumadagdag ang iba't-ibang gastusin sa pag-aaral tulad ng internet, gadget, at iba pang kagamitan na kinakailangan sa online classes. This is why student loans can be a big help to financially challenged families. Student loans allow you to borrow money for your education to gain the skills needed to achieve a secure economic and professional future.
However, not many Filipinos are aware of the different institutions that offer financial assistance or how the application process for student loans works. That's why we created this guide to help you get started on applying for your student loan.

What are Student Loans?
A student loan is a type of loan designed to help students pay for their college or postgraduate education. This loan usually covers tuition, books, supplies, living expenses, allowance, and other school expenses. Ang student loan ay tinatawag ding "education loan," "tuition loan," o "tuition installment plan."
Maaari kang kumuha ng student loan kung ikaw ay nangangailangan ng pera para sa tuition at iba pang school expenses. If scholarships and financial support are difficult to come by, student loans can help reduce your financial burdens so you can focus on academics, extracurricular activities, and other important aspects.

How Do Student Loans Work?
Mahalagang maintindihan kung anu-ano nga ba ang mga binabayaran sa student loan. Firstly, the principal amount is the total amount of money you are borrowing. You will pay back this amount in the future and in smaller amounts.
Student loans or installment plans charge interest rates and fees in exchange for this service. The interest rate is the percentage of the principal amount you have to pay your lender. There are other fees a lender may charge, including origination fee or service fee and late fees. Adding these items and the principal amount will result in the total amount you have to pay back.
Student loans are commonly paid through installment plans (hulugan). A typical plan requires you to pay once a month (ito ang frequency o gaano kadalas kailangan magbayad) for one year (ito ang maturity o hanggang kailan kailangan magbayad). This means that you would have to pay 12 times a year.

The Advantages of Student Loans
Naiiba ang student loan sa mga credit cards at iba pang klase ng loans dahil ito ay kadalasang mas mura. You don't have to worry about drastic changes in your interest costs since interest rates for student loans are relatively low and fixed.
Ang student loan ay maaari ring isaalang-alang bilang low-risk loan dahil ang iyong pamumuhunan sa edukasyon ay maaari mong maging daan para mabayaran ang loan in the future.
Applying for a student loan doesn't need to be a daunting task. Sa katunayan, hindi na mahirap ang proseso ng pagkuha ng student loan ngayon. Here are some reasons why you shouldn't be scared of student loans:
Student loans nowadays are more inclusive.
Some student loans have a "study-now-pay-later" plan that eases financial burden.
Applying for a student loan is simple and hassle-free.
Student loans open more options for colleges and universities.
Applying for student loans is like investing in yourself.
Since getting a student loan offers many advantages, it can be considered as a form of "good debt." It's more of an investment than an expense! Like any other debt, it's essential to know the best options available for you to borrow from.

Institutions That Offer Student Loans in the Philippines

Bukas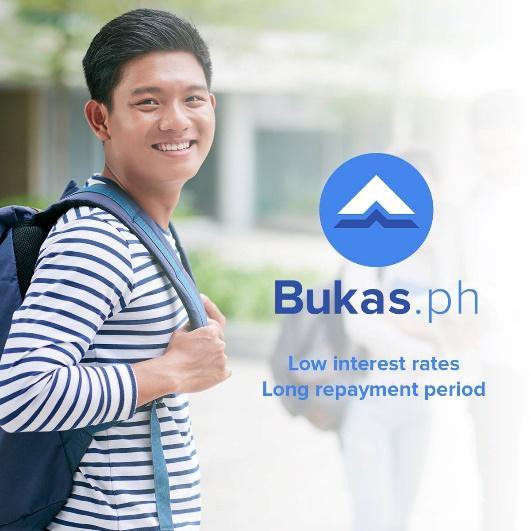 Bukas is an education financing platform that has partnered with top colleges and universities to provide an easy, secure, and integrated tuition installment plan for students.
Ang pagkuha ng Bukas tuition installment plan ay ginagawa online. Just register for an account, complete your profile, and fill out the application form on our website or via the Bukas app. You'll also need to upload an image of all requirements.
Bukas also partners with top schools and universities in the country like Far Eastern University, Mapúa University, Our Lady of Fatima University, Centro Escolar University, and Adamson University to provide an easy, secure, and integrated tuition installment plan for students. You can see the full list of partner schools here.
Bukod pa rito, pwede ka mag-apply for an additional tuition coverage or a multiple tuition plan (MIP) if you have a good payment history. A new installment plan can be applied after at least 60 days from your previous application.
Who can apply: Filipino citizens who are at least 18 years old and currently enrolled as undergraduate or graduate student at one of Bukas' partner schools; applicants must also have a guardian or guarantor aged 21 or above. Parents may apply on behalf of the qualified applicant.
Requirements:

School I.D. of applicant or any government-issued ID
Tuition/Assessment Form issued by the school
Guardian's/Guarantor's valid ID, proof of residence, and proof of income

Interest rate: 1.5% per month
Loan amount: PHP 10,000 to PHP 100,000
Repayment period: 12 months or 1 year

CHED/UniFAST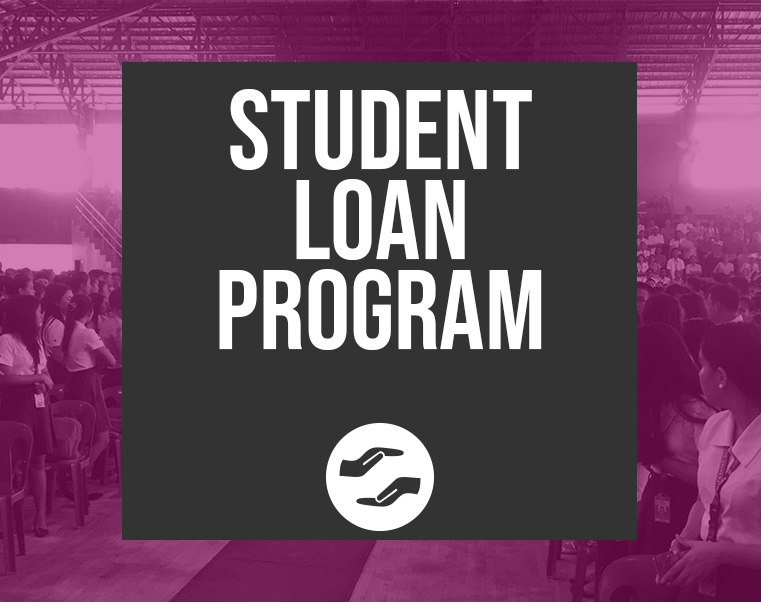 Image Source: UniFAST
The Commission on Higher Education (CHED)/The Unified Financial Assistance System for Tertiary Education Act (UniFAST), also known as Republic Act No. 10687, offers a short-term SLP (Student Loan Program) that can be used to pay for tuition, books, tools, equipment, stipend, school materials, school fees, allowance, or review expenses for Professional Regulation Commission (PRC) licensure exams.
The loan is open to qualified student borrowers enrolled in state universities and colleges (SUCs), CHED-recognized local universities and colleges (LUCs), and private higher education institutions (HEIs) listed in the Registry of Institutions and Programs.
Ang CHED student loan ay ang may pinakamababang cost of borrowing sa lahat ng mga student loans sa Pilipinas. Hindi kailangan magbayad ng interes kapag nabayaran ang loan sa loob ng semester.
Who can apply: All Filipino undergraduate, graduate, medicine, and law students enrolled in public and private universities in the Philippines listed in CHED's Registry of Institutions and Programs (see above)
Requirements:

Three copies of accomplished SLPTE-ST Application Form
Photocopy of the applicant's Certificate of School Registration
Parents' or applicant's (if employed) income tax return (ITR), payslips, Certificate of Employment, audited financial statements, or other proof of family income
Co-maker's ITR or other proof of family income
Photocopy of the co-maker's valid government-issued ID
Photocopy of the applicant's school ID
Two 1x1 ID photos of the applicant and co-maker

Interest rates:

0% if the loan is fully paid on or before the end of the semester
6% if the loan is not fully paid by the end of the semester

Loan amount: Up to PHP 60,000 per academic year
Repayment period: 12 months or 1 year

Social Security System (SSS)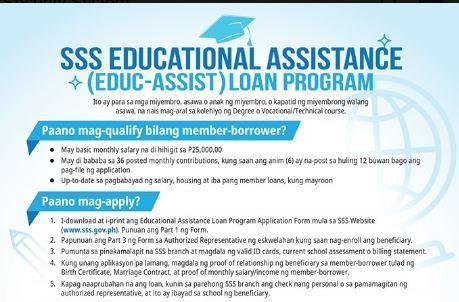 Image Source: SSS
The SSS' Educational Assistance Loan Program (EALP) aims to support the SSS members' beneficiaries in their educational expenses. Only one EALP beneficiary is allowed per member-borrower. Beneficiaries can be the member-borrowers themselves, their child, their legal spouse, or their sibling (for unmarried members only).
Hindi kasama ang mga full scholars sa mga pwede mag-apply para sa EALP. The applicant must be enrolled in any undergraduate course in schools accredited by CHED, TESDA, Civil Aviation Authority of the Philippines, and other government agencies. Applicants must personally file their EALP application at an SSS office.
Who can apply: SSS members below 60 years old and must have a monthly basic salary or income of P25,000 or below, at least 36 posted monthly contributions (six of which should be posted within the last 12 months prior to the month of filing of EALP Application), and up-to-date in the payment of their salary, housing, and other member loans amortization
Requirements:

Filled out and signed SSS Educational Loan Application Form
Member-borrower's SSS ID or 2 valid IDs
Assessment or billing statement from the school
Photocopy of the stamped SSS E1 form of your child, spouse, or sibling (beneficiary must have an SSS no.)
Proof of income which can be one of these documents:

Payslip (original and photocopy) if employed
Pay envelope (original and photocopy) if employed
Certification of Income from Employer if employed
Latest BIR-stamped ITR if self-employed
Notarized Affidavit of Income

Interest rate: 6% per year
Loan amount:

For four/five-year degree courses: maximum of PHP 20,000 per semester
For two-year technical/vocational courses: maximum of PHP 10,000 per semester

Repayment period:

For degree courses: 5 years
For technical/vocational courses: 3 years

Government Service Insurance System (GSIS)

Image Source: GSIS
GSIS offers an Education Loan Program for qualified members who have children or dependents requiring financial assistance for tertiary education. Pwedeng mag-nominate ang GSIS member ng hanggang dalawang student-beneficiaries sa ilalim ng programa. Kailangang naka-enroll ang benepisyaryo sa four- o five-year course sa isang private or public educational institution.
The loan proceeds will be directly paid to the school under the student's account every semester or trimester until they finish their courses. Loan applicants must not be on leave of absence (LOA) without pay. They also should not have a pending legal case or past due GSIS loans.
Maaaring i-contact ang GSIS sa kanilang call center hotline, email, o official Facebook page upang magtanong tungkol sa kanilang education loan programs at mag-apply.
Who can apply: Active GSIS members with permanent status and at least 15 years in government service
Requirements:

Tuition Assessment Form/Enrollment Form
Copy of School ID with 3 signatures of the student or any ID bearing birth date, picture, and signature

Interest rate: 8% per year
Loan amount: maximum of PHP 100,000 per school year
Repayment period: 10 years with a 5-year grace period

LANDBANK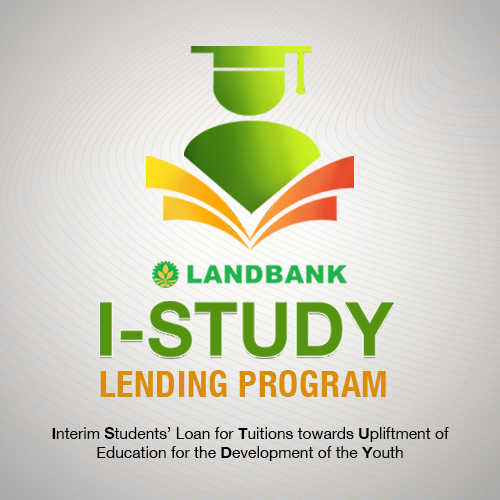 Image Source: LANDBANK
Land Bank of the Philippines (LANDBANK) launched a student loan program called "Interim Students Loan for Tuition toward Upliftment of Education for the Development of the Youth," or I-STUDY. This allows parents, guardians, or benefactors of students to borrow up to one school year or two semesters' worth of tuition.
Enrollees in preschool, primary, and secondary school levels may avail of short-term loans (STL), and those enrolling in tertiary may avail of term loans (TL). Ang mga kwalipikadong estudyante para sa programa ay mga Filipino na may "good moral character" na certified ng paaralan, at hindi benepisyaryo ng libreng tuition at ibang school fees tulad ng scholars.
Maaaring pumunta sa mga LANDBANK lending centers upang mag-apply para sa loan.
Who can apply: Must be a Filipino citizen.

Parents/guardians: must be of legal age and must have an established capacity of repayment and good credit standing. If more than 60 yrs old and/or without repayment capacity, must have a co-borrower. Combined monthly net take-home pay should not be lower than ₱20,000.
Co-borrower: must not be more than 60 yrs old, must have an established capacity for repayment, with good credit standing.
Students: Must not be over 30 years. Must be an incoming student of any school or institution recognized/accredited by the DepEd, CHED, or TESDA.

Requirements:

Accomplished loan application form
Borrower's valid ID
Borrower's proof of income
For employed borrowers: Certificate of employment, latest three-month payslips, and latest ITR
For self-employed: Business permit and latest ITR
Proof of billing address and payment record from at least two utility/service companies
For incoming students: Enrollment form/admission slip with school ID
For continuing students: Latest enrollment or registration form
Form 138/Certified True Copy of Grades for previous semester attended
Certificate of Good Moral Character issued by school
Schedule of payment of school fees and other enrollment-related expenses for the semester/school year

Interest rates: 5% per year
Loan amount: maximum of PHP 300,000
Repayment period:

For short-term loan: 1 year
For term loan: 3 years, including 1-year grace period on the principal

Puhunan sa Karunungan, Puhunan sa Kinabukasan
Student loans are a means to a higher education. Higher education is a form of security that ensures more job options are available to you in the future. With student loans, you can pursue a degree in higher education, giving you a more holistic educational experience while gaining more skills, knowledge and training.
Ngunit sa lahat, ang student loan ay malaking tulong rin para sa pamilya. With a more flexible payment option for your education, student loans give you the freedom to reallocate, budget, and cover other important family expenses while still letting you achieve the higher education you need and deserve. With Bukas, you can take care of both.
Learn more about how we make education affordable for thousands of Filipino students like you. Download the Bukas app on Google Play today! Kung gusto mo maging updated with our latest content and updates, you can connect with us on Facebook or reach us anytime via email!
Want to get a FREE College Guide? Mag-sign-up na para makakuha ng more freebies at maging updated sa exclusive tips, how-tos, and latest events and webinars led by Bukas.