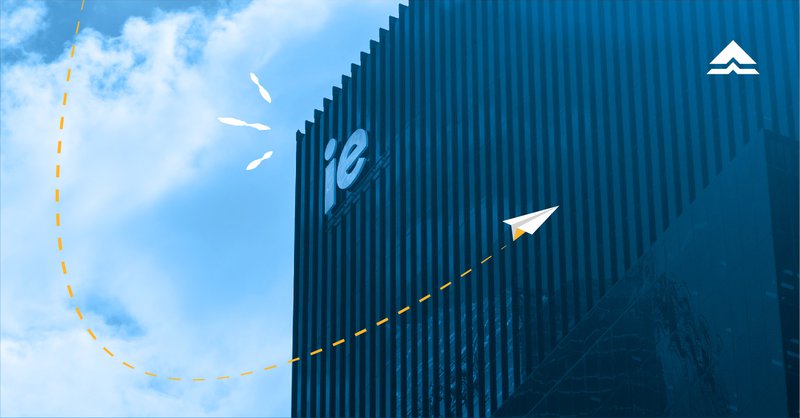 Ever wondered what it's like to study abroad? Imagine yourself living in a foreign country, taking your dream course at one of the world's top universities, taking small, steady steps towards the future you have always envisioned. A lot of students get stuck in dreaming, but together with Bukas and IE University, you can make it happen in real life.

Making education affordable… abroad!
From 2019 until present, Bukas' commitment to provide a better future to the Filipino youth through affordable and accessible education has not wavered. In December 2021, our newly launched partnership with IE University, our first international partner school, proves that access to quality education knows no boundaries. And students like you can push the bounds of your dreams, too.
Through our partnership with IE University, aspiring Filipino students can now consider the life changing opportunity to study abroad without being limited by their financial capacity. Through the IE-Bukas Growth scholarship, our hope is that more students will pursue higher education, tap into their full potential, and start securing their futures.
What is the IE-Bukas Growth Scholarship?
The IE-Bukas Growth scholarship is a scholarship opportunity in collaboration with Bukas and IE University. With emphasis on a student's growth potential as a basis for acceptance, successful applicants receive a 15% scholarship to any master's degree offered at IE University.
Who can apply for the IE-Bukas Growth Scholarship?
The IE-Bukas Growth scholarship is open to all Filipino citizens who are successfully admitted to any IE master's program. Aside from evaluations based on academic and/or professional background, deserving candidates must exhibit strong leadership skills and significant growth potential.
What are the requirements for the IE-Bukas Growth Scholarship?
Admission to IE University is required before applying to the IE-Bukas Growth scholarship. If you're interested in vying for the scholarship, make sure to prepare the following requirements in addition to your program application procedure.
Scholarship application form
Application essay
Bukas interview
Supporting documents (upon request)
How to apply for the IE-Bukas Growth Scholarship?
Applying for the scholarship is easy. Waiting is hard. Make sure to apply early! Follow these five steps to avoid delays in your scholarship application and admission.
Secure admission to any IE master's program.
Apply for a IE-Bukas Growth Scholarship through the IE Scholarships portal.
Submit the complete and correct application requirements.
Wait for feedback from the Bukas committee via email.
Once accepted, complete your enrollment and study in IE University!
Pro-Bukas tip:
Applications are open all throughout the whole year but applicants must obtain the scholarship three (3) months before the program starts.

But first, is IE University right for you?
If your idea of studying abroad looks a lot like learning from world leaders in the academic and business worlds together with a diverse and vibrant community of international students - not to mention, enjoying student life in Spain, no less - then IE University might just be your dream study destination!
IE University is a private university recognized as one of the world's leading higher education institutions, ranking among the top ten universities worldwide for innovation in technologies and teaching. It also has a wide number of programs available, from Architecture, MBA, Law, and Corporate Communications, all of which are popular among Filipino applicants. To say the least, it puts students like you at the heart of learning so you can create the future you dream of and carve your own path to success.
If you need more convincing, here are 10 more reasons why you should consider studying at IE university.


Pursuing higher education is a life changing experience. It opens doors of opportunities both for your personal and professional growth. Studying abroad unlocks even more. Let Bukas help you take one step closer to securing the future you have always dreamt of. Our partnership with IE University is just the start of taking leaps in education, big and small, towards a better future for Filipino students—locally and abroad. What are you waiting for? Dream big. It's time to pack your bags.
Learn more about how we make education affordable for thousands of Filipino students like you. Download the Bukas app on Google Play today! Kung gusto mo maging updated with our latest content and updates, you can connect with us on Facebook or reach us anytime via email!