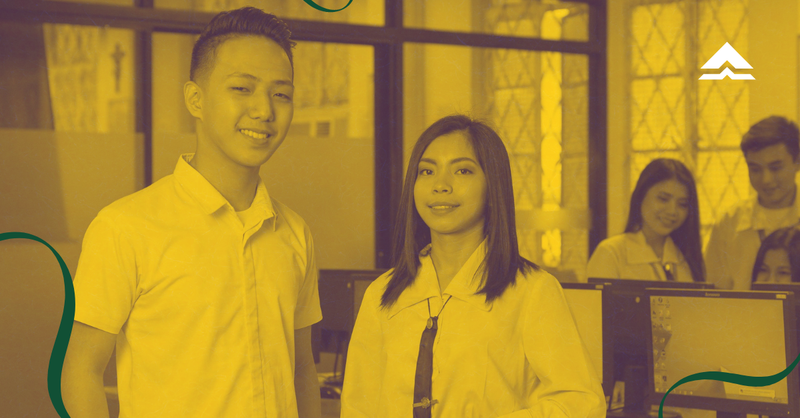 When it comes to faith and academic excellence, it's no news that St. Paul University Quezon City (SPUQC) comes to mind as one of the top Catholic schools in the country. Since 1946, SPUQC has embraced changes through time. From adopting a new name to leveling up to a full university status, just to name a few. However, what remains true is its commitment to forming leaders through quality education—the Paulinian way.
With its newly launched partnership with Bukas, SPUQC is set to pave the way for more Paulinians to get better access to education, particularly for students who may need financial assistance to continue their studies.
Here's what you need to know about this partnership.

New partnership, same Paulinian education
Starting on September 10, 2021 (Friday), SPUQC will be providing a new tuition payment for incoming and current college and graduate school students. As a partner school, this means that students like you can now avail of a Bukas tuition installment plan to pay for your tuition and other school fees. That's good news!
For starters, this setup allows you to stretch your finances over a longer period of time and can even be a smart and alternative option to pay for your studies with more ease.
Read more to learn about this new payment option at SPUQC:
What is a Bukas tuition installment plan?
A Bukas tuition installment plan, or simply a student loan, is a safe, secure, and flexible way to pay for your tuition. When you choose to pay with Bukas, we can cover 100% of your tuition for the semester while you pay back the amount in 12 monthly installments. Take note that every installment plan comes with a flat interest rate starting at only 1.25% monthly interest, with no service fee!
Want to pay off your student loan earlier? You can do that without worrying about any early termination fees or other penalties. Since we only charge interest for the months you consume your student loan, managing your fees is flexible to you and your finances!
How does the Bukas tuition installment plan work?
When you apply and get approved for an installment plan, Bukas will pay your tuition directly to SPUQC. You will then have to pay your Bukas monthly dues for 12 months. For example, if you need Php 50,000 for your tuition next semester, you can get an installment plan from Bukas and pay only Php 4,791 every month.
Want to get an estimate based on your actual tuition at SPUQC? You can try out our calculator!
How can SPUQC students apply for a tuition installment plan?
Applying for a Bukas tuition installment plan is fast, easy, and convenient. With our fully online process, you can get your tuition covered in as fast as 3 to 5 working days. Skip the endless application forms and long lines! Just make sure to have your requirements and documents ready and follow these five simple steps:
Step 1: Register and complete your profile via the Bukas app or app.bukas.ph/register
Step 2: Fill out and submit the application form. Wait 2-3 working days to get feedback from our team via SMS or email. Note that you may be asked to provide additional information via email. Make sure you submit these as soon as possible to avoid delays in processing your application.
Step 3: Once approved, log in to your Bukas account and confirm your application.
Step 4: Once confirmed, Bukas will deposit your full amount directly to SPUQC. You'll receive an SMS once it's disbursed. It will also reflect on your Bukas account after 1-2 working days.
Step 5: Study hard and pay your Bukas monthly dues at any of our payment partners.

With Bukas, getting your Paulinian education is now more accessible.
Applying for financial assistance is meant to create more options so students like you can get the support you need to pursue the path you want. That's what we hope to achieve at Bukas. That said, Paulinian students can avail of a tuition installment plan anytime throughout the school year (summer classes included!) regardless of course and year level. If anything, there's no minimum grade requirement too.
Grad school dreams are also within reach with Bukas. SPUQC offers quite a curriculum, with a Master of Arts in Psychology and a Master in Business Administration to choose from. If pursuing graduate studies is something you want for yourself, go ahead and take your pick. With Bukas, you can! Your finances don't have to make the decision for you.


With accredited programs from PACUCOA and PAASCU, and an ISO 9001:2015 certification under its belt, we can all agree that studying at SPUQC is a good decision. No doubts about that. Make it an even better decision with Bukas!
Learn more about how we make education affordable for thousands of Filipino students like you. Download the Bukas app on Google Play today! Kung gusto mo maging updated with our latest content and updates, you can connect with us on Facebook or reach us anytime via email!