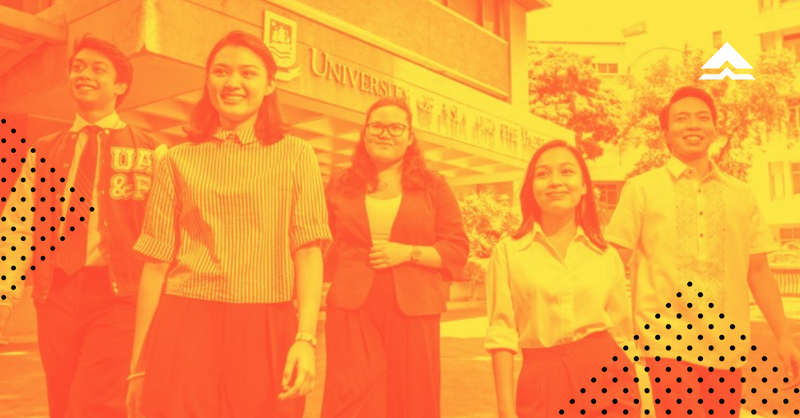 There are a lot of good colleges and universities in the country. Different areas of specialization, different approaches to education, different core values—each school making a name for itself in specific aspects. University of Asia and the Pacific (UA&P) decided they're all about two things: competence and character. And they're excelling in it.
Now that UA&P partners with Bukas, the bar is even higher. Their commitment to providing quality education isn't just good on paper, it's opening doors to any aspiring Dragon (read: UA&P's nickname) willing to walk through it. Here are three ways they are doing it.

UA&P is committed to student development.
As a private, not-for-profit learning institution, students take first priority for UA&P. This means that studying at the University isn't just about taking one of the most outstanding academic programs in Asia (read: not bragging, just plain facts!), it's also about setting you up for success through a multidisciplinary and holistic approach to learning. There's a pretty good reason why UA&P is widely recognized for its liberal education.
When you finish your program, you can be confident that you're ready to take on and excel in any path you choose. As a matter of fact, UA&P's strong curriculum makes it possible for undergrad students who choose a five-year program to graduate with a master's degree. How's that for real-world education?
PS. Mentoring is also an intrinsic part of UA&P education. While some students finish college still unsure of which career path to take after, UA&P students have regular conversations with their mentors about this. Talk about dedication to students!

The University is equally serious about social development too.
As part of the University's Credo, students are also molded to be people of excellence, for the people. For UA&P, education is a lifelong process that will hopefully prepare students to be positive agents of change, especially after they walk out the doors of the University and thrive in different sectors of the society.
The University's commitment to social responsibility can be seen, not just inside the classroom, but even in daily school operations. Here are some wins and milestones:
UA&P is the first academic institution in Southeast Asia to be accredited by the Global Reporting Initiative (GRI) in Amsterdam for sustainability practices.
The University also ranked in the prestigious Times Higher Education (THE) World University Impact Rankings in 2020, specifically recognized for Quality Education (SDG 4) and Decent Work and Economic Growth (SDG 8) to name a few.
UA&P students from the Institute of Law partners with the Pasig local government to provide legal assistance for marginalized residents in need.

UA&P is making education affordable for every student with Bukas.
Quality education is good. But making it accessible to as many students as possible is what makes the UA&P vision a reality. With its newly launched partnership with Bukas, both undergraduate and graduate students from all programs and year levels can now study at UA&P through affordable tuition installment plans. Every student is welcome!
When usual student concerns like finances are out of the way, students like you can focus on making the most out of your education and maximize your potential.
What is a Bukas tuition installment plan?
A Bukas tuition installment plan, or simply a student loan, is an affordable and flexible way to pay for your tuition. When you enroll at UA&P through an installment plan, Bukas can cover up to 100% of your tuition for the semester while you pay back the amount in 12 monthly installments.
If you want to pay off your student loan earlier, you can! You're free to do so without any early termination or other penalties. That means we'll only charge interest for the months you consume. It's all up to you! Take note that every installment plan comes with a flat interest rate starting at only 1.5% monthly interest and a one-time 3% service fee.
How does the Bukas tuition installment plan work?
When you apply and get approved for an installment plan, Bukas will pay your tuition directly to UA&P. You will then have to pay your Bukas monthly dues for 12 months. For example, if you need Php 50,000 for your tuition next semester, you can get an installment plan from Bukas and pay only Php 5,042 every month.
If you want to get an estimate based on your actual tuition at UA&P, you can try out our calculator here!
How can UA&P students apply for a tuition installment plan?
With a fully online process, plus easy application requirements and documents, enrolling at UA&P through a Bukas installment plan can be done in five steps.
Step 1: Register and complete your profile via the Bukas app or app.bukas.ph/register
Step 2: Fill out and submit the application form. Maghintay ng 1-2 working days to get feedback via SMS or email!
Step 3: Once approved, log in to your Bukas account and confirm your application.
Step 4: Once confirmed, Bukas will deposit your full amount directly to UA&P. Makakatanggap ka ng SMS once it's disbursed. After 1-2 working days, it will be reflected in your Bukas account.
Step 5: Study hard and pay your Bukas monthly dues at any of our payment partners.


UA&P is widely recognized for producing competent and service-oriented graduates. The accreditations don't lie. Now that the University joins our growing list of partner schools, our hope is that current and incoming Dragons will continue to uphold UNITAS, UA&P's motto, inside and outside the classroom. And that no amount of financial burden can limit them from doing so. With Bukas, that hope is one tuition installment plan away.
Learn more about how we make education affordable for thousands of Filipino students like you. Download the Bukas app on Google Play today! Kung gusto mo maging updated with our latest content and updates, you can connect with us on Facebook or reach us anytime via email!