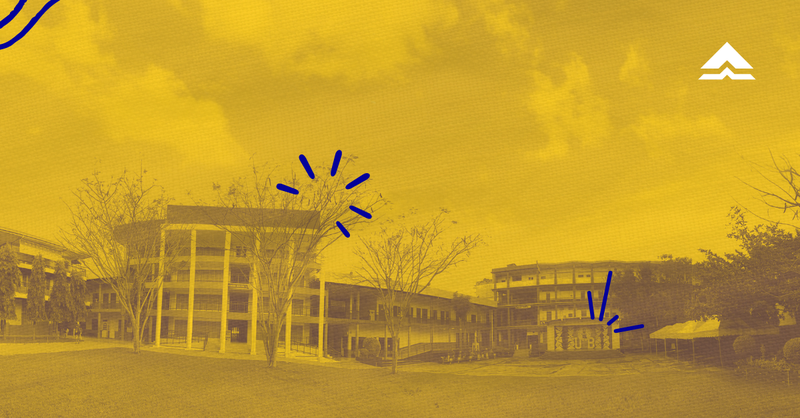 In 1946, a group of civic-spirited citizens saw a great need and responded to the call. It paved the way for the founding of the University of Bohol (U.B.), the first university in the province of Bohol. Since then, its student population and impact grew exponentially. But their mission remained the same: to make college education accessible to all, especially those who could not afford to study outside the province.
Exactly 75 years later, the University continues to carry out this mission through its newly launched partnership with Bukas. Here's how this latest move from U.B. makes education within reach for more students in the province.

A partnership for affordability
Affordability is one of the main barriers to education, more so when pursuing higher education like undergraduate and graduate studies. The partnership with Bukas allows U.B. to provide a solution to this concern.
As a partner school, incoming and currently enrolled students at U.B. can now avail of a Bukas tuition installment plan to pay for their tuition. This new payment option allows UBians, regardless of program and year level, to have an alternative that can help stretch their budget and pay their tuition with ease over a longer period of time instead of the usual one-time payment.
What is a Bukas tuition installment plan?
A Bukas tuition installment plan, or simply a student loan, is a safe, secure, and flexible way to pay for your tuition. When you choose to pay with Bukas, we can cover up to 100% of your tuition for the semester while you pay back the amount in 12 monthly installments. Take note that every installment plan comes with a flat interest rate starting at only 0.75% monthly interest—with no service fee!
Want to pay off your student loan earlier than 12 months? You can! You don't also have to worry about paying any early termination fees. To make it more flexible and student-friendly, Bukas only charges interest for the months the student loan is consumed. Complete the full tenor or pay ahead. It's really up to you!
How does the Bukas tuition installment plan work?
When you apply and get approved for an installment plan, Bukas will pay your tuition directly to U.B.. You will then have to pay your Bukas monthly dues for 12 months. For example, if you need Php 30,000 for your tuition next semester, you can get an installment plan from Bukas and pay only Php 2,725 every month.
Thinking if getting a student loan fits your budget? Try out our tuition installment plan calculator to get an estimate based on your actual tuition at U.B.!
How can U.B. students apply for a tuition installment plan?
The whole application process for a Bukas tuition installment plan is done online. This makes it a convenient payment option for your tuition, anywhere and anytime you need it! As long as you have the complete and correct requirements and documents ready, applying for our student loan is convenient, fast, and easy. Just follow these five steps:
Step 1: Register and complete your profile via the Bukas app or app.bukas.ph/register
Step 2: Fill out and submit the application form. Wait 2-3 working days to get feedback from our team via SMS or email. Note that you may be asked to provide additional information via email. Make sure you submit these as soon as possible to avoid delays in processing your application.
Step 3: Once approved, log in to your Bukas account and confirm your application.
Step 4: Once confirmed, Bukas will deposit your full amount directly to U.B.. You'll receive an SMS once it's disbursed. It will also reflect on your Bukas account after 1-2 working days.
Step 5: Study hard and pay your Bukas monthly dues at any of our payment partners.

A partnership for accessibility
Accessibility goes hand in hand with affordability. As a student, financial concerns can add to your long list of concerns. Have you ever paid your enrollment fees only to worry shortly after for the next semester? Or study for a major subject while thinking of your current tuition balance? With Bukas, you can lighten your worries–and financial burden. No more long lines and a long list of requirements, too. Just a fully online application process within your reach anytime, anywhere!
Not only can Bukas provide full or partial tuition coverage (it depends on how much you need!) but you can also apply for an installment plan all year round–first sem, second sem, even summer classes! Knowing that there's an affordable payment option available anytime should give UBians confidence to pursue their college or graduate studies.
Learn more about our multiple installment plans.


This new partnership with U.B. is one step closer to making education affordable and accessible to more students, not only in the province of Bohol, but in the country. Now it's your turn! Enroll in your dream course at U.B. with a tuition installment plan today!
Learn more about how we make education affordable for thousands of Filipino students like you. Download the Bukas app today on Google Play today! Kung gusto mo maging updated with our latest content and updates, you can connect with us on Facebook or reach us anytime via email!