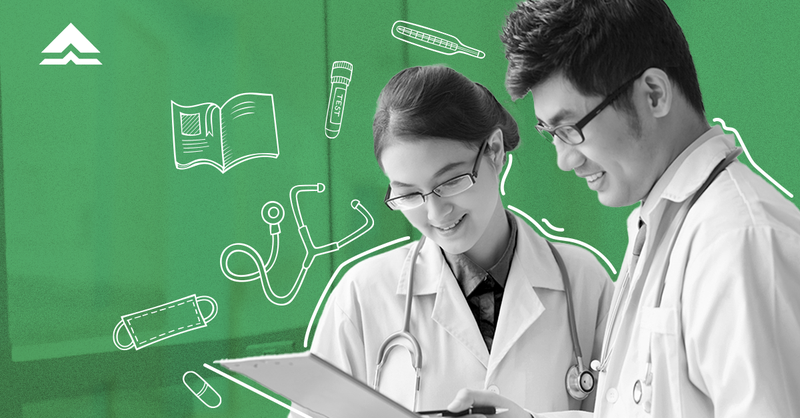 Fortunately, college is a period of self-discovery, and you shouldn't be too hard on yourself for not knowing what you would like to be. Kung hindi ka pa sigurado sa course you'd want to take, we're here to help. Apart from using our course search tool to help you browse and compare your options, we highly suggest that you take some time to reflect. Asking yourself what you're good at and what you're interested in should give you some clarity as you begin gathering options.
If you find that you genuinely enjoy taking care of others, we'll be the first ones to say that a career in medicine may be well suited for you. A career in medicine means that your job is to save and improve lives. Helping patients get back to their best health is arguably one of the most fulfilling professions anyone can take. Here's why.

1. Your expertise will always be in demand
No matter what field of specialization they may be in, medical professionals will always be in demand. Since public health will always be a pressing concern, there will be no shortage of career opportunities for those with a medical degree.

2. You will constantly grow throughout your practice
Going for a career in medicine means that you'll become a lifelong learner. The industry and its relevant disciplines are ever-evolving, with researchers continually discovering new, unfamiliar diseases and ways to administer treatment for them.
As a medical practitioner, you'll need to update and refine your expertise over time. With continuous learning and growth, you'll eventually be able to make significant contributions of your own. Pick a medical field and give it your best shot!

3. Your work will be challenging but rewarding
Medical professionals do not have the easiest jobs in the world. After all, lives are on the line. Working long shifts, conducting extensive research, and being transparent with the patient's condition can be mentally exhausting. However, being able to help others also comes with a great sense of accomplishment.

4. You'll have global career opportunities
Healthcare will always be a public concern, and the same can be said in other countries. This means you can gain career opportunities even abroad. Through hard work and dedication, pwede kang makapunta o makapag-migrate sa ibang bansa.

5. It grants you an opportunity to teach
Dahil sa mga natutunan mo in the medical field over the years, pwede ka ring magturo on the side!l. The expertise you've developed means that apart from working in the hospital, you can also work as a faculty member of an educational institution, particularly one that specializes in medical courses. Once you receive your masteral degree or PhD, you can be qualified to teach and the students under your wings will be able to save lives in the future.

6. Your income potential is high
Becoming a doctor is no easy feat, with all the years of schooling and residency. Not to mention, the weight of being responsible for saving lives. So, it's no secret that medical professionals have a competitive salary.
While things may depend on a case by case basis, doctors in the country may earn as much PHP100 000 monthly. As you gain more experience and develop your skills through the years, your monthly salary will naturally increase, making it easy for you to support your family.

7. You can save people's lives
At the end of the day, being a medical professional allows you to help others and make a difference in the world—starting with the lives of your patients. That by itself is why being a doctor or a nurse is often considered one of the most respectable and noble professions.


A Promising Future in Medicine
College is one of the most memorable and influential times of your life. You'll immerse yourself in various experiences both inside and outside of the classroom. If you have a knack for helping and caring for others, a career in medicine is one of the best choices you can make.
Unfortunately, maraming natatakot kumuha ng kurso sa medisina. Due to high tuition costs and long years of study, many students interested in the field end up settling for a different career. That should not be the case. Bukas has partnered with leading medical schools in the country to offer tuition installment plans so that aspiring medical professionals like you can pursue the degree you want minus the financial worries. What are you waiting for? Secure your future (and lives of your future patients) with Bukas!
Learn more about how we make education affordable for thousands of Filipino students like you. Download the Bukas app on Google Play today! Kung gusto mo maging updated with our latest content and updates, you can connect with us on Facebook or reach us anytime via email!