Enjoy sweet surprises from Bukas this Valentine's season!

Bukas will be available on-campus this February to assist students with their Bukas Tuition Plan application.

Keep your eyes open for the wo(man) in blue for a chance to enjoy sweet surprises and a special tarot or zodiac reading when you submit your Bukas Tuition Installment Plan application at the Bukas booth.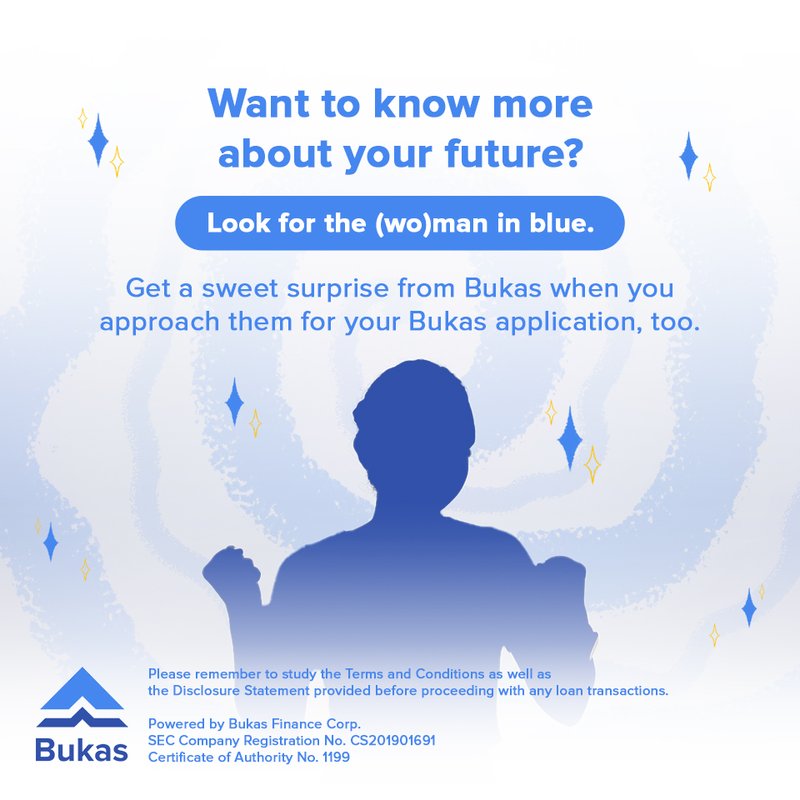 NOTE: Tarot or Zodiac readings are meant to provide guidance and encouragement, not to control or predict your future. Volunteer discretion is advised.
To qualify you need to be ONE OF THE FIRST 30 STUDENTS TO:
Submit an application at the Bukas booth.
Make sure your agreement is activated by February 24, 2023, 3:59PM.
Your requested loan amount should at least be PHP 30,000.
Frequently Asked Questions:
Paano makukuha ang PHP 100 off benefit for Bukas applicants?
Automatic na ibabawas ang PHP 100 sa iyong first monthly payment due kung ikaw ay nagsubmit ng application sa Bukas booth this February. This special offer is only open to the first 30 students to apply and activate their agreement by February 24, 2023 3:59PM.
Paano ko malalaman kung kasama ako sa first 30 students?
Once you have submitted an application, we will process your application. You will receive an SMS from us that you are qualified to receive the Php 100OFF on your first installment due once you have confirmed your agreement with us.

Saan pwede mag-follow up ng application?
We understand that your application is urgent. You can always email us at [email protected]. Use the subject "PHP 100OFF [SCHOOL]" so we can assist you ASAP.

I already have an existing installment plan. Can I reapply for another installment with this promo?
Yes! As long as you are eligible to reapply for a multiple installment plan (MIP), you can also enjoy PHP 100OFF on your 1st monthly installment.

Log in to your account at app.bukas.ph and check if you have at least a Good or Very Good rating on your reapplication meter. To learn more about your how to apply for an MIP, visit here.
Does this mean I will be automatically approved for this amount?
No. Note that your application will still be reviewed and processed by our Processing Team. Your application and requested amount is still subject for approval.
What are you waiting for? Learn more about our Bukas Installment Plans here.