To complete your application and your profile, you and/or your co-borrower will need to submit documents such as a proof of income.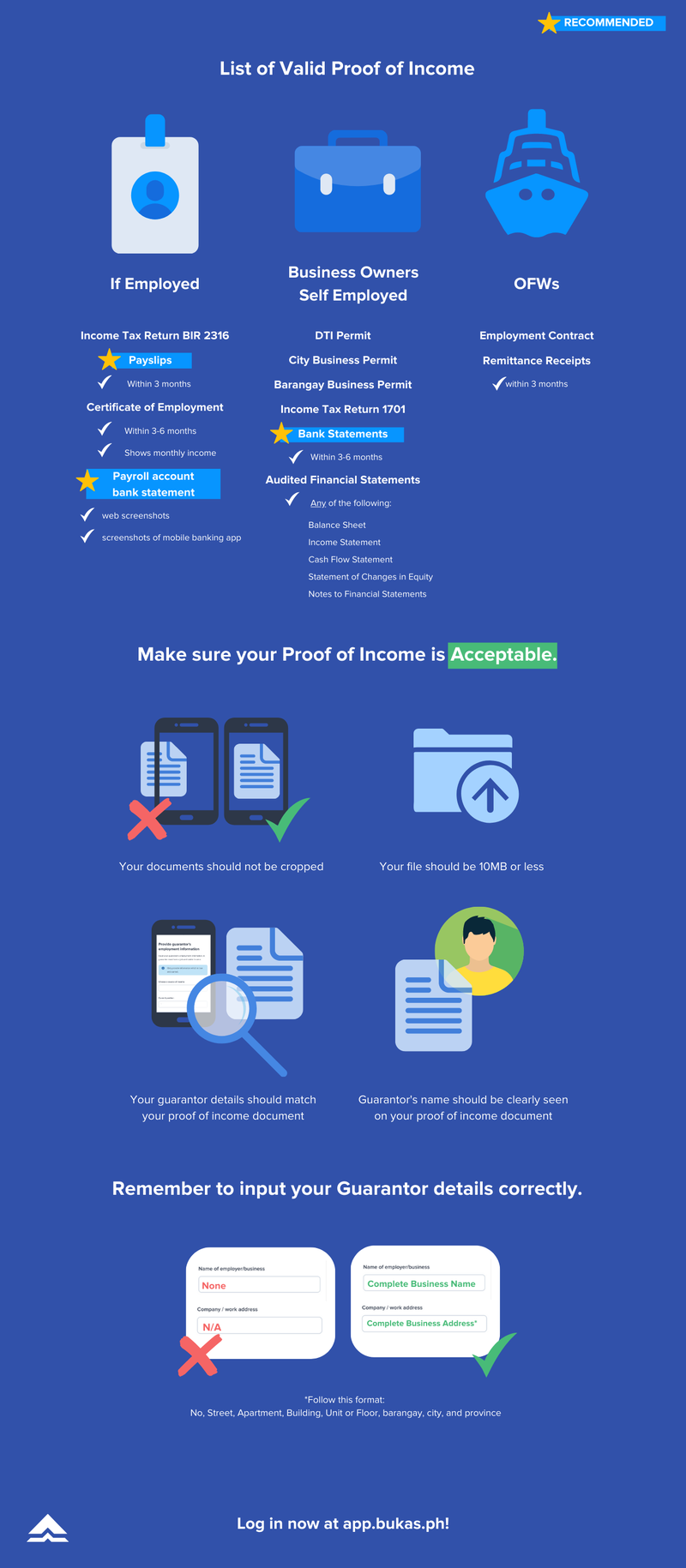 Valid Proof of Income (need only 1 of these)
If Employed:
Income Tax Return BIR 2316
Certificate of Employment with monthly income (issued within the last 3-6 months)
Payslips (dated within the last 3 months)
Payroll bank account statement, web screenshots of online banking payroll credits, or mobile banking app
‌
If Self-Employed or Has Own Business:
DTI Permit
City Business Permit
Barangay Business Permit
Bank Statements (dated within the last 3 months)
Income Tax Return 1701
Audited Financial Statements (Balance Sheet, Income Statement, Cash Flow Statement, Statement of Changes in Equity, and Notes to Financial Statements)
‌
If OFW:
Employment Contract
Remittance Receipts (dated within the last 3 months)
‌
Make sure your Proof of Income is Acceptable
Follow these quick tips to ensure faster processing!
Tip #1: Your documents should not be cropped.
Tip #2: The information on the submitted proof of income should match the information of the person who will handle the repayments.
Tip #3: The name of the person who will handle the repayments should be clearly seen on your proof of income document. Avoid answering "none" or "NA", especially for the income earner's income details. Provide all the data asked from you.
Tip #4: If your source of income is remittance, although the recipient of the remittance will be listed as the one who will handle the repayments, the income information should be that of the remitter.
Tip #5: Follow the following formats for the address fields:

Address Line 1: Enter your street address on the address line 1 field.
Address Line 2: Apartment, building, unit or floor, barangay, city, and province
Sample arrangement: 8888, Eski Street, Jade Apartment, Brgy. Olympia, Makati City, Metro Manila.

Tip #6: In uploading files, make sure that you have a stable internet connection and that the files do not exceed 10MB. You can also try to log in to a different device to upload your files with ease. After trying these options but the same problem persists, please send an email through our Contact Us Page. Kindly select Technical Issue as your Type of Concern. For faster transactions, it would be best to attach a screenshot of the scenario and the files to be uploaded for faster processing.
Tip #7: Avoid using abbreviations, especially for business names and landmarks; write the complete name.
‌
If you do not have any of the valid documents or if you are having difficulties uploading them, feel free to send an email to [email protected] or schedule a call at bukas.ph/s/CallMe.
‌
‌
For guides to other valid documents, please see: