To complete your application and your profile, you will need to submit documents such as a proof of income.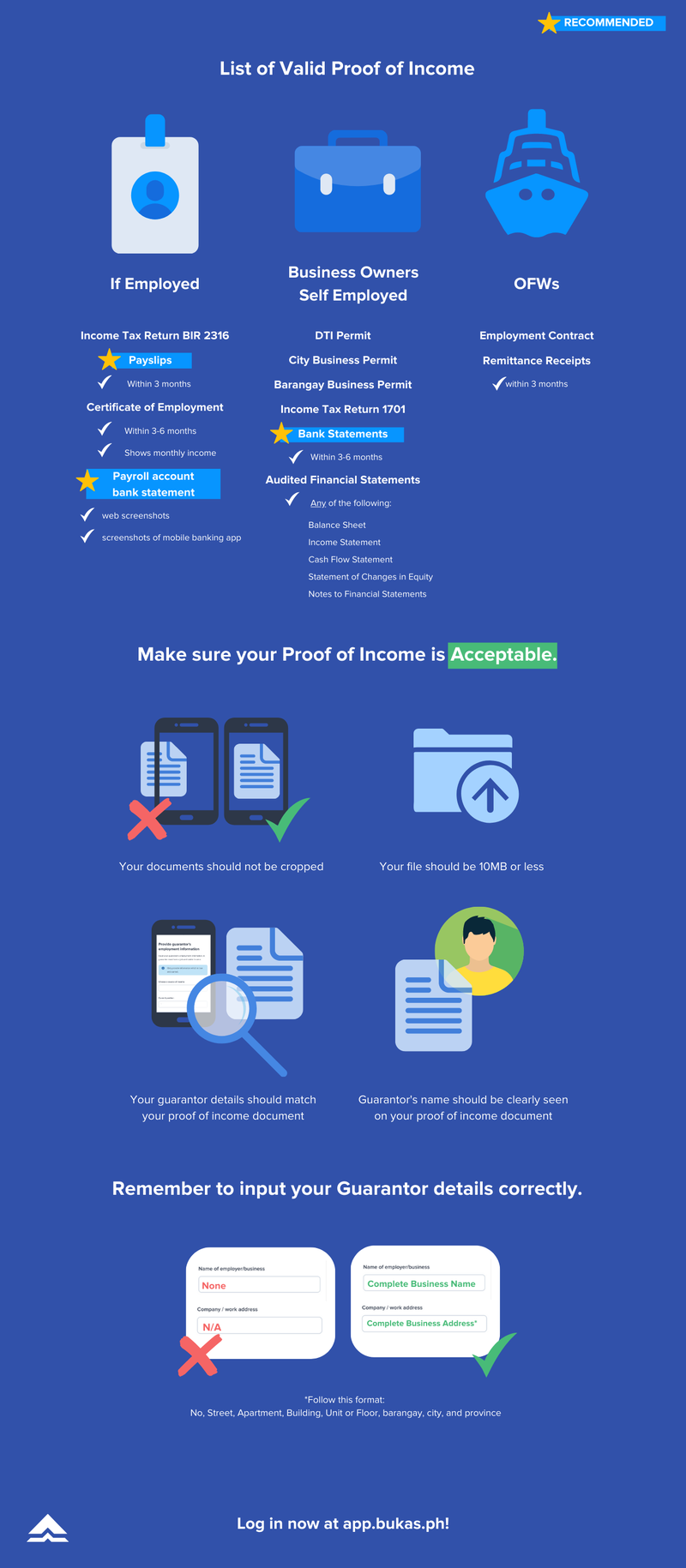 ---
Valid Proof of Income (need only 1 of these)

If Employed:
Income Tax Return BIR 2316
Certificate of Employment with monthly income (issued within the last 3-6 months)
Payslips (dated within the last 3 months)
Payroll bank account statement, web screenshots of online banking payroll credits or mobile banking app


If Self-Employed or Has Own Business:
DTI Permit
City Business Permit
Barangay Business Permit
Bank Statements (dated within the last 3 months)
Income Tax Return 1701
Audited Financial Statements (Balance Sheet, Income Statement, Cash Flow Statement, Statement of Changes in Equity and Notes to Financial Statements)

If OFW:
Employment Contract
Remittance Receipts (dated within the last 3 months)

Make sure your Proof of Income is Acceptable
Follow these quick tips to ensure faster processing!
Tip #1: Your documents should not be cropped.
Tip #2: Your guarantor details should match your proof of income document.
Tip #3: Guarantor's name should be clearly seen on your proof of income document. Avoid answering "none" or "NA" especially for guarantor's income details. Provide all the data asked from you.
Tip #4: Follow the following formats for address:

Address Line 1: Enter your street address for address line 1 field.
Address Line 2: Apartment, building, unit or floor, barangay, city, and province
Sample arrangement: 8888, Eski Street, Jade Apartment, Brgy. Olympia, Makati City, Metro Manila.

Tip #5: In uploading files, make sure that you have a stable internet connection and the files do not exceed 10MB. You can also try to log in to a different device to upload your files with ease. After trying these options but the same problem persists, please send an email to [email protected] with "Uploading Concerns" as the subject. Kindly attach a screenshot of the scenario and the files to be uploaded for faster processing.
Tip #6: Avoid using abbreviations especially for business names and landmarks; write the complete name.

If you do not have any of the valid documents or if you are having difficulties uploading them, feel free to send an email to [email protected] or schedule a call at Calendly.
---
For guides to other valid documents, please see: