To complete your application, you will need to submit documents such as a proof of residence.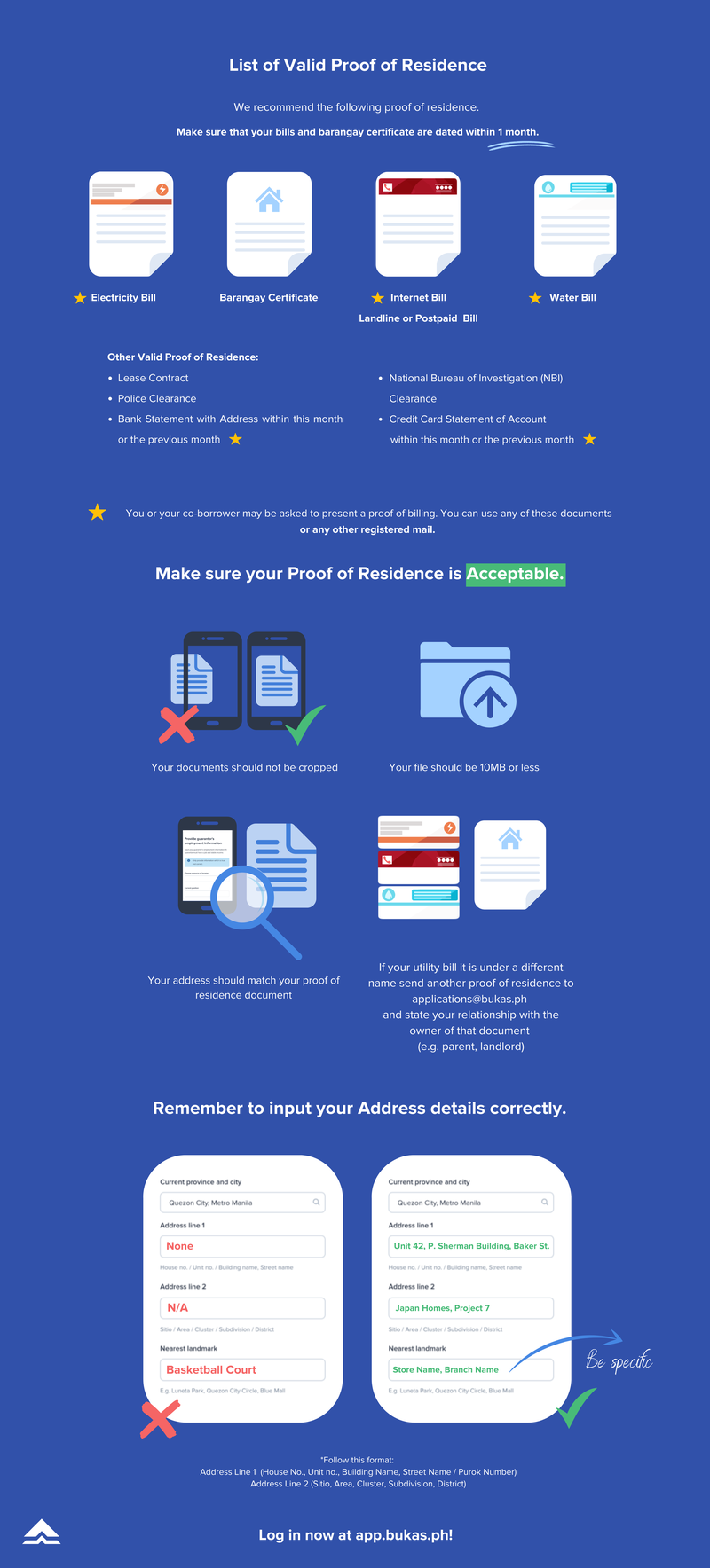 To complete your application and your profile, you will need to submit documents such as a proof of residence.


Prepare one (1) proof of residence. Make sure that your bills and Barangay certificate are dated within one (1) month.
Barangay Certificate*
Water Bill *
Electricity Bill *
Landline Phone Bill *
Postpaid line bill *
Internet Bill *
Bank statement with Address *
Credit Card Statement of Account (SoA) *
Police Clearance
National Bureau of Investigation (NBI) Clearance
Lease Contract
Items with an asterisk (*) - You and/or your co-borrower may be required to present a proof of billing. You can use any of these documents or any other registered mail.


Make sure your Proof of Residence is Acceptable
Follow these quick tips to ensure faster processing!
Tip #1: The address on your proof of residence should match exactly with the address stated on your Bukas profile.
Tip # 2: Documents marked with an asterisk (*) - have to be dated within this month or the previous month.
Tip #3: The file uploaded must show the entire page of your proof of residence and not just a portion of it. Do not fold or cover any part of your proof of residence.
Tip #4: However, kung hindi isa sa inyo nakapangalan ang proof of residence, please send us an email at [email protected] with another proof of residence and state your relationship with the owner of that document (e.g. parent, landlord)
Tip #5: In uploading files, make sure that you have a stable internet connection and that the files do not exceed 10MB. You can also try to log in to a different device to upload your files with ease. After trying these options but the same problem persists, please send an email through our Contact Us Page. Kindly select Technical Issue as your Type of Concern. For faster transactions, it would be best to attach a screenshot of the scenario and the files to be uploaded for faster processing.
If you do not have any of the valid documents or if you are having difficulties uploading your requirements, feel free to reach out to us via our Contact Form or schedule a call through this link: bukas.ph/s/CallMe .


For guides to other valid documents, please see: