Para ma-kompleto imong application og imong profile, kinahanglan ka mag-submit og dokumento sama sa proof of residence.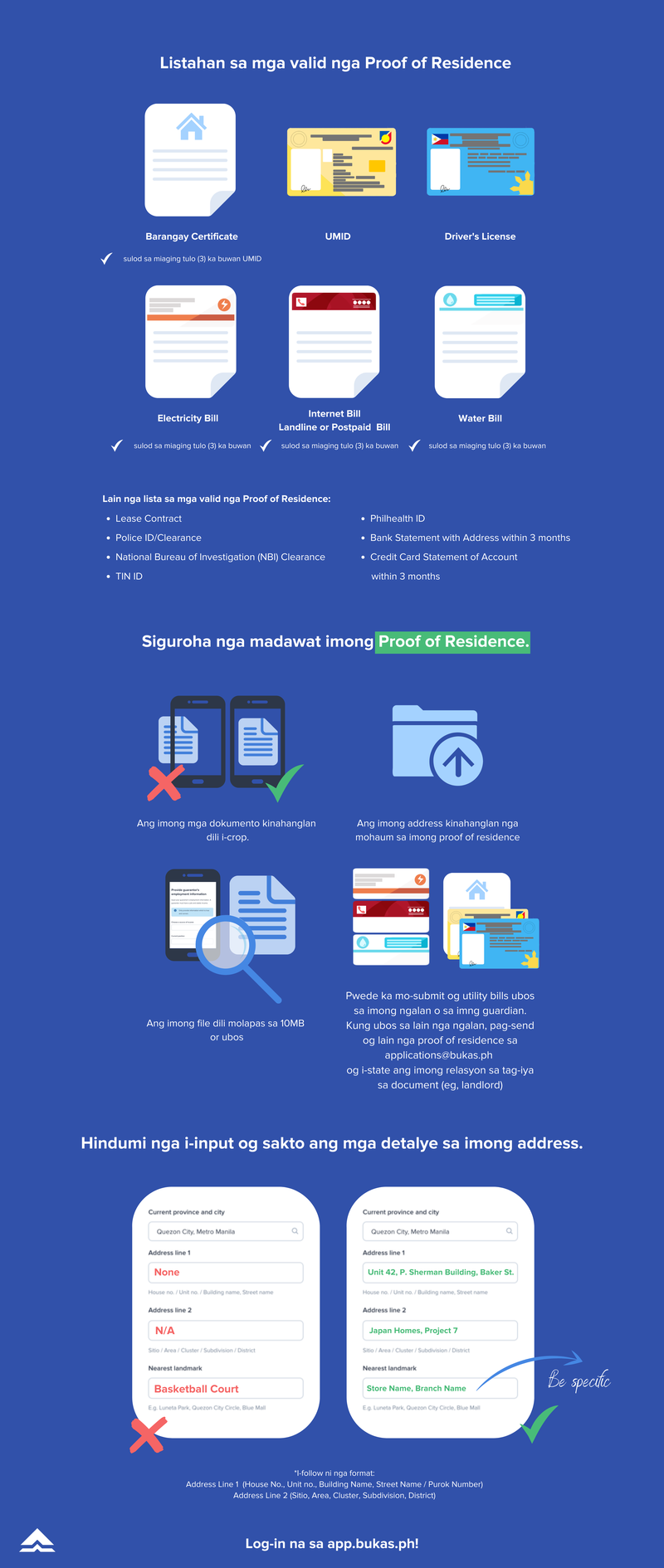 ---
Valid proof of Residence (kinahanglan og bisag usa ani nila)
UMID
Driver's License
Barangay Certificate
Police ID/Clearance
Bill sa tubig *
Bill sa kuryente *
Landline nga bill sa telepono *
Postpaid line bill *
Bill sa internet *
Bank statement nga naa'y address *
Credit Card Statement of Account (SoA) *
National Bureau of Investigation (NBI) Clearance
Lease Contract

Ang mga naa'y asterisk (*) - kinahanglan nga naa'y petsa sulod sa miaging 3 ka buwan


Siguroha nga madawat imong Proof of Residence
Sunda kining dali nga mga tip aron masiguro ang mas paspas nga pagproseso!
Tip #1: Ang address sa imong proof of residence kinahanglang pareha sa address nga gibutang sa imong profile sa Bukas.
Tip # 2: Ang mga dokumento nga gimarkahan og asterisk (*) - kinahanglang naa'y petsa sulod sa miaging 3 ka buwan.
Tip #3: Ang file nga gi-upload kinahanglang magpakita sa tibuok nga proof of residence ug dili lang bahin ani. Ayaw i-fold o i-cover ang bisan unsang bahin sa imong proof of residence.
Tip #4: Pwede nimong gamiton ang usa ka proof of residence ubos sa imong pangalan - ang estudyante - o sa imong guardian. Apan kung ginganlan kini sa laing tawo, palihug ipadala ang laing proof of residence og i-state ang imong relasyon sa tag-iya sa maong dokumento ngadto sa

[email protected]

.
Tip #5: Sa pag-upload sa mga file, siguroha nga ikaw adunay kusog nga internet connection og ang mga file dili molapas sa 10MB. Mahimo sad nimong suwayan ang pag-log in sa lain nga device aron dali nga ma-upload ang imong mga file. Pagkahuman sa pagsuway ani nga mga options pero mao ra gihapon ang problema, palihug pag-send og email sa [email protected] nga naa'y subject nga "Uploading Concerns". Palihog i-attach ang screenshot sa scenario ug ang mga file nga i-upload para sa mas paspas nga pagproseso.
Kung wala kay bisan unsang valid documents o kung naglisud ka sa pag-upload, palihug pag-send og email sa [email protected] o mag-schedule og tawag sa Calendly.
Para sa mga guide sa ubang valid documents, palihog tan-awa: