Para ma-kompleto imong application og imong profile, kinahanglan ka mag-submit og dokumento sama sa proof of income.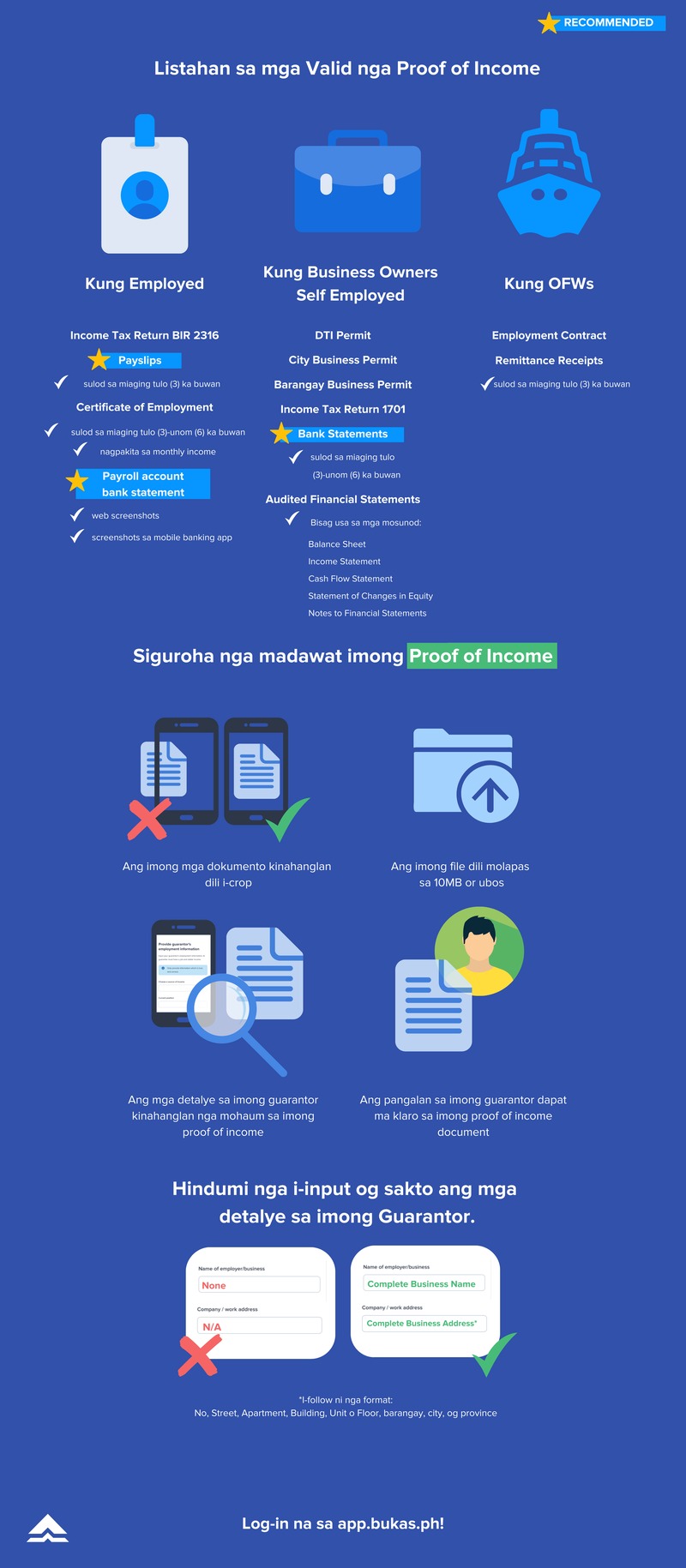 ---
Valid proof of income (kinahanglan og bisag usa ani nila)
Kung nagtrabaho:
Income Tax Return BIR 2316
Certificate of Employment nga naa'y monthly na sweldo (gi-issue sulod sa miaging 3-6 ka buwan)
Payslips (nga naa'y petsa sulod sa miaging 3 ka buwan)
Payroll bank account statement, web screenshots sa online banking payroll credits, o mobile banking app
Kung self-employed o naa'y kaugalingong negosyo:
DTI Permit
City Business Permit
Barangay Business Permit
Bank Statements (nga naa'y petsa sulod sa miaging 3 ka buwan)
Income Tax Return 1701
Audited Financial Statements (Balance Sheet, Income Statement, Cash Flow Statement, Statement of Changes in Equity and Notes to Financial Statements)
Kung OFW:
Employment Contract
Remittance Receipts (nga naa'y petsa sulod sa miaging 3 ka buwan)
Siguroha nga madawat imong Proof of Income
Sunda kining dali nga mga tip aron masiguro ang mas paspas nga pagproseso!
Tip #1: Ang imong mga dokumento kinahanglan wala na-crop.
Tip #2: Ang mga detalye sa imong guarantor kinahanglan nga pareho sa imong proof of income.
Tip #3: Ang pangalan sa Guarantor kinahanglan nga klaro nga makita sa imong proof of income. Likayi ang pagtubag sa "wala" o "NA" ilabi na sa mga income details sa guarantor. Ihatag ang tanan nga impormasyon nga gipangayo gikan nimo.
Tip #4: Sunda ang mosunod nga mga format para sa address:

Address Line 1: Ibutang imong street address para sa address line 1 field
Address Line 2: Apartment, building, unit o floor, barangay, city, og province
Sample nga arrangement: 8888, Eski Street, Jade Apartment, Brgy. Olympia, Makati City, Metro Manila.

Tip #5: Sa pag-upload sa mga file, siguroha nga ikaw adunay kusog nga internet connection og ang mga file dili molapas sa 10MB. Mahimo sad nimong suwayan ang pag-log in sa lain nga device aron dali nga ma-upload ang imong mga file. Pagkahuman sa pagsuway ani nga mga options pero mao ra gihapon ang problema, palihug pag-send og email sa

[email protected]

nga naa'y subject nga "Uploading Concerns". Palihog i-attach ang screenshot sa scenario ug ang mga file nga i-upload para sa mas paspas nga pagproseso.
Tip #6: Likayi ang paggamit ug mga abbreviation labina sa mga pangalan sa negosyo ug mga landmark; isulat ang kompleto nga ngalan.
Kung wala kay bisan unsang valid documents o kung naglisud ka sa pag-upload, palihug pag-send og email sa [email protected] o mag-schedule og tawag sa Calendly.
Para sa mga guide sa ubang valid documents, palihog tan-awa: