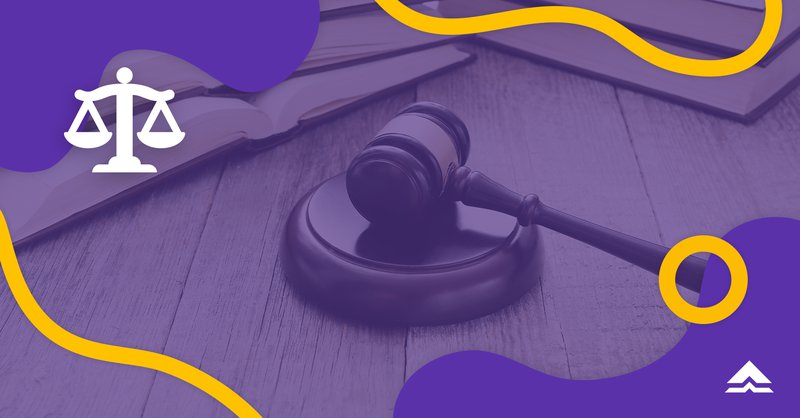 Are you in law school or a law graduate wondering what career paths await you in the legal field? There are hundreds of career options waiting for you!
Most people think of lawyers when they consider a career in the legal field, but there are actually a number of other satisfying, lucrative law careers aside from being in a courtroom. If you're looking for a career outside of a law office, there are several professions you can choose from. Here are some career paths you can consider.

1. Court Reporter
Average salary: ₱316,275/year
Court reporters are the guardians of the record in legal court. Think of UAAP and NCAA courtside reporters but for legal battles! They are responsible for producing the official written transcripts of legal proceedings like trials, hearings, and legislative meetings. They provide accurate, word-for-word, complete records of these events to serve as references for lawyers, judges, plaintiffs, defendants, and juries.
Tasks:
Attend hearings and other legal events that need a written transcript
Provide accurate and unbiased court transcriptions to interested parties
Use specialized methods in transcribing like stenography machines, recording devices, and audio-video equipment.
Ensure that records can be easily read and understood
Read back transcripts to lawyers while in court as required

2. Paralegal
Average salary: ₱255,938/year
The responsibilities of a paralegal centers around doing legal legwork for lawyers such as organizing and conducting client meetings, doing legal research, drafting and preparing contracts and other legal documents for lawyers to review.
Paralegals are highly skilled professionals with specific knowledge sets to support and assist lawyers with their practice at all stages, from client briefing to court work.
Paralegal is different from a lawyer whereas a lawyer is licensed to practice law and has the ability to practice law independently or with the help of a paralegal. On the other hand, paralegals are always required to work under the supervision of a lawyer.
Starting a paralegal career while taking your Juris Doctor degree can be a good choice for you dahil magkakaroon ka ng idea sa mga activities na ginagawa ng mga lawyers.
Tasks:
Draft legal documents and pleadings
Organize and manage files
Summarize cases and prepare reports for attorneys
File and process court documents
Do research and create drafts as assigned

3. Legal Assistant
Average salary: ₱231,855/year
A legal assistant provides clerical services and other supportive measures for lawyers including scheduling appointments, answering phone calls, filing paperwork, attending court proceedings, and researching information for a specific case. Bilang isang legal assistant, pwede kang magtrabaho privately under one lawyer or within a law firm.
Legal assistants are different from Paralegals in a way that paralegals are more involved with the actual technicalities of the law. On the other hand, legal assistants undertake broader and more administrative tasks. Legal firms may require 1-3 years of working experience for Paralegals while Legal assistants can start with minimal to no experience.
Tasks:
Prepare legal documents like summons, complaints, and responses
Ready materials for trial proceedings including documents and evidence
Research and compile information that helps strengthen a case for the assigned Lawyer
Coordinate appointments, correspondence, and logistics as needed
Communicate with lawyers and clients to keep everyone up to date
Assist with accounting and billing

4. Mediator
Average salary: ₱623,066/year
Do you love maintaining peace and resolving conflicts? Kung hilig mo ang pagtulong sa ibang tao na maresolba ang kanilang problema sa maayos na paraan, bakit 'di mo subukan pagiging professional mediator?
Facilitating communication between the parties in conflict in order to resolve their conflict in a fair and timely manner is the main job of a mediator. Mediators manage the meeting and are in charge of the proceedings, but they don't impose solutions or decisions and have no power to force a settlement, unlike judges.
You may find mediators working in government offices, especially in the Department of Labor and Employment, or even in private organizations. Mediators can also work for individual clients where Administer Alternative Dispute Resolution (ADR) negotiations are needed.
Tasks:
Administer Alternative Dispute Resolution or ADR
Hold introductory meetings and educate disputing parties about the arbitration process
Interview witnesses, disputing parties, and other parties
Examine documents as needed to get information about the dispute at hand
Prepare court reports, social case histories, correspondence, and other documents

In case you're still interested in becoming a lawyer...

Lawyer
Average salary: ₱709,859/year
Being a lawyer is the most popular career path for law graduates. And for good reason! Pero ano nga ba ang ginagawa ng mga abogado?
In general, lawyers advise and represent their clients (whether it's a private individual, business, or organization) in courts before government agencies and private legal matters. Trabaho rin ng mga lawyer and pakikipag-usap sa kanilang mga clients para matulungan silang mapaghandaan ang kanilang kaso.
Aside from taking pre-law courses, you also need to spend four years in law school to earn your Juris Doctor degree. Kailangan mo ring maipasa ang Philippine Bar Examinations administered by the Supreme Court.
Tasks:
Interpret laws, rulings, and regulations for their clients
Conduct legal research and gather evidence
Explain the law and provide legal advice
Offer legal representation at arbitration or mediation hearings, court proceedings on civil or criminal matters
Process and manage documents like wills, trusts, estates, contracts, and deeds


Learning what you can do with a legal studies degree can help you find a career that will maximize the skills and knowledge you earn from your degree program. If you need further help with choosing the right course for you, you can ask yourself these 4 questions. We also listed down some of the pre-law courses you can take to help you jumpstart your legal career journey!
Learn more about how we make education affordable for thousands of Filipino students like you. Download the Bukas app on Google Play today! Kung gusto mo maging updated with our latest content and updates, you can connect with us on Facebook or reach us any time via email!

Written by: Karl Nicole Nucum